So, between Hershey Park Vs Sesame Place, which one would you choose?
While Hersheys Park is best know for its chocolate-themed park, Sesame Place is based on the Sesame Street TV Show. Hershey Park offers a mix of dry and water rides, a chocolate world, and diverse dining options for all ages. But If visitors have a particular affinity for the Sesame Street characters, Sesame Place will definitely be the first choice. But, Sesame Place is more expensive than Hershey Park. 
To have a better knowledge about these parks go through the whole article.
Hershey Park Vs Sesame Place: In Detailed Comparison!
There are many factors to differentiate between Hershey Park and sesame palace. So let's see a comparison between these two parks.
| | | |
| --- | --- | --- |
| Factor | Hershey Park | Sesame Place |
| Size | 110 acres. | 17 acres. |
| Location | Hershey, Pennsylvania, east of Harrisburg. | Middletown Township, Bucks County, Pennsylvania. And inSan Diego, California. |
| Theme  | Chocolate theme park.  | Sesame Street character-themed park.  |
| Age range | For all age ranges. But passes are not valid for Ages under 3.  | Perfect for children ages 3-10. |
| Rides | 76, including 13 roller coasters.  | 27, including 9 water rides, and 2 roller coasters. |
| Dining Options | Dining options with over 60 locations include gluten-free rolls and bread, Frozen yogurt bar. | Menus covering breakfast to dinner including Dine with Elmo & Friends. |
| Shopping  | 123 Trade with Me, Sesame Souvenirs, Mr. Hooper's Gift Shop, online stores. | Leather Cart, Character Central, Flip Flop Shop, and more options are available. |
| Special Events and Attractions | Games, Hershey's chocolate world, Zoo America, and Multiple Events. | Taking Photos with Sesame Street characters.  |
| Ticket Cost (1 day) | $84.95 | $99.99 |
Size & Location
Hershey Park, located in Hershey, Pennsylvania, east of Harrisburg, is a huge park that offers many rides including water rides. It is larger than Sesame Place, making it a massive destination for entertainment.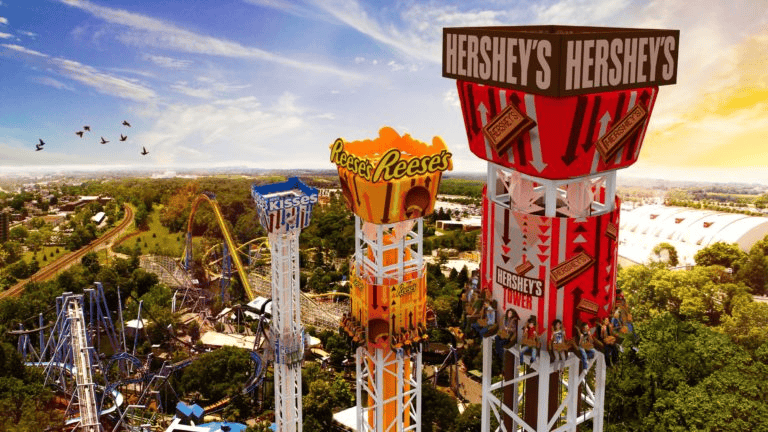 Families with young and older children will find Hershey Park suitable, as it has toddler rides spread throughout the park. While water rides and splash pools are not made yet, it is known for providing a diverse range of attractions.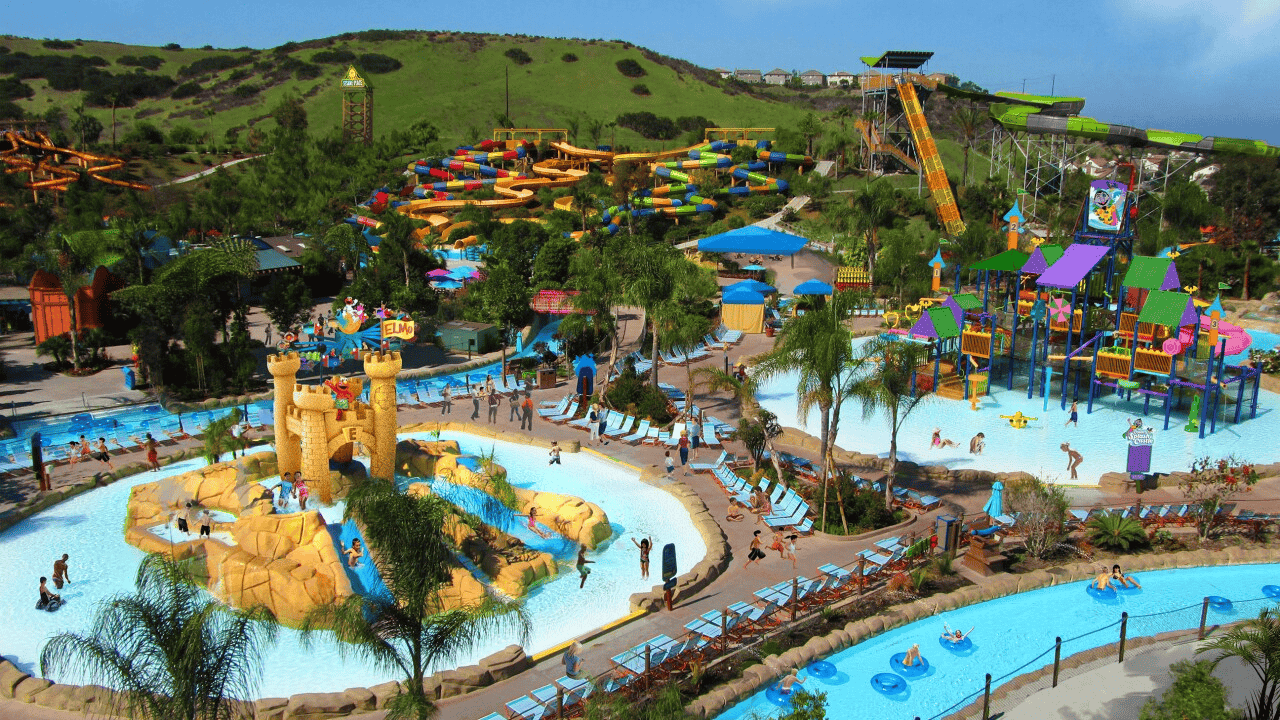 On the other hand, Sesame Place is situated in Langhorne, Pennsylvania, and also in San Diego, California. It is described as much smaller compared to Hershey Park. It is primarily known for its abundance of water rides and splash pools. 
Theme & Age range
Everyone like to go to Hershey Park because of its Hershey chocolate-themed rides and activities. On the other side, children choose sesame park because it is based on the famous children's show sesame street. 
Also, Harshe Park has amusement rides for all age groups while Sesame Park is suitable for children aged 3-10. Hershey Park is also described as "The Sweetest Park in the World" for its chocolate theme. 
It offers a variety of thrill rides and roller coasters that may particularly appeal to older children and teenagers. It indicates that there are a lot of amusement options for a wide age range. You need to have a pass for your 3+ aged kids and younger ones can get in for free. 
On the other hand, Sesame Place is primarily described as a park geared toward younger children. Its Sesame character-based park is a stark attraction for all children. 
Rides
Hershey Park and Sesame Palace offer a diverse range of rides, catering to various age groups and preferences. Visitors can enjoy thrill rides, roller coasters, and family-friendly rides, in Hershey Park. 
The park's toddler rides are conveniently spread out throughout the park. It makes it an ideal destination for families with children of different ages.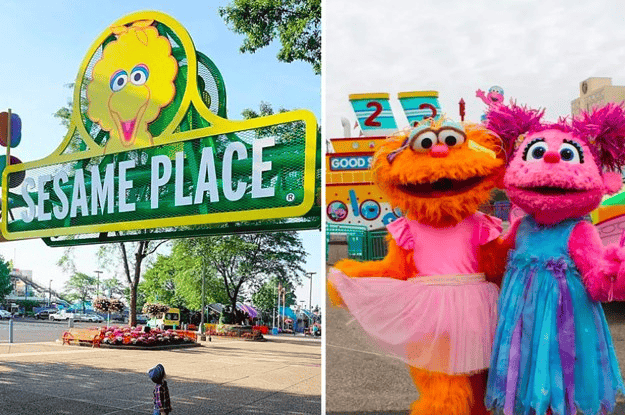 In addition to dry rides, Hershey Park also features water rides, such as a water coaster and a lazy river. Furthermore, Hershey Park recently introduced a new log flume ride inspired by Jolly Rancher candy. It can be a unique and exciting attraction.
Sesame Place, on the other hand, is well-known for its water rides and splash pools. However, the park also offers a variety of dry rides, including 13 roller coasters, carousels, and teacup rides. 
These ensure that there are enjoyable options for those who prefer non-aquatic experiences. Sesame Place recently introduced a new ride inspired by Big Bird, adding to the park's roster of attractions.
Dining Option
Hershey Park boasts an extensive selection of dining options with over 60 locations scattered throughout the park. Notably, Hershey Park offers a new dining experience inside Hershey's Chocolatetown. 
It provides an exciting culinary adventure for park visitors. Some of the dining options mentioned at Hershey Park include 1906 Grill, Moe's Southwest Grill, and Nathan's Famous. 
In contrast, the food at Sesame Place was described as "typical amusement park food," according to some of the visitors. But there're also lots of options such as Dine with Elmo and Friends, Grover's Grill, Monster Snacks, Oscar's Grouchy Grub, etc.
Shopping 
Both Hershey Park and Sesame Place provide a variety of shopping options. 
Hershey's Chocolate World is a must-visit for chocolate enthusiasts. It offers a wide range of delectable chocolate products such as Hershey's Kisses and Reese's Peanut Butter Cups. 
Parkside Souvenirs is a shop dedicated to Hershey Park merchandise. Where you can find t-shirts, hats, and other souvenirs that allow guests to take home a piece of the park experience. 
The Outpost offers outdoor gear and apparel, including Hershey Park-branded items. There are a lot of shopping options such as 123 Trade with Me, Oscar's Garage, and many more.
At Sesame Place, Sesame Souvenirs is a store that offers a variety of Sesame Street merchandise. You can find T-shirts, hats, and other souvenirs in this shop. Abby Cadabby's Treasure Trove specializes in Abby Cadabby-themed merchandise, including plush toys, clothing, and other delightful items.
Lastly, "Character Central" offers a wide range of Sesame Street-themed gifts, including toys, books, and other souvenirs.
Special Events and Attractions
Both Hershey Park and Sesame Place offer a range of attractions and experiences for visitors to enjoy. 
Hershey's Chocolate World provides a tour of the chocolate-making process and a 4D chocolate movie experience. The Boardwalk is a water park area featuring water rides and attractions. ZooAmerica, located within Hershey Park, showcases over 200 animals from North America. 
However, Sesame Place provides its own set of attractions, including the Neighborhood Street Parade and  Elmo's World play area. It also gives the opportunity to take photos with characters and furry Christmas events for their little guests. 
Alternatively, you can also go to Copper Mountain or Keystone to explore more exciting activities and dining options.
Ticket Cost
The cost of Hershey Park and Sesame Place for a one-day visit is $84.95 and $99.99 sequentially. 
Hershey Park offers a much more affordable option at $339.80 for a 3-people group for two days. It makes a budget-friendly choice for families or individuals seeking entertainment. They also offer buy 2 get 1 ticket to their customer.
On the other hand, Sesame Place comes with a significantly higher price tag of $1,012.51 for the same duration and number of visitors. 
While both amusement parks promise fun-filled experiences, Hershey Park's pricing appears to be more accessible. 
Hershey Park vs Sesame Place: Which One Should You Choose?
When deciding between Hershey Park and Sesame Place, it depends on your preferences and the age range of your children. 
Hershey Chocolate World is already in your mind I guess. You can also have thrilling rides at the Boardwalk water park, and the opportunity to explore ZooAmerica there. 
On the other hand, Sesame Place is specifically designed for younger children, featuring attractions like the Neighborhood Street Party Parade. So, if you have young children who are fans of Sesame Street, Sesame Place may be the ideal choice.
Consider the interests and age range of your group to make the best choice for a memorable and enjoyable experience. If you want to spend your vacation in the park then you can also consider Denali State Park and National Park. 
FAQs
How Far Is Sesame Place from Hersheys Park?
The distance by car between Hershey Park and Sesame Place Amusement Park is approximately 110 miles. The driving time to travel from Hershey Park to Sesame Place Park is estimated as 1 hour or 58 minutes.
What Is Hershey Best Known For?
The Hershey Company, widely recognized as Hershey's, is best known for its chocolates. Hershey's has established itself as a leading manufacturer and distributor of various chocolate products and sweets. 
Is Sesame Place Part of Disney?
No, Sesame Place is not a part of Disney. It is part of the SeaWorld Entertainment family and is one of the 12 theme parks owned by the company. SeaWorld Entertainment also owns Sesame Street and manages and operates Sesame Place too. 
Conclusion
Now you know which one is perfect for your kids when comparing Hershey Park vs Sesame Place. 
Ultimately, the choice between the two parks will depend on the age range and interests of your group. All options considered, make the best decision within these two, and have a blast for your family and kids.