Choosing the perfect beach destination for your vacation can be a daunting task because there are many options available.
So, talking of beaches, what are the differences between Florida vs California beaches? 
California beaches offer more powerful and larger waves than Florida beaches. Also, California's weather tends to be colder and drier than Florida. Florida beaches are great for swimming and playing whereas California offers sunbathing and surfing opportunities. You can enjoy snorkeling on Florida beaches while diving on California beaches. And, Florida beaches are a more affordable option than California. 
The beaches of these two states offer many more differences. So stick with the article to learn them properly which will help you to choose one.  
Florida vs California Beaches: A Quick Comparison
There are some distinct factors that separate Florida beaches from California beaches. Before going to discuss those, in this section, we will get a quick glimpse of them in short. 
| | | |
| --- | --- | --- |
| Factors  | Florida Beach | California Beach  |
| Waves  | Smaller & fewer waves than California  | Larger and powerful  |
| Weather  | Warmer and more humid Tropical weather  | Less warm & drier Mediterranean weather  |
| Water temperature   | Warmer | Colder  |
| Sand  | Finer and white (comfortable for bare feet)   | Coarser and darker (better for sunbathing and sandcastles)   |
| Wildlife  | Sparse and difficult to see | Easy to see  |
| Seashells  | Larger and more colorful  | Smaller and less vibrant  |
| Beach atmosphere  | Better for retirees | Prominent surfing culture |
| Beach safety  | Safe for swimming due to smaller waves  | Unsafe for swimming (especially for children) |
| Water sports  | Excellent for snorkeling | Better for diving & surfing |
| Kid-friendly land activities  | Hunting for seashells  | Hiking the cliffs  |
| Cost Affordability  | More Affordable  | Expensive  |
Florida VS California Beaches: A Detailed Comparison 
Now, it's time to have a closer and deep look at those factors. Without further ado let's kick off the factors one by one in a great detailed manner. 
Factor 1:  Waves & Weather 
Florida's beaches feature smaller and fewer waves that can provide a relaxing experience for beachgoers. However, the waves on California's beaches are known to be more powerful and larger than those in Florida.
Surrounded by the vast Pacific Ocean, California benefits from consistent swells and favorable coastal conditions that generate impressive waves. This makes California one of the best destinations for surfers seeking thrilling and challenging wave-riding opportunities.
When it comes to weather, both Florida and California offer warm climates. But Florida is known for its Sub-Tropical humid weather whereas California is known for its Mediterranean drier nature. 
The humidity in Florida can make the air feel heavy and sticky, especially during the summer months. And California tends to have a more comfortable and less oppressive feel, particularly in winter across the coastal areas.
Factor 2: Water Temperature & Sand
In Florida, the water temperatures tend to be warmer compared to California. On the other hand, California boasts notoriously cold water temperatures in comparison.
The ocean water temperature in Florida is usually pleasant nearly year-round, especially on Florida's southern beaches. Winter temperatures in The Florida Keys are 75.2°F on average. Summers can reach 86°F in the ocean. Conversely in San Diego, California, it's a chilly 59°F in the winter and a delightful 69°F in the summer.
However, it's important to note that water temperatures can still vary in different regions of both states. Factors such as ocean currents, time of year, and local weather conditions can influence water temperatures.
Additionally, the sand in Florida tends to be white and finer in texture. In contrast, California's beaches feature sand that is coarser, rougher, and darker in color. 
Florida's beach sand is comfortable for your bare feet. Its soft and powdery consistency feels great underfoot and allows for easy movement in the water. 
Alternatively, the coarser grains of California provide a firmer surface, allowing beachgoers to comfortably sunbathe.
Factor 3: Wildlife & Sea shells 
In Florida, wildlife sightings are relatively harder to come by. On the other hand, wildlife sightings can be easier and more engaging from California beaches. 
Florida is home to a diverse range of wildlife, including dolphins, manatees, sea turtles, and various bird species. You can visit Everglades National Park for catching a glimpse. 
Then, the sea shells in Florida tend to be larger and more colorful. Conversely, California's beaches are known for smaller and less vibrant sea shells. 
The abundance of larger and more colorful shells in Florida makes beachcombing a rewarding experience for collectors and enthusiasts.  Despite the smaller size seashells on California beaches, these shells can still possess unique shapes and patterns. 
Factor 4: Beach Atmosphere & Safety
California embraces a vibrant surfing culture, whereas Florida's beaches have a tendency to draw a larger proportion of retirees. 
California beaches create an atmosphere where surfers ride waves, surf lessons, and even occasional surfing competitions. This is similar to comparing Long Beach vs Huntington Beach, where the latter has a dedicated surfing community.
Furthermore, California's beaches are renowned for their colossal waves, which can pose risks for swimming, particularly for young children. On the other hand, Florida beaches generally have milder waves compared to those in California. 
As a result, many of Florida's beaches provide a safer swimming environment for your children. The safest beaches for swimming in Florida are the Gulf Coast, Venice Beach, and Bahia Honda State Park. 
If you want the children to swim in California, it is crucial to stick to the bays and coves. These protected areas offer safer conditions for swimming. Such as 
Heart's Desire Beach (San Francisco) 
Carmel Beach (Monterey) 
La Jolla Beach (San Diego) 
For people of San Diego, Ocean Beach or Pacific Beach are also great options to check out.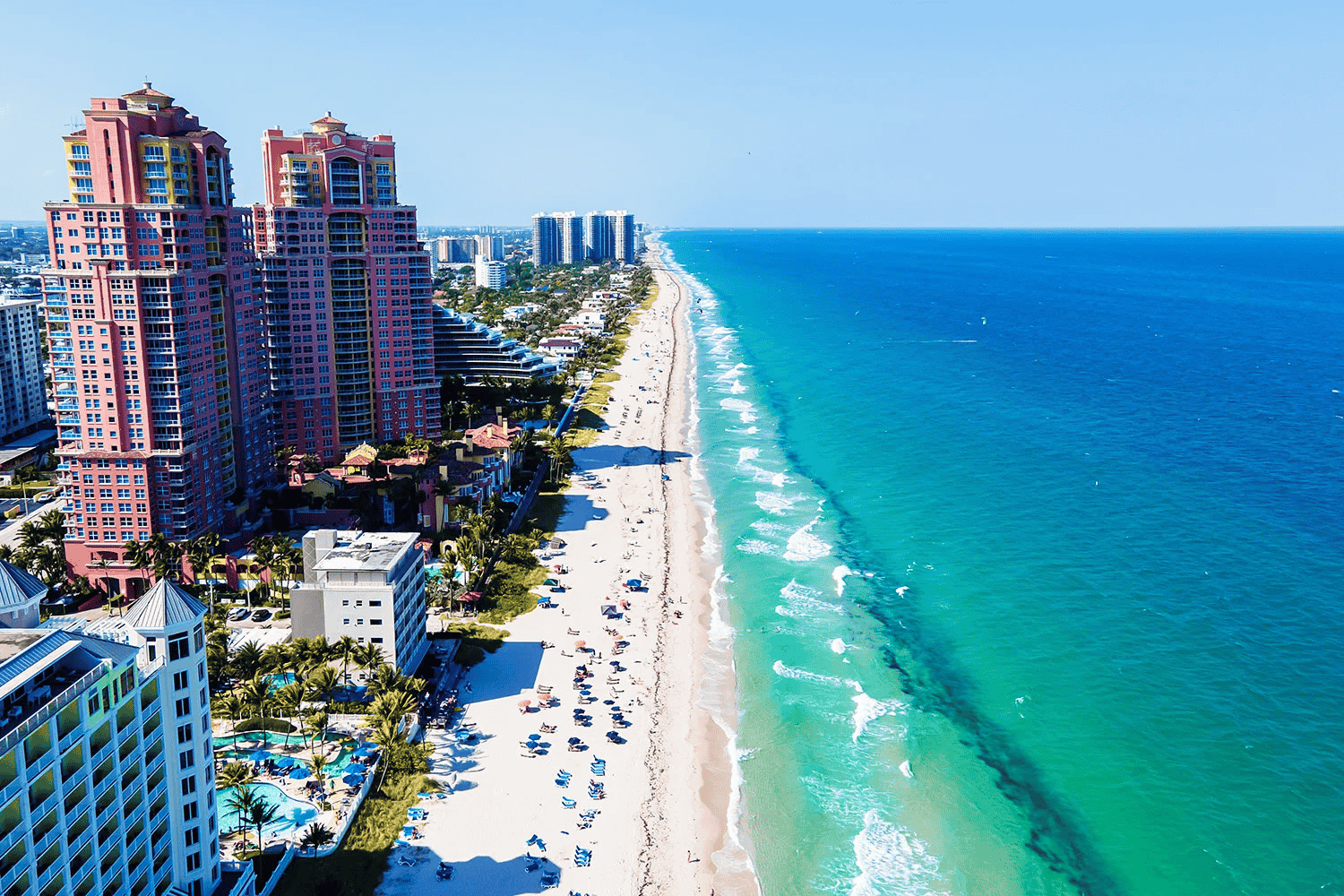 Factor 5: Water Sports & Kid-Friendly Activities
The tranquil turquoise waters found along much of Florida's coast create an ideal environment for snorkeling. Alternatively, California beaches would be the perfect choice for people seeking diving & surfing thrills. 
Florida's coastline boasts warm, crystal-clear waters reminiscent of the Caribbean. So, if you're looking for a memorable snorkeling experience for your kids, the Florida Keys should be prioritized. Instead of snorkeling at Coco Cay, you can get the same amazement here.
Conversely, diving in California's coastal waters is an excellent way to discover marine life and underwater environments. However, to participate in diving activities, children must be at least 10 years old.
Florida is an ideal destination for families with children who enjoy hunting for seashells. On the other hand, hiking the cliffs is a very popular kid-friendly land activity on California beaches.  
Factor 6: Affordability
Typically, vacations to the beaches in Florida are more budget-friendly compared to those in California. 
On average, a 7-day vacation to California can cost around $1984.00 per traveler, depending on the specific month of travel. In contrast, a 7-day vacation to Florida generally amounts to approximately $1209.00 per traveler. That makes it a more affordable option for those on a budget.
It's important to note that these prices are approximate and can vary based on factors. Travel mode, accommodation choice, and vacation activities can affect the price. 
Florida vs California Beaches: Which One to Pick? 
The California coast is a better choice if you're seeking big waves and adrenaline rushes and surfing. For beginners or those who prefer smaller waves with beach games, Florida is the best choice.   
Florida is an ideal destination for families with kids if you're looking for a family vacation. However, California beaches would be perfect for couples & youngsters.
Moreover, you can save your bank status by visiting Florida beaches since it's comparatively cheaper. However, if you don't have money issues, California would be a fantastic choice. In conclusion, you should consider your needs and preferences while picking one.  
FAQs
What Are The Coastlines of Florida?
Florida's coastline consists of 10 distinct coastal regions. Each area offers its own unique characteristics, ranging from tropical beaches to mangrove swamps and marshes. Florida boasts a coastline that stretches approximately 260 miles longer than California's. 
What Is The Coastline of California? 
With an impressive coastline stretching over 840 miles, California boasts the third-largest state coastline in the United States. Nonetheless, California's renowned coastline exhibits significant differences in climate and terrain from north to south. 
What Are The Major Attractions of Florida?  
Florida is celebrated for its captivating tourism destinations, such as Seaworld, Disney World, and the Daytona 500 International Speedway. There are various attractions in the state, like the historic city of St. Augustine and the vibrant and trendy Miami. 
Conclusion
Now you know the differences between Florida vs California beaches. 
California and Florida offer beautiful and idyllic beaches, making them perfect destinations for summer vacations. The choice of which state to visit for a beach vacation ultimately depends on your preferences and desired activities. So good luck in deciding which beach paradise to explore!