Royal Up is a bid-based system of Royal Caribbean Cruises that lets you bid for stateroom upgrades. As cruise lines don't prefer to sail with empty staterooms, they offer this bidding process. 
So, is Royal Up worth it?
Yes, Royal Up can be worth it but you need to know about how the bid system works. Also, you need to know some tricks like, which rooms to bid on. Or, how much to bid on. It depends on different factors if your bid will be accepted or not. But first, you need to be deemed eligible by the Royal Carribean. 
You will get to know everything about the Royal Up and how it works later in this article. 
Is Royal Up Worth It?
If you are interested in a room upgrade for a lesser price then yes, Royal Up can be worth it. But since this is a bidding system, you may end up getting an upgrade that you do not need. 
Or, if you bid too much, you may spend more money than you intended. If you know how the bidding process works and how to land a successful bid, then you might just win.
How Does Royal Up Work? 
RoyalUp is a stateroom bidding program offered by Royal Caribbean. It allows passengers to bid on higher cabin categories before their cruise, offering the chance to "win" an upgraded stateroom. Here's how it works:
Eligible passengers will receive an email invitation to bid on an upgrade before their journey to a higher cabin category.
Passengers can bid on a higher cabin category by submitting an offer. The bid amounts listed are per person for two people. 
Passengers can bid on a variety of cabin categories. This includes Royal Suite, Owner's Suite, Grand Suite, Junior Suite, Ocean View Suite, or a slightly larger balcony cabin. You may not be able to bid on some of the fancier suites if you have a lower-category room booked.
Passengers can select the cabin they want to bid on. They can also find a scale that allows them to slide from the minimum to the maximum bid.
Passengers can bid on multiple cabin categories within their price range.
Passengers will receive an email notification if their bid is accepted.
If the bid is accepted, the passenger will be charged the amount of their bid. If the bid is not accepted, the passenger will keep their original cabin category and will not be charged anything.
How To Bid For Upgrade On Royal Caribbean? 
So, the bidding process starts with receiving an email from Royal Caribbean's Royal Up program. This usually happens about before your sail date. 
This email will provide you with information about the available upgrade options. Also, the minimum bid amounts for each cabin.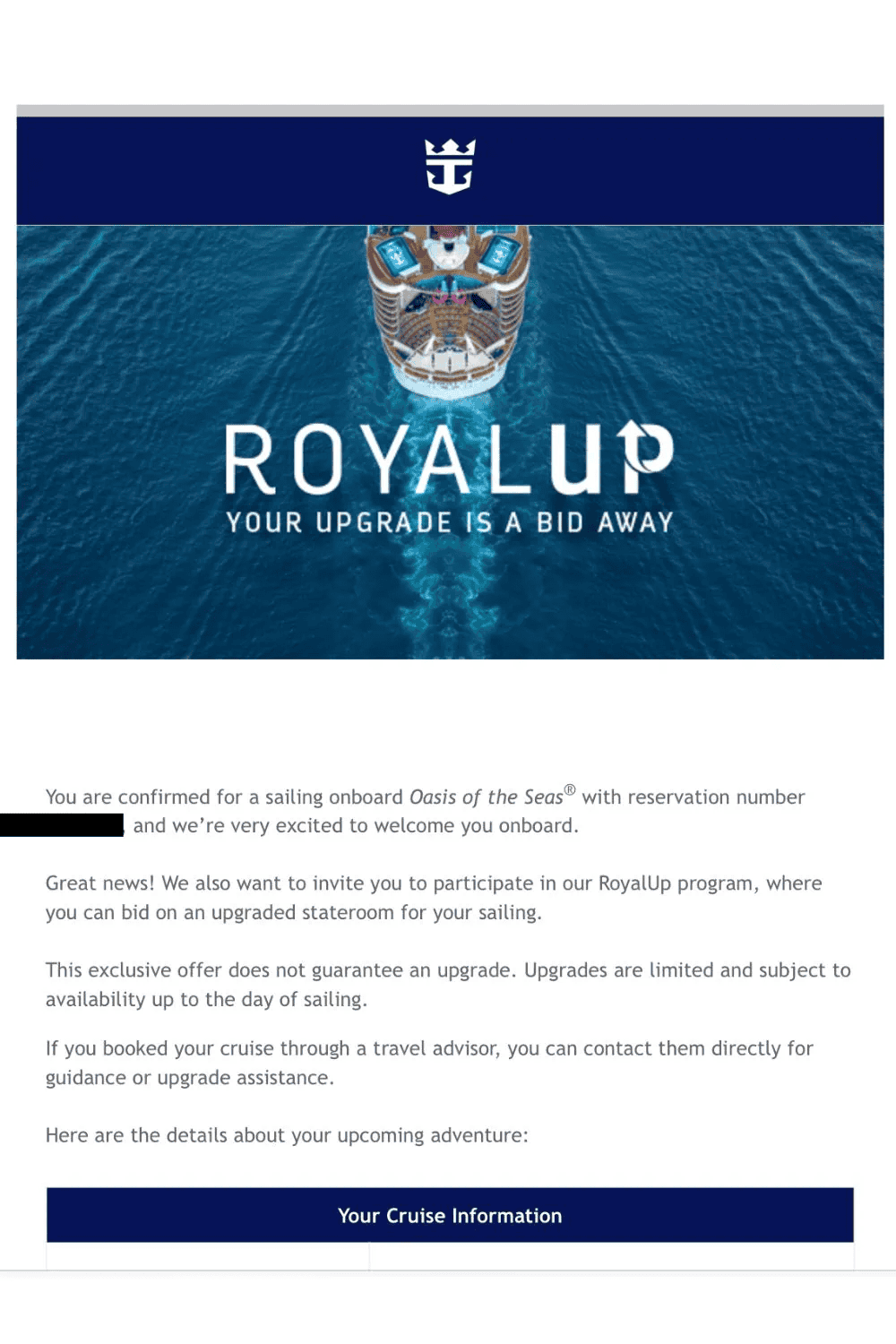 Now, it's important to note that not everyone may receive the Royal Up email. If you don't receive the email, don't worry. You can still check your eligibility by visiting Royal Caribbean's website and entering your information there. 
Royal Up may not be available to those who book through certain channels such as travel agents or Costco. Also, you may need to have your Royal Caribbean passport for eligibility. 
After you receive the email or check your eligibility on the website, you'll see your upgrade options. The options you can bid on depend on the category of room you have booked initially. 
For example, if you book a lower-category room, you may not have the option to bid on the fancier suites.
In the email, you'll find the minimum bid listed for each cabin that's available for bidding. You'll also see a scale that allows you to slide from the minimum bid to the maximum bid. 
This gives you the flexibility to choose the amount you're willing to bid for the upgrade.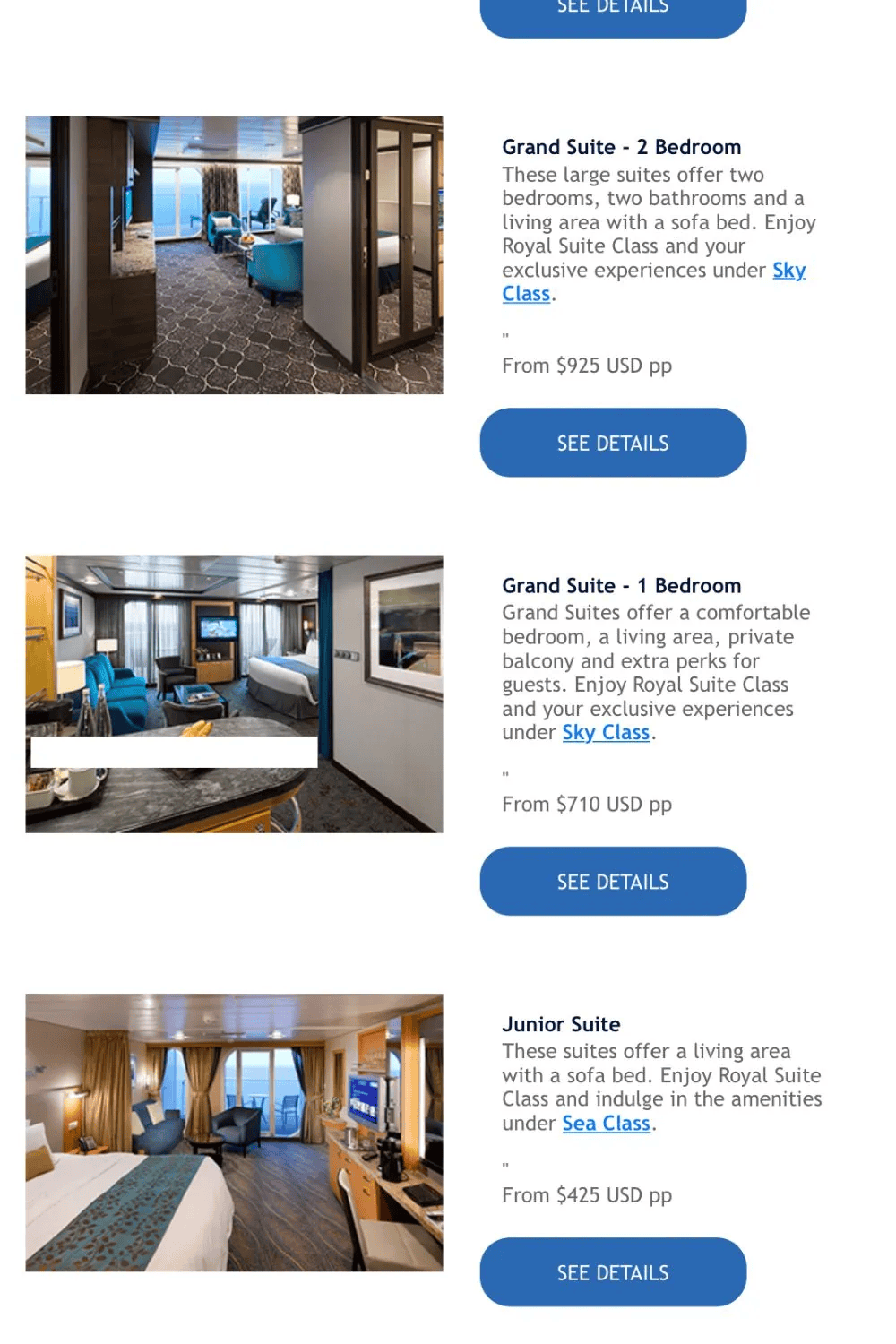 The bid amounts listed are per person for two people. For cabins with more than two people, the per-person upgrade fee is only applied to the first and second guests. 
On the other hand, if you're traveling alone in a cabin, you still need to bid for two people.
When you're ready to place your bid, you'll be asked to provide a credit card number. This credit card will only be charged if your bid is accepted. It's important to keep in mind that you can modify or cancel your bids before they are accepted. 
However, once a bid has been accepted, it cannot be canceled. So, be sure to consider your decision carefully before placing a bid. Also, you need to pass the Royal Caribbean wellness check to board the ship. 
It's worth noting that the minimum bid amounts can vary depending on the ship and itinerary. So, your options might look different from the examples you've been provided. Nevertheless, the process of bidding remains the same.
Is Royal Up Bid Per Day? 
No, the bid amount for Royal Up is actually per person for the entire duration of the cruise. So, when you place a bid, you are bidding for the entire length of your cruise. 
The offers are based on two occupants per stateroom. Only the first and second guests will be charged if the bid is accepted.
When Does Royal Up Offers Come Out? 
Royal Up offers typically come out within 45 to 75 days before the sailing date. However, the exact timing of when Royal Up offers come out can vary. 
This depends on the sailing and other factors. Also, there is no set schedule for when the offers are released. 
Tips For Royal Up Successful Bids 
Here are some tips for increasing your chances of a successful bid in the Royal Up program on Royal Caribbean. Keep in mind that the acceptance of bids can be unpredictable. But the following tips might help you make more informed decisions.
Get a Room You Like: Royal Up bids have a low success rate, so book a room you love right away. Don't solely rely on the Royal Up program to get the stateroom you desire.
Research: Before placing any bids, thoroughly research the room types you're considering. Watch YouTube videos showcasing the rooms and check the ship's deck plans to ensure the location suits your preferences. 
Also, search for any potential drawbacks or negative aspects mentioned by previous cruisers in your chosen room category.
Calculate Suite Perks: Before bidding on a Sky Class or Star Class suite, consider the suite benefits. Compare the cost of the upgrade to the value of the perks included. For example, free gratuities, dining in specialty restaurants, drink packages, and internet access. To get a better idea of the actual price difference, subtract any extras you've already purchased from the upgrade cost.
Bid on a Less Popular Category: Consider bidding on a less popular category of stateroom. It may be tempting to bid on the most luxurious or sought-after suites, but competition can be fierce. Instead, look for categories that may have lower demand and fewer bids.
Consider Other Family Members: Suite perks might not apply to friends or family who aren't included in your bid. So, if you win a bid on access to Coastal Kitchen, your companions may not be allowed to join you. Make sure you're willing to enjoy the perks even if others can't.
Remember, there is no guaranteed formula for winning a bid through Royal Up. The process can be somewhat unpredictable, with minimal transparency on how bids are selected.
FAQs
How Often Are Royal Up Bids Accepted? 
When you know how the bid process works, you can get your bids accepted 90% of the time. Knowing how bids are accepted and strategically optimizing them can significantly improve your chance. 
What Is The Minimum Bid for Royal Up?
That depends on the suite you're bidding on. For example, the Royal Suite has a minimum bid of $490 while it's $150 for a Grand Suite. The 2-bedroom Owner's Suite has a minimum bid of $365. 
Is Royal Up Refundable? 
Once your bid gets accepted, Royal Up is non-refundable. But if your bid does not get accepted, they will not charge you anything.
Conclusion
So, the question "Is Royal Up worth it?" depends on various factors as you've learned by now. 
For example, your preferences, budget, and the potential for upgrades. Having the flexibility to bid strategically can enhance your Royal Up cruise experience.