If your destination is the Amalfi coast of Italy then you should go to towns like Praiano and Positano.
But, Praiano or Positano, which one will you choose first?
Praiano offers a quieter and more affordable vacation experience with beautiful beaches, natural aspects, and stunning sunsets. Positano, however, is bustling and upscale, with larger, crowded beaches, and a vibrant dining scene. Praiano is ideal for a peaceful getaway and Positano offers a livelier atmosphere. So, the choice between Praiano and Positano depends on preferences. 
There are a lot of factors to know about towns like Praiano and Positano. To gather more knowledge about these towns go through the whole article.
Praiano or Positano: In Depth Comparison!
There are a lot of factors depending on how you can choose which town will be better for your vacation destination. So, let's have an overview of Praiano and Positano below.
| | | |
| --- | --- | --- |
| Features | Praiano | Positano |
| Location | Between Amalfi and Positano. | At the western end of the Amalfi Coast. |
| Beaches | Several small beaches including Mаrіnа dі Prаіа, and La Gavitella Beach. | Large, sandy beaches including Spiaggia Grande, Fornillo, and La Porta. |
| Scenic beauty and sites | Beaches, botanical and natural aspects, hiking trails, Torre a Mare watchtower, and natural caves.  | Beaches, Hiking trails, cable car up Monte Faito. |
| Activities | Visiting Church, hiking, boat trip, kayaking, and nightclub.  | Cozy espresso bars, raging nightclubs, Boat trips, driving, hiking. |
| Boat Tours | Boat tours that visit Capri. | Boat tours to Sorrento Coast and Capri. |
| Dining options | Pizza, Pasta, Seafood, the Mediterranean Sea, and a lounge bar. | White figs, Soppressata Di Ricigliano, Barilotto, and sea foods. |
| Shopping | La Bacheca, Il Gusto della Costa, Lizard Ceramiche,  Lizart Ceramiche.  | Antica Sartoria by Giacomo Cinque,Bottega di Brunella,Safari,Ceramiche Casola. |
| Cost  | Less Expensive. | More Expensive |
Location – Praiano and Positano
Praiano and Positano are two stunning towns on the Amalfi Coast in the Campania region of the Salerno Province, Italy. 
Praiano is positioned between Positano and Amalfi, providing a quieter and more serene atmosphere. And Positano is a village on the Amalfi Coast, mainly in an enclave in the hills leading down to the coast.
Beaches
In Praiano, Marina di Praia Beach is a small but charming beach with crystal clear waters, surrounded by majestic cliffs. Also, La Gavitella Beach in Praiano offers breathtaking views of the sea and the landscape. Though it requires navigating down a steep set of stairs.
Positano, on the other hand, features the prominent Spiaggia Grande as its main beach. It is divided into four sections, including a paid beach club, areas for residents, and two areas accessible to all.
The public areas are located at the ends of the beach, while the center is occupied by the beach club. Additionally, Fornillo Beach in Positano is a short stroll from the main beach and town center. It provides visitors with equally captivating views of the sea and surroundings. 
Scenic Beauty And Sites
While Praiano offers a more secluded and peaceful atmosphere, Positano provides a range of natural aspects for visitors to explore. 
In Praiano, the Marina di Praia Beach is a small and serene spot with crystal-clear waters and cliffs. The Convento Di Santa Maria A Castro, perched on the side of a mountain, offers breathtaking views of Capri. Additionally, the Torre a Mare is a tower in Praiano that provides stunning vistas of the sea and surrounding landscapes.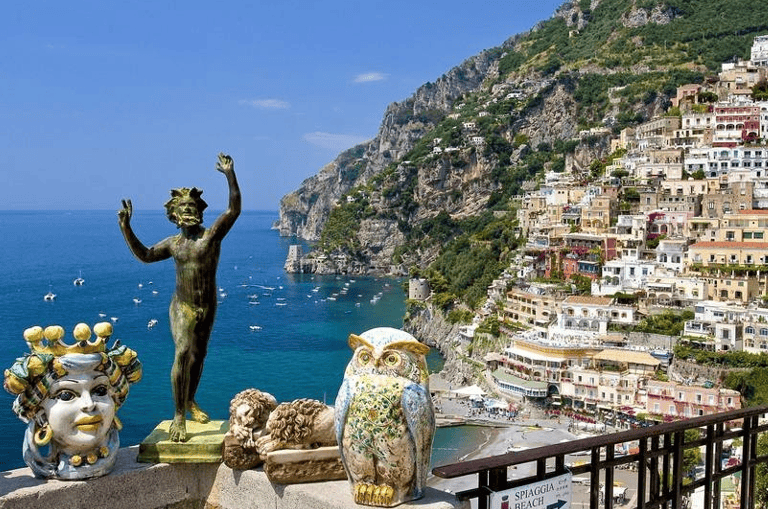 Source: Almafi coast
Positano, known for its vibrant atmosphere, boasts the iconic Spiaggia Grande, the main beach divided into sections for beach clubs. Fornillo Beach, located just outside the town center, offers stunning views of the sea and surroundings. You can also go to Tuscany, Italy to have an amazing tourist experience.
Activities at Praiano and Positano
Both towns of Praiano and Positano, provide visitors with the opportunity to experience boat tours to explore the breathtaking Amalfi Coast. 
Praiano offers a selection of boat tours, such as small-group full-day tours that stop at various towns, and visit beaches, and Capri. Praiano, with its tranquil and serene atmosphere, exudes local charm and authenticity. 
The town provides a range of outdoor activities, including hiking, running, swimming, snorkeling, nightclubs, etc. Notably, the Path of the Gods, a popular hiking trail, presents breathtaking views of the coast.
However, Positano offers a more extensive range of boat tours. Private boat tours offer a personalized experience, including visits to the Emerald Grotto and Duomo Ravello.
Positano offers a multitude of activities, including sightseeing, capturing photos of colorful buildings, swimming, snorkeling, walking tours, nightclubs, etc. These activities allow visitors to fully experience the beauty and charm of the town.
However, if you are going on a honeymoon you can choose Italy, or Hawaii as these are popular travel destinations.
Dining Options
Praiano is renowned for its local and authentic culinary offerings, providing a serene atmosphere. In Praiano, one can indulge in a variety of delectable seafood dishes, featuring fresh catches from the nearby Mediterranean Sea. 
On the other hand, Positano thrives with its lively atmosphere, offering a plethora of dining options. From traditional pizzerias to pasta restaurants and seafood establishments, Positano presents a diverse culinary scene. Additionally, some restaurants in Positano even provide delivery services. 
Notably, Positano is renowned for its picturesque dining settings, with many establishments offering panoramic views of the coast. Overall, both towns offer a range of dining options to satisfy different palates. 
Shopping – Praiano and Positano
The local stores in Praiano offer a variety of goods, including ceramics, souvenirs, and art, adding to its charm. In contrast, Positano boasts a lively atmosphere with its pebble beach and steep, narrow streets. 
It surpasses Praiano in terms of shopping options by hosting a greater number of establishments. But ultimately, Praiano and Positano offer distinct shopping experiences to visitors.
Cost
In terms of cost, Praiano is often regarded as a more affordable option in comparison to Positano. 
Praiano offers a range of accommodations, from budget-friendly options to luxurious hotels. Here's what visiting Praiano for a week will cost you. 
| | | | |
| --- | --- | --- | --- |
| Trip status  | Solo | Couple | Family  |
| Budget-friendly | $678-$1,591 | $1,236-$2,882 | $2,412-$5,752 |
| Average | $1,018-$2,796 | $2,290-$4,928 | $3,376-$8,562 |
| Luxury | $2,288-$14,585 | $3,862-$18,370 | $7,724-$31,340 |
Alternatively, Positano is known for its luxury and upscale offerings, which often come with a higher price tag. 
| | | | |
| --- | --- | --- | --- |
| Trip status  | Solo | Couple | Family  |
| Budget-friendly | $756-$1,711 | $1,356-$3,086 | $1,356-$3,086 |
| Average | $1,234-$3,177 | $2,590-$5,498 | $3,976-$9,606 |
| Luxury | $2,843-$18,210 | $4,696-$22,380 | $9,392-$37,740 |
The cost may vary depending on the accommodations, dining, and activities in these towns. The cheapest time to visit both of these towns is in the middle of January to April and September to December.
Praiano or Positano: Which One Is Better?
The decision between Praiano and Positano for a vacation ultimately depends on individual preferences and desired experiences. 
Praiano offers a quieter and less crowded atmosphere compared to Positano. This makes it a suitable choice for those seeking a more peaceful getaway. It is often considered the most romantic town on the Amalfi Coast, offering stunning views and sunsets. 
Positano is more touristy and tends to be more crowded than Praiano. It has a chic and stylish ambiance but comes with higher price tags. 
Considering these factors, you can choose which to visit first. But, if you have time and money to spare, you should visit both for some quality touring experience. 
FAQs
Is It Possible to Walk from Praiano to Positano?
Yes, it is possible to walk from Praiano to Positano. There is a point-to-point trail that spans approximately 3.7 miles (around 6 kilometers) between the two towns in Italy. This trail is often considered challenging and takes an average of 3 hours and 9 minutes to complete. 
Which Side of Positano Is Best?
The lower part of Positano is often considered the best side to avoid the steep slopes of the town. This area provides convenient access to the beach and the center of Positano without having to navigate the uphill terrain. 
Is the Water in Positano Clear?
Yes, the water in Positano is known for its clear and turquoise appearance. Positano, situated on the Amalfi Coast, and its beach is renowned for its crystal-clear waters. Visitors can expect to enjoy the refreshing clarity of the water, which enhances the beauty of this coastal paradise. 
Conclusion
Now you know which one to choose Priano or Positano. 
Praiano and Positano are both exquisite destinations that offer unique experiences to make them ideal choices for a vacation. Hope this guide helped you to choose the perfect vacation. Good luck.