Just got a notification that you've got a refund from your hotel. This might leave you a bit confused. 
You could be planning a hotel stay or might be returning from one. No matter what the case is a sudden refund of money surely raises some eyebrows. 
So why did the hotel refund my money?
The hotel can refund you for any unfortunate dispute during your stay. It could also be a compensation for any service-related issues. Cancellation policy or flexible booking options of hotels often makes you qualify for a refund! Remember, it all depends on the policy of the hotel. 
This is just a brief idea. We'll discuss these in detail throughout the article. So stick with us. 
Reasons to Get a Refund From The Hotel
Hotels try to ensure the best possible staying experience for their customers. However, often time things don't go according to plan. And situations such as hotels refunding your money occur.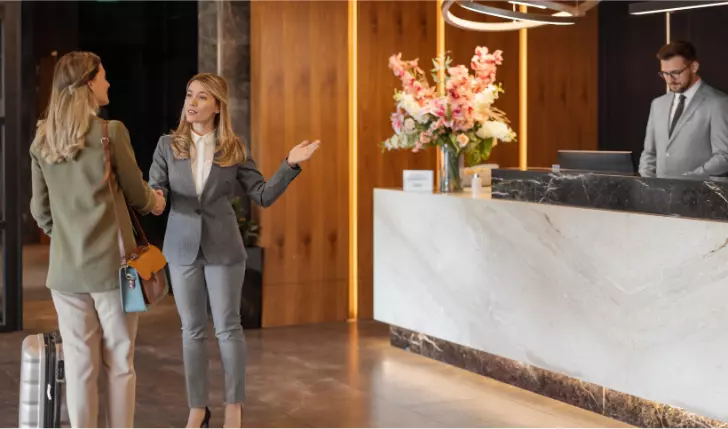 You could suddenly see your hotel charge disappear. Or you could even see your hotel deposit still pending. Which could lead to the hotel charging you months later. 
Here are the top 4 reasons why your hotel might've refunded you. 
Reason 1 of 4: Service-related Issues
The primary differentiating factor of every hotel from its competitor is its service and amenities. The hotel service could be the most important factor for a hotel. 
But sometimes the hotels fail to provide the expected service to their customers. As a result, the guests have an unpleasant experience. And the hotel receives a negative review. 
Some of the most common service-related issues that you could face are: 
Lack of Hygiene 
Maintenance Issues
Bad Behavior from the Hotel Staff
Noise or Disturbances
Failure to Honor Amenities or Services
Loss or damage to personnel items
Now, most hotels try to do damage control of their reputation by compensating the customers in some way. And one of the ways is by refunding your money. 
But there's a catch. 
Hotels might not refund your entire hotel bill. Sometimes the hotels can just refund you for the service they're not being able to provide. 
For example, if the hotel doesn't have iron services at the moment they'll refund you money for that amenity. 
When a guest pays for a service, that the hotel cannot provide it's called an overpayment. And the hotel returns it to the guest.  
Reason 2 of 4: Cancellation Policies and Flexible Booking Options
It's important to read the hotel's policy upon cancellation of your booking. Some hotels have flexible booking options. And this could be a reason why your hotel refunded your money.  
Whereas some hotels are a bit more rigid. Because they do not offer a refund.
Generally, most hotels have a policy to give a full refund considering a certain timeline. Most hotels have a policy to refund without incurring any loss if the booking is canceled within 24-48 hours. 
Usually, after this time frame the hotel will charge you a cancellation fee. This fee could be a certain amount, a percentage of the fee, or the full amount. It depends on the hotel's terms and conditions.
Alternatively, it is also essential to know, how can you raise a dispute with the hotel for a nonrefundable hotel reservation, if you are unable to show up because of some emergency.
Reason 3 of 4:Overbooking and Room Availability can result in Hotel Refund
Sometimes hotels use the strategy of overbooking and room availability. They book more rooms for guests than they have. 
It's a strategy adopted by the hotels to not incur any loss from last-minute cancellations. Or in case of a no-show. However, sometimes this situation arises due to management error, miscalculation, or a sudden surge of guests checking in. 
If this results in the unavailability of rooms for guests who booked a stay then they have some obligations. 
Firstly the hotel management needs to arrange accommodation that is comparable to the one the guest booked. 
And secondly, if it's not possible the booking fee must be refunded. Since it's an error on the hotel's end they'll not charge any cancellation fee. 
Want to know if hotels have washing machines? read this interesting and factual article.
Reason 4 of 4:Maintenance or Renovation can be compensated as a hotel refund
Hotels usually plan ahead regarding which rooms will not be available because of certain maintenance. However, sometimes unexpected maintenance or renovation work pop up. 
Maintenance work could create a lot of disturbance. And it could also restrict the guests from using certain amenities. 
Sometimes it becomes unpleasant and unbearable. If so then you can call the front desk office and let them know about it. 
In this case, the hotel primarily tries to arrange another accommodation for its guests. Accommodations are similar to the ones they booked in a different hotel. 
If they're unable to do so then they opt for refunding. 
Hotel Refunded Me for No Reason:
There could be a chance that all the above-mentioned reasons don't match with you. Then there is a chance that the hotel made an error and accidentally refunded your money. 
One of the errors could be the one made by the front desk. They might charge you for a double booking by mistake. After figuring out the mistake through their audit, they'll refund you the money. 
This is the reason why you might feel like the "hotel charged me more." 
The error of double booking could also occur due to a technical glitch. If the technical glitch is found out by the hotel they'll refund the money. 
Besides, sometimes while booking through a 3rd party there might be some errors. In this case, the 3rd party should be alerted. Which will lead to a refund. 
When you can't seem to figure out the exact reason, these could be it. To get to the bottom of this the right thing to do is to contact the hotel.
What to Do When You Think You're Entitled foe a Hotel Refund?
If you feel like you're entitled to a refund the first thing you should do is contact the hotel. 
First, try to solve the matter at the front desk. If you get no solution then call for the manager. Try to negotiate a refund by communicating with the hotel. If your personal item is lost or your favorite travel bag is damaged then it is essential that you raise a dispute.
But first, you should know when to issue a refund. For that, you can see this video.
If they refuse your refund you can contact their corporate office. You can also contact the consumer protection agency. 
FAQ
How long do hotel refunds take?
The length of time it takes to obtain your hotel deposit refund is determined by various factors. Such as the hotel's refund policy, the length of your stay, and your payment method. Most hotels will reimburse you within a few days after your departure. Some, though, may take up to a week or more.
Can I get a refund if I leave the hotel early?
The answer is no. The majority of hotels have a tight policy that prohibits refunds if visitors check out early. However, you can try to clarify the situation to the hotel personnel. Sometimes they might agree and are prepared to work with you. Especially if the hotel's refund policy is flexible. 
Can a hotel cancel your stay?
Hotel reservations may sometimes be canceled due to unexpected situations. Such as natural catastrophes, power outages, or unexpected maintenance concerns. The hotel is not required to refund visitors in these instances. Although they may offer to rebook the reservation for a later date.
Conclusion
Hopefully, this answers your query of why did the hotel refund my money? Now you can have peace of mind and take the necessary action. 
Once again, always remember to always check the hotel's terms and conditions before booking. 
We hope that we could be of help. Catch you another time.