As there are various types of hotels and resorts in Las Vegas, it might get confusing to choose one. Considering all factors, Bellagio and Cosmopolitan are two of the finest options you can consider. 
So, what is your pick from Bellagio vs Cosmopolitan?
Bellagio offers a more elegant and sophisticated environment, whereas Cosmopolitan is more hip, modern, and trendy. Cosmopolitan is more suitable for young adults, couples, and groups, while Bellagio is ideal for luxury travelers and families. But Cosmopolitan offers more room and suite categories with larger space than Bellagio. Also, Bellagio is a little more expensive than Cosmopolitan. 
So, let's see what these fine Las Vegas hotels have to offer for your luxurious vacation or group trip.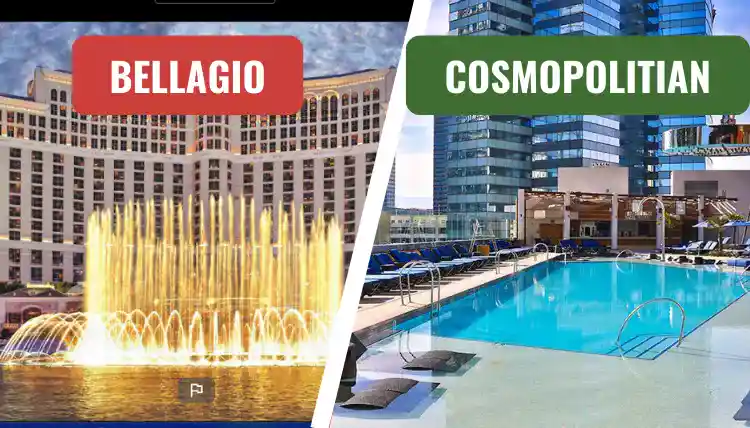 Bellagio Vs Cosmopolitan: A Brief Comparison
Both Bellagio and Cosmopolitan are titans in terms of hotel accommodations and facilities for their guests. Similar to the comparison between Nomad & Park MGM, these two luxury hotels also have contrasting features. 
Now, take a look at the brief comparison table. We've included all the essential details for both hotels for you to judge. 
| | | |
| --- | --- | --- |
| Factors | Bellagio | Cosmopolitan |
| Location | On the Las Vegas Strip, in between the Flamingo Road and the Wynn.  | On the Las Vegas Strip, south of Bellagio and west of Las Vegas Boulevard. |
| Room Size & View | – 510-626 sqft- Fountain View- Strip View- Mountain View | – 460-2400 sqft- City View- Strip View |
| Dining & Entertainment | – 14 restaurants.- in-room dining services- Spa, Pool, Bars, Casino- Fine art gallery, acrobatic shows, botanical garden, etc. – Hair Salon with cocktails  | – 25 restaurants. – Sunset cocktail hours, group dining, in-room dining services, etc. –  Live music shows, movie nights, nightclubs, etc.  |
| Amenities | Free Wi-Fi, fitness center, laundry, spa, swim bar, mini bar, conference room, etc.  | Free Wi-Fi, laundry, fitness center, spa, swim bar, conference room, pets allowed, etc.  |
| Overall Atmosphere | More elegant, luxurious, and sophisticated.  | More modern, trendy, and hip.  |
| Price Range | $179-$699 per night, 2 adults.  | $112-$656 per night, 2 adults.  |
So, now that you're done judging the essential details of both hotels, it'll be worth diving into the details. Let's see what these two hotels really have to offer in a luxury hotel battle. 
Bellagio VS Cosmopolitan: A Detailed Comparison
Location
Both Bellagio and Cosmopolitan are located on the Las Vegas Strip. Cosmopolitan is located on the south of the Bellagio, while Bellagio is located between Flamingo Road and the Wynn. 
Also, Cosmopolitan has Las Vegas Boulevard on the west side of its location. That allows for a magnificent view of the Boulevard. 
Room Size & View-Bellagio VS Cosmopolitan
Cosmopolitan offers larger rooms and suites compared to Bellagio. But Bellagio offers a fountain view, while Cosmopolitan offers a city view. 
You can see the whole wide city of Las Vegas from the humongous rooms of Cosmopolitan. On the other hand, Bellagio offers an elegant mountain view that is worth staring at.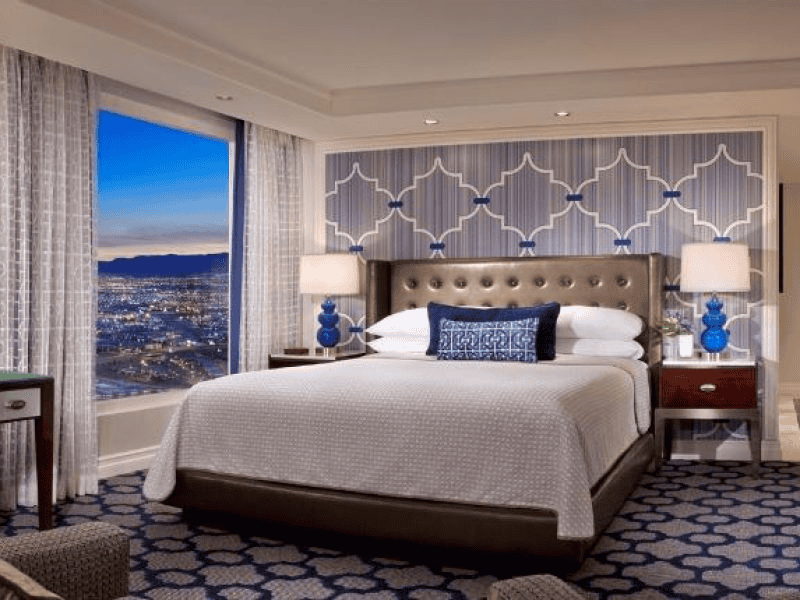 Bellagio's Resort Tower King suite is its largest. It entails 626 sq ft of space with a panoramic view of Las Vegas. On the other hand, Cosmopolitan's largest suite is the Chelsea Penthouse entailing 2400 sq ft of space. 
With floor-to-ceiling windows and panoramic views of Las Vegas, Cosmopolitan's Chelsea Penthouse is surely worth spending the money on. Compared to that, Bellagio falls behind with its smaller room size and views. 
Dining & Entertainment
Cosmopolitan has 25 restaurants with diverse dining options, while Bellagio only has 14 restaurants. 
With Cosmopolitan's diverse collection of restaurants, you can try out different meals and foods for your taste. Its Wicked Spoon and Superfrico are the best restaurants.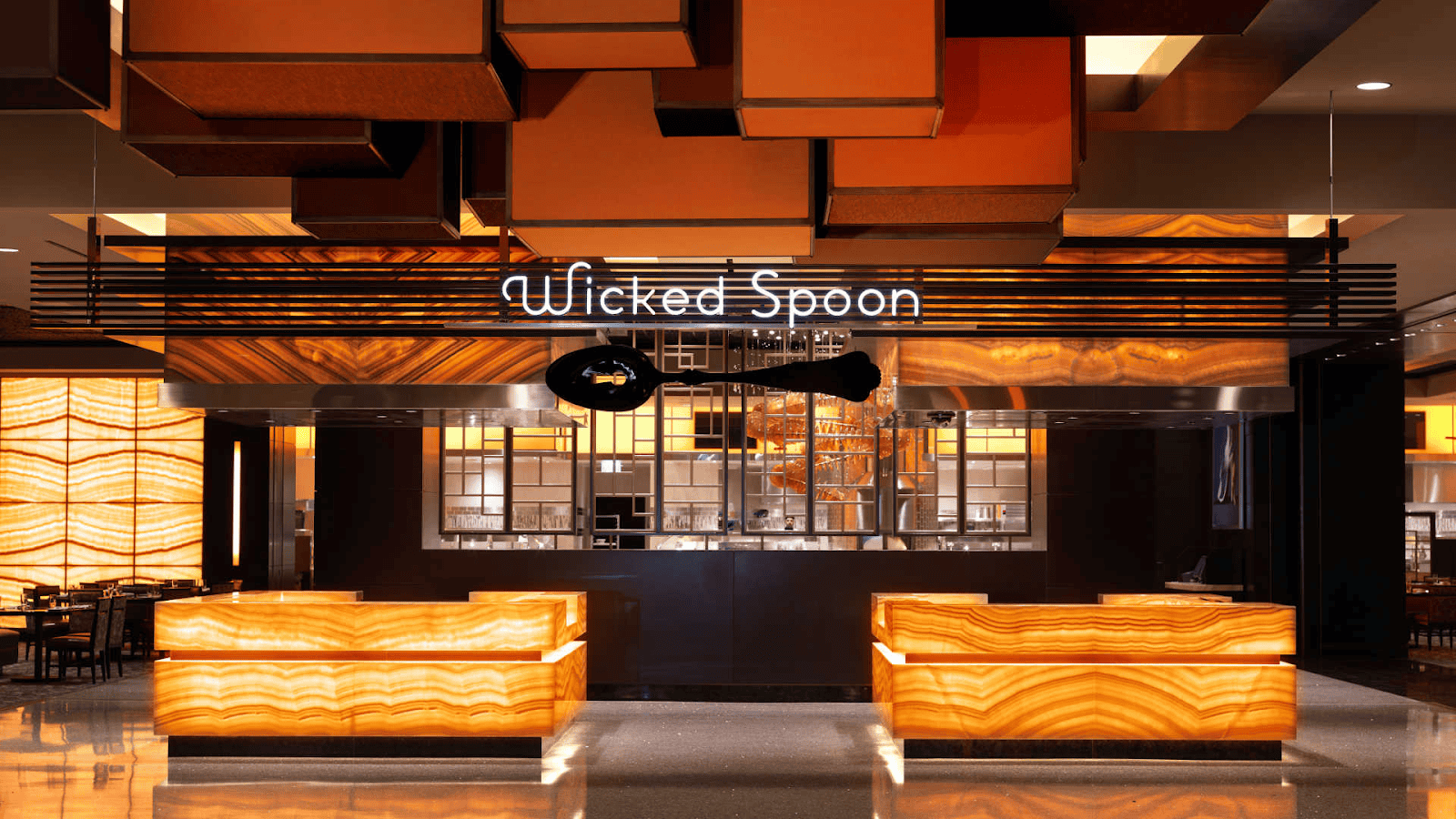 In contrast, Bellagio offers diverse dining options ranging from famous Italian to American, Japanese, and French cuisines. 
While Cosmopolitan offers the delicious taste of Jalleo's Spanish foods, Bellagio offers the sophisticated taste of Le Cirque's French cuisine. Bellagio also offers an elegant pool cafe bar which is comparable to the Ghost Donkey's Mezcal & Tequila bar at Cosmopolitan. 
Also, you can enjoy a good time with Cirque Du Soleil's aquatic-themed acrobatic show "O" at Bellagio. Or you can enjoy the elegant Bellagio Gallery of Fine Arts or the beautiful Bellagio Conservatory and Botanical Garden. You can also enjoy an exciting time at the Bellagio Casino, making bucks in no time. 
Compared to the entertainment at Bellagio, Cosmopolitan offers more trendy pleasures. There're movies, exciting nightlife at nightclubs, and live music shows featuring world-class artists. The musical shows include artists such as Joe Bonamassa, Smashing Pumpkins, Charlie Puth, etc.  
The endless excitement of The Chelsea Tower, Marquee Nightclub, and Clique are things that Bellagio can't offer to young adults. And also, there's the glamorous 100,000 sq ft of the casino floor with floor-to-ceiling windows, which is another dazzling eye candy.
Amenities at Bellagio VS Cosmopolitan
Both Bellagio and Cosmopolitan offer similar amenities, but Cosmopolitan allows pets while Bellagio doesn't. 
There's free Wi-Fi at every corner of both Bellagio and Cosmopolitan. Also, you can enjoy endless time at the much bigger pool and spa centers of Cosmopolitan than Bellagio. And, both hotels offer poolside cafes and bars. 
But for business conferences or meetings, Bellagio offers a more classic style and sophisticated environment than Cosmopolitan. 
Overall Atmosphere
Bellagio has a crowded atmosphere at most times with families and children, while Cosmopolitan is much more spacious. 
Also, Bellagio offers an elegant, classic, and sophisticated atmosphere for its guests. As such, Bellagio's guests are mostly families, older couples, etc. On the other hand, Cosmopolitan offers a modern, flashy, and hip atmosphere targeted at young adults and groups. 
So, Cosmopolitan is a great place for a bachelor night or a romantic trip for young couples. 
Price Range-Bellagio VS Cosmopolitan
Although Cosmopolitan offers larger rooms and more dining options, it is less expensive than Bellagio. 
The price range varies depending on the time of the month and other accommodations. For a room or suite in July 2023, Bellagio will cost $179 to $699 for 2 adults per night. In Contrast, Cosmopolitan will cost $112 to $656 for the same requirements. 
So, on average, it's safe to say that Bellagio costs more than Cosmopolitan, excluding taxes and additional charges. 
For MGM Rewards members, Bellagio offers personalized services, the lowest hotel rates, and special entertainment deals. Cosmopolitan also offers VIP access, exclusive offers, and rewards for its Identity Members. 
Which Is The Best Hotel For You in Las Vegas?
As its atmosphere and style suggest, Bellagio is more conventional, and classy if you're on for this style. 
But if you're a young adult or couple and like exciting activities and nightlife, Cosmopolitan is the place for you. So, choose one which agrees with your lifestyle and preference. 
But previous guests of Bellagio have complained that it's overcrowded. So, there's that for you to judge. For more options, you can compare St. Regis and Ritz Carlton. They also offer varieties of facilities similar to the two we've discussed here. 
FAQs
Do you Tip for Free Drinks in Vegas?
Yes, it is customary to tip $1 or $2 for your free drinks. The servers will come to you with drinks while you enjoy gambling at the casino. These tips are one of the important incomes of the servers.  
Is Bellagio Pool for Guests Only?
Yes, you have to be a guest to enjoy the pools at Bellagio. There are poolside bars and cafes for you to enjoy. But it's closed at night. The average time is 9.00 am to 5.00 pm. 
Is Bellagio Connected to Cosmopolitan?
MGM Resorts is investing in connecting neighborhood hotels together. As part of the investment, the Bellagio, Cosmopolitan, and Vdara will come together. Thus, MGM Resorts is planning to expand to a hotel chain on the Las Vegas Strip. 
Conclusion
That's all there is to the comparison between Bellagio vs Cosmopolitan. 
You should get the gist and atmosphere of both hotels by now, alongside the offers and price ranges. So, it's time for you to choose one that goes with you for a luxurious and worthy vacation. Good luck.