Springhill and Towneplace are both popular Marriott properties. Choosing between these two hotels can be quite troublesome as from the outside both look the same.
But which is the better hotel between springhill suites vs towneplace suites?
Between Springhill and Towneplace suites, Towneplace offers a more homey environment with in-built kitchen. Whereas the overall atmosphere of Springhill suites is more elevated and geared towards business travelers. You can also find more locations of Springhill suites than Towneplace.
So, we have all the information laid out for you in a detailed comparison below. Just, keep on reading!
A Quick Comparison
The following is a quick snippet, comparing some of the main features of the two hotels. So, let's have a look!
| | | |
| --- | --- | --- |
| Features | Springhill Suites | Towneplace Suites |
| Star Rating | 3 star | 3 star |
| Service | Upscale | Upper-midscale |
| Parking | Free | Around $20 |
| Room Facilities | Has an in suite work space | Has an in suite kitchen |
| Bar | Has a separate spacious bar area | No separate bar area is present |
| Cost | Starts from $175  | Starts from $185  |
| Pet Policy | Pets are not allowed in some locations | Pets are allowed |
| Marriott Bonvoy Points | 10 Points Per $1 USD Spent | 5 Points Per $1 USD Spent |
Now, let us move on to a more detailed comparison between Springhill and Towneplace Suites. That way, you can have a better idea about their similarities and differences!
In-Detail Comparison
Springhill Suites and TownePlace Suites are different brands owned by Marriott. But which of the two is a better pick for any guests looking to stay over? 
Let's find out!
Amenities 
Both Springhill suites and Towneplace suites offer a wide range of amenities. Some of the Springhill suites amenities include free Wi-Fi, in-suite workspaces and complimentary breakfast.
Now, some of the Towneplace suites amenities include free breakfast buffet, a convenience store, in suite kitchen and pet accommodations.
Having said that, let us get into the detailed amenities that these hotels provide for their guests!
Wifi
Springhill provides free, high-speed internet when you're a guest at their hotel. And you won't just have access to that whilst in your room. You'll have that access in any public areas in the hotel as well. 
And Towneplace provides their guests the same internet facilities as well. So let's move on to the next thing. 
Breakfast
Breakfast is one of the most important meals of the day. So, it's safe to wonder does Springhill suites have free breakfast?
Yes, Springhill suites offer free breakfast with their stay. Breakfast selections include scrambled eggs, sausage, biscuits and gravy, cereals, yogurt, fresh fruits, pastries and bread, as well as a waffle maker and oat meal.
The same can be noticed in Towneplace suites. Thus, if you're in need of a hot breakfast with your stay, you can easily opt for any of these two hotels.
Pool
Both Springhill & Towneplace suites in Miami Airport have an outdoor pool for their guests. However, neither of the hotels offers a hot tub. 
But the Springhill suites pool is surrounded by palm trees. So you can have a taste of the outstanding views awaiting you all around Miami. 
On the other hand, the Towneplace suite pool is lovely as well. You just get a view of the splendid sky above. 
Spa
Unfortunately, Springhill suites don't come with their own spa in most locations. And the same applies to Towneplace. But, Springhill hotel has hairdressers if you need one. 
And if you are looking for spa treatments, check out Jetsetter Spa at Terminal H. Plus, there are multiple spa services that you can find near the airport!
Pet Friendliness
Between Springhill and Towneplace, Towneplace suites are more pet-friendly! It is in fact listed as one of the top contenders of pet friendy hotel chains across the states.
That's such a relief when you're traveling with your pets. So, you don't have to worry about leaving your pet elsewhere. 
On the other hand, the pet policy of most locations of Springhill suites does not allow pets. Even if they do you'll have to pay additional charges to bring your pet. Which you'd probably have to pay regardless to keep your pet at a pet day care. 
But keep in mind that pet dogs are often not very keen on day care. 
So according to the policies in both hotels, you can bring up to two pets with you. The pet fee for Towneplace and Springhill suites can range from 50-150 USD per pet, per stay. 
Gym
The fitness centers in Springhill & Towneplace suites are free for the guests to use. It comes complimentary with the rooms.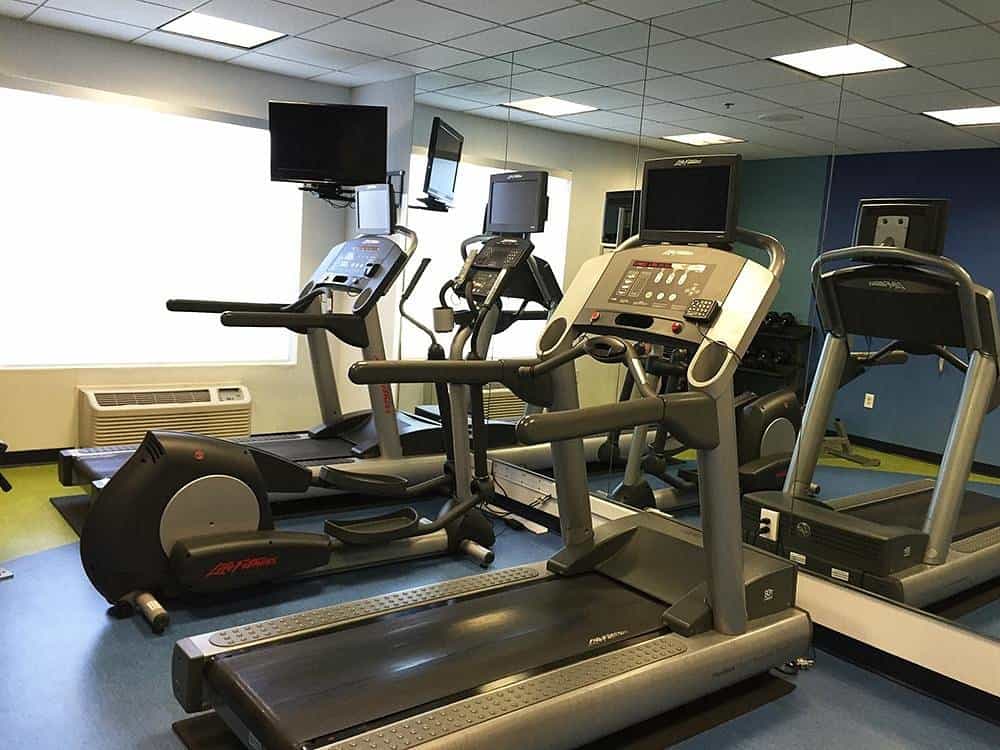 The Springhill suites gym only has a few pieces of cardio, basic weights and multi-functional workout equipment. You can only expect to complete a basic full-body exercise routine but nothing special.
The same can be noticed for Towneplace suites. Towneplace suites have elliptical machines, treadmills, free weights, and multiple other pieces of equipment. And they are available 24/7. 
Bar
Now, if you're looking for a hotel with a bar in it, Springhill suites is the one for you. They have a spacious bar for you to enjoy a drink or two.
But Towneplace suites don't have a separate bar. But you can always bring your own drinks or order away. And enjoy it in the comfort of your own hotel room. 
Parking
At Springhill free parking is available. However, they don't really offer any valets so you'll have to park your own car. 
And there are lots of places for you to park your car. So you won't have too much trouble finding the parking area. 
But unlike Springhill, Towneplace doesn't provide free parking. So, you'll have to pay extra charges for that. And the charge is about 20 USD. 
Plus a lot of the parking space is taken up by shuttles. So it can be annoying to park due to the cluster. 
However, both hotels provide on-site renting of cars. And they also have shuttle services available if you're not traveling in a car.
Accessibility 
Both hotels are accessible for the handicapped. And it applies to their parking and poolside areas as well.
Room Facilities 
Let us now look at some of the other facilities provided by these Marriott hotels. We'll start with their room facilities first!
Springhill Suites
Compared to the typical Marriott hotel rooms, Springhill suites have larger rooms. And they often come with their own secluded workspace as well. 
However, it must be mentioned that they do come off quite bland. 
And unless you're a part of their rewards program, you'll rarely enjoy any perks. However, the rooms are usually A1 with cleanliness. And the staff are very friendly. 
Plus you get a great breakfast buffet that comes complimentary with the room! 
In terms of what you get in the room, there are 3 types of rooms available in Springhill suites. First, is the King Suite which comes with a king-sized bed and a sofa bed. It's rated at 175 to 180 USD per night.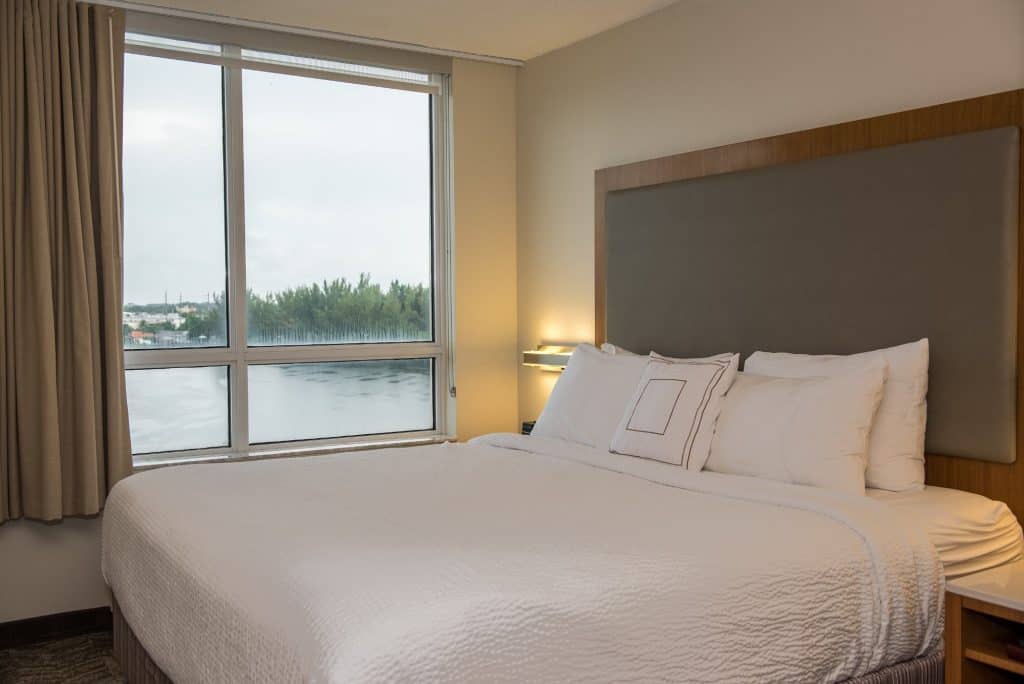 Next comes the 2 Double Suite, with 2 double beds and a sofa bed. And it can accommodate up to 5 people. It's rated the same as the King Suite. 
Lastly, the Executive Suite is the same as the 2 Double Suite. But the only difference here is that you get a great lake view. It's rated at 185 to 190 USD per night. 
Additionally, you'll get a plasma TV, a mini-fridge, and a microwave. And also a coffee/tea maker with all the rooms. 
Towneplace Suites
Now, Towneplace suites are unique in this aspect. Where they provide not only single and double bedroom units but also studios!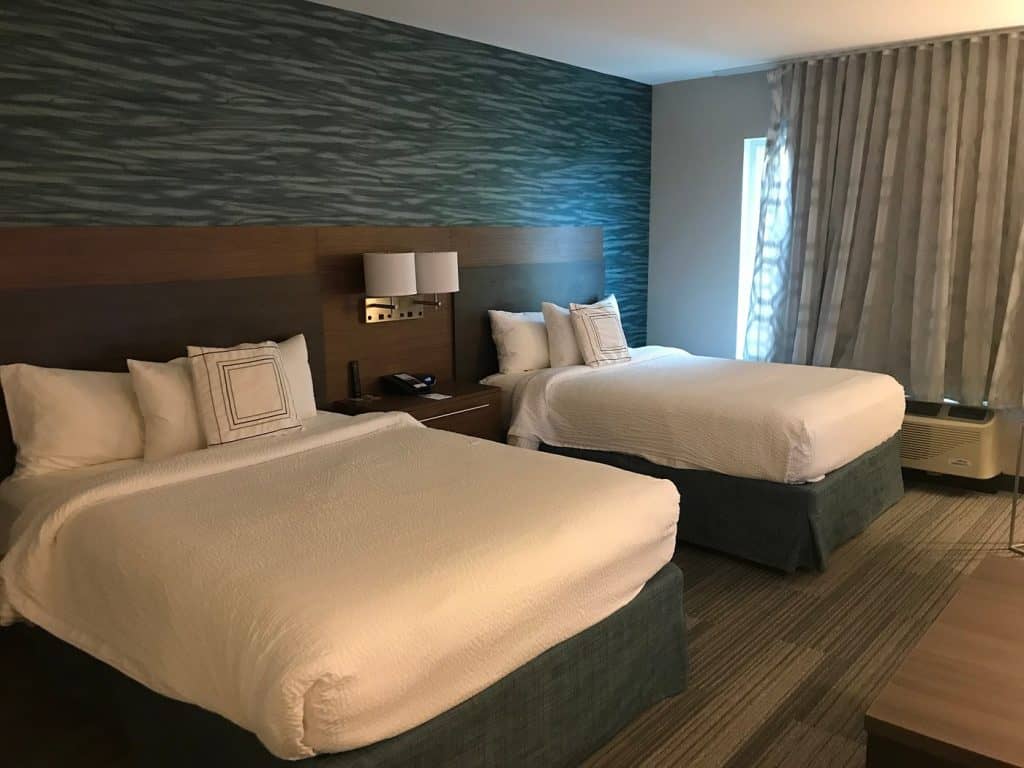 And the best thing is, they can certainly make you feel at home. Especially given how these suites come with their own kitchens. 
Yes, Towneplace suites have kitchens with their rooms. So you can cook your own meals if you'd prefer to!
Plus, you can also consider staying there long-term too. It's cost-effective and the large closets are definitely a bonus!
But like Springfield, Towneplace suites are also not that fancy. It's nothing extraordinary but you do get what you pay for.
In terms of the rooms, there are 4 types of rooms available in Towneplace suites. 2 of them are studio-like rooms, and the other 2 are bedroom suites. 
The studio rooms either come with 1 king-sized bed or 2 queen-sized beds. And both types are rated at 185 to 190 USD per night. 
Now, one of the bedroom suites comes with a king-sized bed and a sofa bed. Which is rated around 210 USD per night and has a single bedroom. 
On the other hand, the other bedroom suite comes with a queen-sized bed in two rooms. But one of the rooms has a sofa-bed as well. This suite is rated at around 240 USD per night. 
Location
The Springhill Suites by Marriott has over 500 locations all across North America. Springhill suites are also present in airports like the one situated at the Miami airport.
Now, Towneplace Suites by Marriott has over 400 locations across North America. One of these location also is located at Miami Airport in the west or Doral area.  
Whether it be a round-trip flight or a one-way flight, staying at any of these hotels will be ideal. 
Refund Policy
Both hotels do have their own refund policies. And if you need to, you can definitely cancel your reservation. 
However, you must do it a few days before the reserved date. Otherwise, you'll have to pay additional fees. But this is also based on whether you've booked a fully refundable room.
A good idea is to go through the refund policies of each location before making any reservations. 
Marriott Bonvoy Points
When it comes to Marriott Bonvoy Points, Springhill suites have the upper hand. In Springhill suites, for each $1 that you spend you'll get 10 Bonvoy points on all qualifying charges. This is the highest tier of points you can get from the Marriott hotel chain.
On the other hand, spending $1 in Towneplace suites will get you 5 Bonvoy points on all qualifying charges. So, if getting more Bonvoy points is something that you're considering while booking, then go for the the Springhill suites.
Available Cuisine 
At Springhill suites, there aren't really any dining options available, other than the breakfast buffet. But you get a variety of different cuisines available for breakfast. And it comes with amazing coffee.
And similarly, Towneplace also offers great variety in their complimentary breakfast menu. And it's usually served from 6:00 am to 9:30 am. So don't miss out!
You might find both continental and hot breakfast in both these places. 
Now, there are multiple popular restaurants nearby that you can go to. And you can always order in!
Some well-known fast-food chains around the area include McDonalds, Burger King, and Wendy's. Besides multiple steakhouses and Applebee's. 
The Final Verdict: Springhill or Towneplace?
Still can't make up your mind on where to stay? Well, think about what exactly you're looking for in your hotel room.
Both have multiple amenities to suit your needs. And are pet friendly too! 
But Springhill provides a bar and you can just stay in your hotel and enjoy. Whereas, Towneplace doesn't have a bar, yet provides a more home-like atmosphere. 
What remains is the parking, which you can have for free at Springfield. But comes with charges at Towneplace. 
So, if you're traveling by your car, we'd recommend Springfield. Otherwise, Towneplace doesn't fall too far behind!
FAQs
How far is Miami beach from Towneplace Suites in Miami Airport?
Miami Beach is only about 15 to 20 minutes away from TownePlace Suites in Miami Airport. And that makes it a great location to stay at. Since it's that close to the beach. So if you feel like soaking in saltwater instead of the chlorinated one, you can do that easily. 
Are rollaway beds available or allowed at Springhill Suites?
No, rollaway beds are neither available nor allowed at Springhill Suites. But most of their suites do come with a sofa bed. And that usually suffices, besides being more convenient as well. You don't have to roll it out and you can use it as a couch!
What is the Marriott Bonvoy?
The Marriott Bonvoy is a newly crafted travel program that was launched in February 2019. This program was made based on a belief. Which was that travel enriches their members as well as their surrounding world. It replaced the Marriott Rewards program after being launched. .
Conclusion
That's it. That's all we had for you on springhill suites vs towneplace suites. Hope we were able to help you reach a decision! 
One more tip before you go. Always book your hotels beforehand. This way you can get the rooms in much cheaper price. 
Have a wonderful stay, wherever you decide to stay!