Want to experience the best hotel with a casino and bar? Well, if you are in the USA you might already hear about Harrah's & Harveys Lake Tahoe. The fine dining with great adventures these hotels pop up.
Both of these hotels have impeccable amounts of amenities for the tourists. 
So, you might wonder what's better between Harrah's or Harveys Lake Tahoe?
Harrah's and Harveys Lake Tahoe are both situated very closely. But Harrahs has a larger range of area for the guests with 3 buildings. It has quick delicious bites but Harveys has more exquisite cuisines. Both hotels provide great experiences but only one is family-friendly!
Well, this is just a sneak peek. Don't worry! We have discussed both of the hotels and came up with what's best for you! 
Jump in to know more about this!
Quick Comparison
In many aspects, Harrahs and Harveys Lake Tahoe are kind of similar. Well, they are both great hotels with great amenities. But to get a proper understanding of the dissimilarities, let's go for a quick comparison!
| | | |
| --- | --- | --- |
| Parameters | Harrah's Lake Tahoe | Harveys Lake Tahoe |
| Staying Amenities  | Includes around 2,542 rooms across 3 buildings.  | Includes around 740 rooms and suites. |
| Casino | Started with 1,321 slot machines and 90 table games. Poker room and Blackjack tables. Total 74,000 sq ft. | Around 1,200 slot machines with 100 live-action game tables. Total 88,000 sq ft.  |
| Entertainment | Comedy dance shows, The Improv Comedy Club, Adult-themed musicals, and Rock shows. | Dance shows, Lake Tahoe outdoor arena for summer concerts. |
| Restaurants  | Over 8 restaurants including Bobby Burgers, Steak House, Street Food, and Pizza House.  | Around 7 exclusive restaurants including Gordon Ramsey Hells Kitchen, Sage Room & Cinnabon |
| Bars | Signature Bar with a specialty in Beer Cocktails. | Around three bars on the casino floor. |
| Fitness | Olympic-size outdoor free swimming pool.  | Fitness center and Spa with an outdoor pool. |
| Shopping | Crystals to Collectibles, Jewelry Store, Wine Store, Fashion & Accessories Store. | Souvenirs, Sporting Goods, Convenient Stores, and Jewelry Stores are available.  |
| Accommodation Per Night | Around $78 | Around $99 |
Well, now you have the general idea of how your stay will be in both hotels. But that's not enough! 
So, let's jump into the detailed comparison!
Detailed Comparison
Harrahs and Harveys are so close to each other, that it's really tough for a detailed comparison. It's like comparing Comfort Inn and Quality Inn.
But after comparing the quick features, let's look into the detailed comparison of the 2 hotels.
Facilities
Amenities are what attract the most tourists from all around the globe. Getting accommodation in a hotel with the most features is what we want!
First and foremost, double-speed wireless internet is available in both hotels. The WiFi access fee of Harrahs is included with the resort bill. But Harveys Lake Tahoe gives free internet throughout the hotel.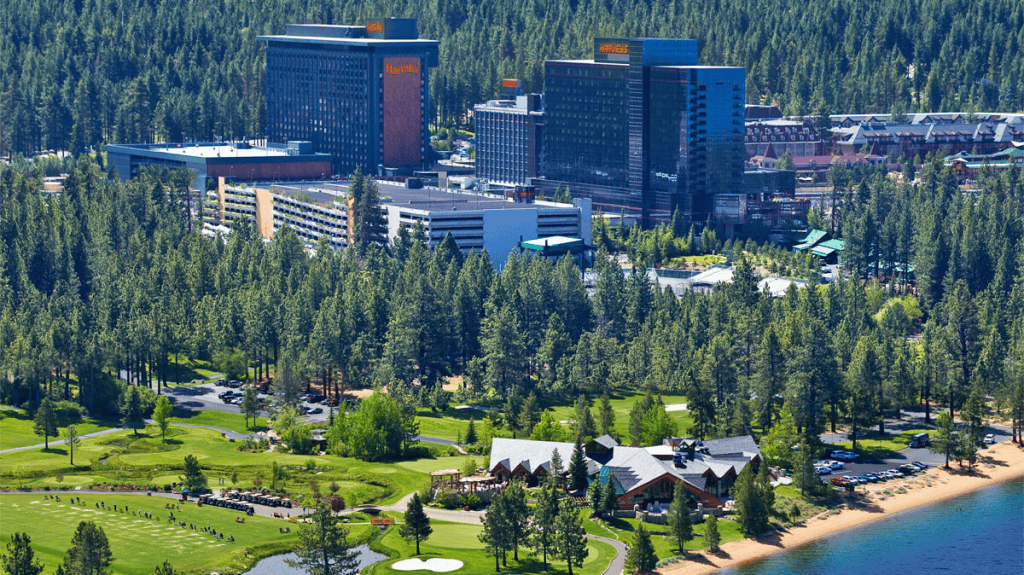 Both hotels have outdoor heated pools. But Harrah's provides you with great bar service and multiple dining options.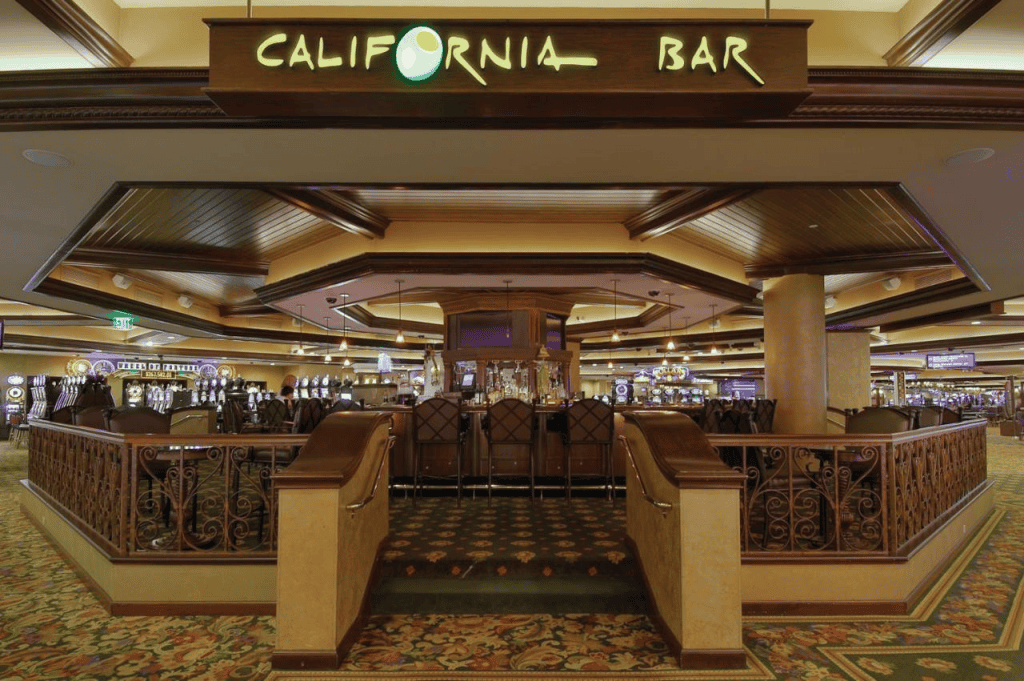 At Harrah's, you can take care of your skin, hair, and nails or get yourself a massage. But Harvey's offers only weekly special Euro facial and Swedish massage.  
Harrah's Lake Tahoe does not allow dogs. But you can bring your dogs up to 50 lbs for an additional $76 per pet, per night. 
The gym facilities in Harrah's are not that great. It has a small room with some machines. But Harveys offer co-ed fitness facilities with a great mountain view.
You will have a signature Bar with a specialty in Beer Cocktails in Harrah's. On the other hand, Harveys offers two more bars on the casino floor. 
If you decide to take your vehicle with you, Harrahs has a free parking space. But for Harveys, you will have to pay if the parking hour is over four. The entrance of this hotel is wheel accessible.
Now, let's jump into the room facilities!
Room Facilities 
If we look at Harrah's Lake Tahoe we get a spacious room with a bath. You can go to every floor as the elevator has access. 
If you are willing to keep your drinks cold in the room, unfortunately, the room is not equipped with a fridge.
But you can request the hotel so that they can send one to your room. You can choose your desired suite from over 2,542 rooms. 
However, the three buildings have enough space for you to roam around.
On the other hand, Harveys Lake Tahoe comes with In-room movies, with Cable HDTV. The room is fully air-conditioned. There are wash and iron amenities available in the room.  
Location
Harrah's is situated in a very beautiful location on the Lake Tahoe Stateline. You get an amazing view of the mountains with clouds. But don't expect views like Bryce or Grand Canyon.
The hotel looks luxurious and attractive from the outside. If you are getting a room with a top balcony, you will be able to see through the forest, lake, and mountains. 
The view from Harveys Lake Tahoe is also pretty the same. Because both of these hotels are situated in a close range.
But you need to keep the booking line in mind whenever you are ready to book these hotels!
But if you decide not to go after booking, there is a refund policy! 
Let's have a look.
Refund Policy
Harrah's and Harveys both of these hotels offer free cancellation. But you need to cancel at least 48 hours before you are checking in.
Harrah's will charge your credit card for one night's stay up front. But after that it doesn't matter how many days you are going to stay, the bill will be added upon checkout.
Here's an important fact to understand, that is, you cannot get a refund after you have spent one day in the hotel. 
But if there is any miscommunication from the hotel's end, you can talk to the manager about getting a refund.
Harveys hotel sends you an email with the receipt of your booking to avoid any inaccuracy. 
Food
You are going to get some mouth-watering food in both Harrah's and Harveys. 
As fine as the dining area, you might notice a big price difference between the local and hotel cuisine. So let's get you an image of what these hotels' cuisines are!
Harrah's Lake Tahoe Hotel
If you are looking for something fast and also delicious you have a lot of options here.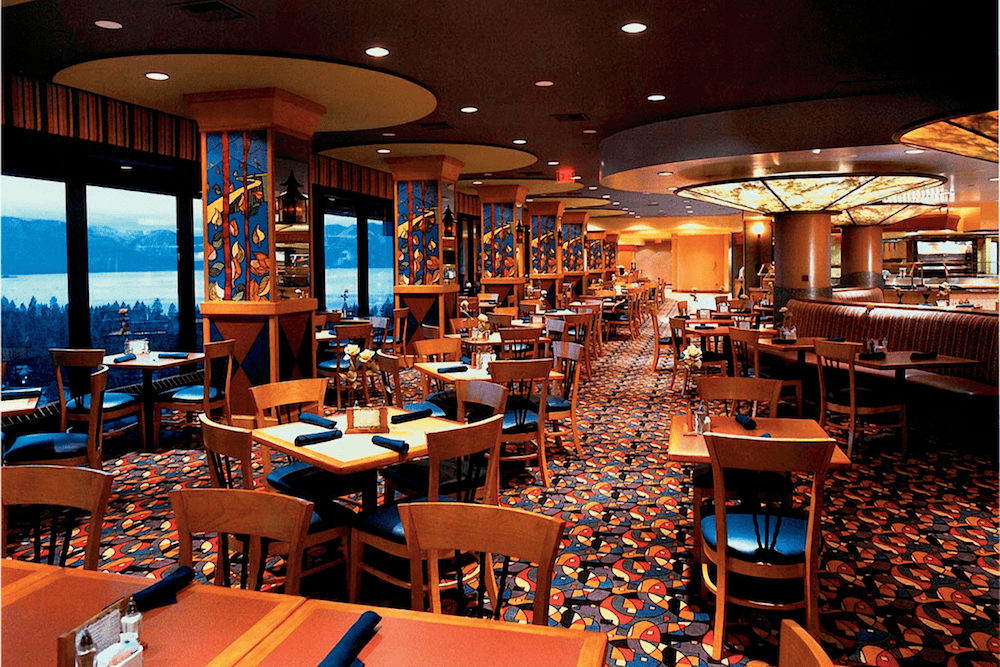 So, we are going to give you some must-try restaurants from Harrah's Lake Tahoe:
Friday's Station Steak and Seafood Grill
American River Cafe
Caesars Eats
Sapori
While you are there, try to visit the food courts in Harrah's. There are three delicious options for you to choose from. You should try the Fatburger. 
If you are a Starbucks lover, well, Harrah's also got you!
Harveys Lake Tahoe
Harveys comes with some expensive and exquisite food experiences from you. It has the world-famous Gordon Ramsay Hells Kitchen for you, with some signature dishes.  
Here are some of the best restaurants to try in Harveys: 
Sage Room
Gordon Ramsay Hells Kitchen
El Jefes Cantina Tahoe
Cinnabon
Joes Sports Bar & Grill
So if you plan on visiting, don't forget to munch on these delicious foods!
Security and Restrictions
Well, there are not many restrictions you might need to be aware of. Firstly, you should keep the current Covid-19 protocols in mind when you are entering the hotel. 
Harrah's is not completely a non-smoking hotel. If you are in Harrahs, you will notice the smoking area of the casino, where you can play and smoke. The poolside area also allowed for smoking.
Before entering the casino, make sure you know all the rules of the casino to avoid any trouble. 
On the other hand, Harveys do not allow smoking at all. It keeps the environment of the restaurants and pools more family-friendly.
You cannot carry lethal weapons of any kind. Any kind of drug is not permissible in both places. 
And we have already mentioned the pet conditions and restrictions in both of these hotels. 
Final Verdict 
Well, that's all we had to give you an image of what staying at one of these hotels might be for you!
Let's look at these two hotels and choose the perfect one for you!
| | |
| --- | --- |
| Place | Features |
| Harrah's Lake Tahoe | Perfect place to go with friends for adventures and gaming, with budget-friendly cuisine. |
| Harveys Lake Tahoe | Family-friendly environment with expensive and exquisite restaurants and cafes. |
Both of these hotels will give you amazing experiences. But you need to consider all of the factors before choosing one.
Harrah's will give you amazing casino nights with cheaper food options. But it's not a kid or family-friendly environment.
On the other hand, if you are choosing Harveys, the price might seem expensive but the environment is perfect for your family. 
Frequently Asked Questions (FAQs)
Are Harrahs and Harveys connected?
Directly across the highway from Harrah's in South Lake Tahoe, Harveys is connected to it via a convenient underground tunnel. Harveys Lake Tahoe is the oldest ongoing casino operation in Lake Tahoe.
What can I find within walking distance from Harrah's Lake Tahoe?
The Lake Tahoe shore is under a 10-minute walk from the property. It takes five minutes to get to Heavenly Mountain Ski Resort and its gondola, and six minutes to get to Lake Tahoe Outdoor Arena. Both Edgewood Tahoe and Bijou Municipal Golf Course may be reached within five minutes by car.
Do I need to wear a mask in Harrahs or Harveys?
Among the enhanced health and safety protocols include more frequent cleaning and sanitization. Guests will go through COVID-19 training, regular temperature checks, and health examinations. They will also need to wear masks, which Harvey's Lake Tahoe will supply.
Endnote
Well, now all you need to do is gather the pieces of information and choose between Harrah's or Harveys Lake Tahoe.
That'll be all from our side. Now go and enjoy your stay!