The name Caesars Atlantic City gives off a luxurious image representing Atlantic City NJ. This world-famous hotel and casino have four different hotel towers in New Jersey.
Among the names Ocean tower and Centurion tower are most heard of. Since they are of the same property people often find themselves in difficulty while booking.
So, which one is better, Caesar Atlantic city Ocean tower or Centurion tower?
Between Caesar Atlantic City Ocean tower and Centurion tower, the Centurion tower is better for a closer view of the ocean and the boardwalk. The Ocean tower is better if you wish to spend more time in the casino. The pool and spa centre are also closer in distance to the Ocean tower.
That's only the tip of the whole discussion. To learn more about the differences, keep reading our piece until the end.
Quick Comparison
Ceasar's Atlantic City offers some great accommodation. Here's someone sharing their thoughts on Atlantic City Centurion Tower.
But, which is the better between Caesars Atlantic City Ocean Tower and Centurion Tower?
Here are the differences between the Centurion tower and the Ocean tower at a glance to find the answer.
| | | |
| --- | --- | --- |
| Aspects | Centurion Tower | Ocean Tower |
| Location | 139 S Arkansas Ave | 500 Boardwalk, Atlantic City, NJ 08401 |
| Floors | 26 | 19 |
| Scenic View | Broadwalk, Ocean | Rooftop, Ocean |
| Distance from Casino | Takes 5 min walk | Closer  |
| Distance from Pool & Spa Centre | Little far | Closer |
| Theme  | Modern | Modern, Classic |
Now, let's get on to the main discussion.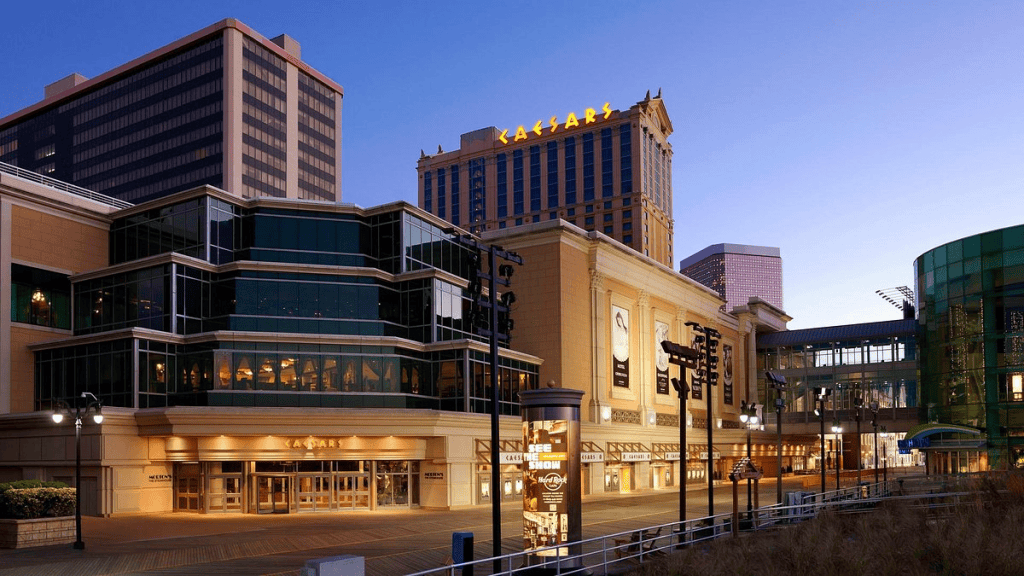 Detailed Comparison
Caesars Atlantic City is one of the most prominent names in the luxury hotel industry. It has more than hundreds of branch hotels all over the world.
But today we're going to talk specifically about two famous Atlantic city towers in NJ. That is the Centurion tower and the Ocean tower. These two towers are said to have many similarities.
So, people often fall into a dilemma on which tower to choose for their vacation. That's why today we'll be presenting you with a head-to-head comparison between these two buildings.
We'll talk about its location, facilities, theme, availability, and even more. So, stay tuned!
Facilities
Both Caesars Centurion tower and Ocean tower come with arrays of facilities. After all Caesars Atlantic City is a 4-star hotel. 
You can find almost every facility that you find necessary. Let's go through them one by one.
Wi-fi
There's free wi-fi service available for both Ocean and Centurion tower. The wifi service is limited between two device usage. However, the service itself is free for all the guests.
Pool
There are pools in both the Centurion tower and Ocean tower. So whichever place you pick, no need to worry about the pool. But it'll charge you USD 10 to enter the pool.
The available hours are from 10 AM to 6 PM. There are poolside bars to entertain the guests while they stay in the pool. People under 21 years are not allowed. 
Spa & Gym
Spa and gym service is available near the pool area. Spa treatment is allowed for people above 18. There are roman themed showers in Qua baths and 15 different spa treatment rooms.
Ocean tower is rather in close proximity to the spa centre than Centurion tower.
Pet Friendliness
Unfortunately, pets are not welcomed in Caesars Atlantic City. So you can't bring your feline friend with you on your journey in any of the towers.
However, service animals are allowed here.
Bar
There are many bars and pubs in Caesars Atlantic City. Drinks are available in many restaurants during dinner hours. For enjoying the nightlife, there are Dusk Nightclub and casinos. There are many options.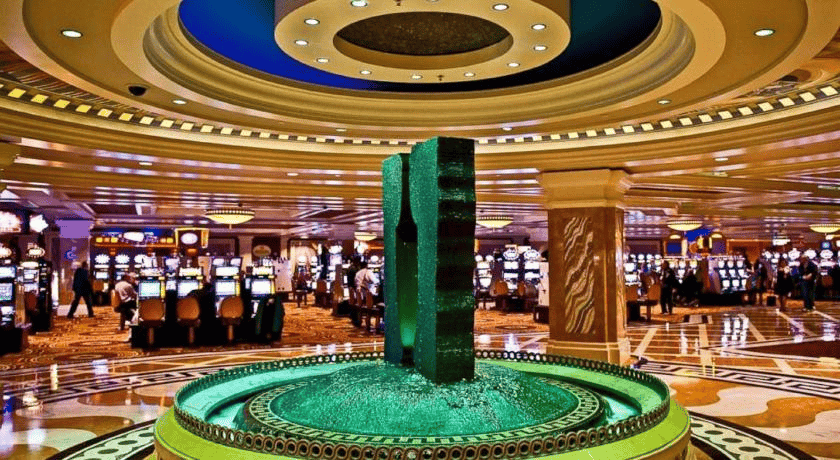 Parking
The parking place is right underground in both towers. Self-parking will cost you USD 5 with or without other privileges. The valet parking service is also available. It'll cost you USD 20 for valet parking with or without other privileges. 
Accessibility
The Caesars Atlantic city is designed with the utmost consideration for people with special needs. The elevators are wheelchair accessible. There are handrails for support in the stairways.
So, you can enjoy all of these features in both the towers.
Wheelchairs are available upon request anytime. The entrance has a stair-free path to carry the wheelchairs. You'll find in-room accessibilities like a roll-in shower, closed captioned TV, assistive listening devices, etc.
Corporate Facility
The corporate facilities in Caesars Atlantic city are quite amazing. They have business centers, 12 meeting rooms, and a conference room of 25000 sq. ft. ATM booths are available inside the hotel area. These facilities can be enjoyed by both the towers.
Room Facilities 
The rooms in Centurion Tower and the Caesars Ocean tower are almost identical. Just like harrahs and harveys lake tahoe. Both towers have suites and rooms with good oOcean views.
But location wise Ocean tower rooms are mostly faced towards the rooftop. But if you take rooms above the 8000 level there are rooms with better views.
That goes for the Centurion tower as well. The higher the level is, the better view you'll get of the area. Although both towers have decent and same facilities, Centurion Tower is people's favourite.
That is because the Centurion tower is cleaner and tidier than the Ocean tower. Almost as if it got renovated a while ago. You'll also get a great view of the boardwalk and the Ocean from Centurion tower.
Recently, the Ocean tower has gone through renovations. Thus you may also find it more favourable. As people say it the hallways are brighter and the carpeting has changed.
Another perk of staying in the Ocean tower is that the elevators are near the garage. The guest check-in booth is also just at the corner of the tower.
The room facilities for both these towers are the same. Except for different suites. For any regular rooms, you'd get a 42" LCD TV, cable channels, and pay movies.
For comfort, there is air-conditioning, a tea/coffee maker, and a refrigerator. Curtains, bed sheets, and infant beds are provided by the hotel. There are also eco-friendly toiletries and recycling services available.
The room services and daily housekeeping services are also available in both towers. These same facilities are also available in other Atlantic city hotel towers. 
Like Bally's or Dennis Tower. Depending on the rooms or suites, there can be even more facilities included.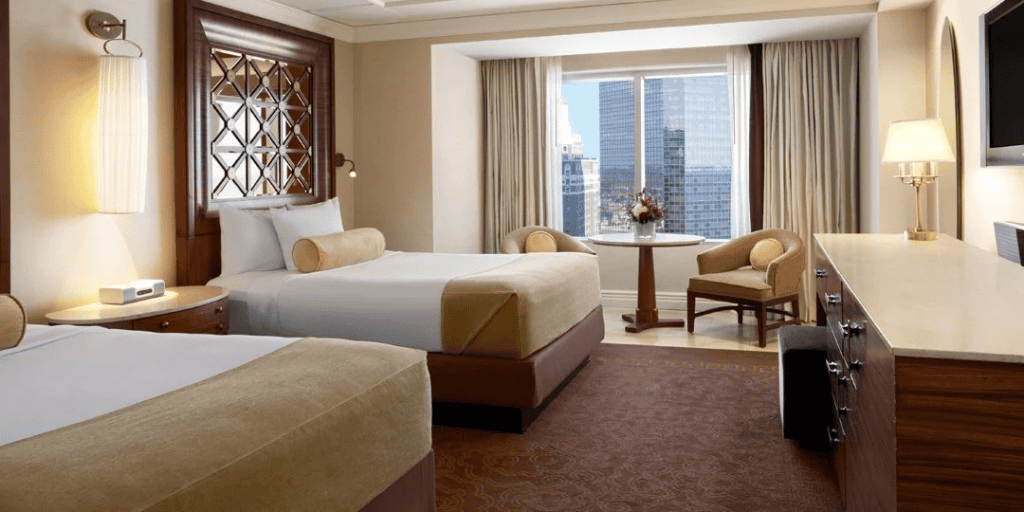 Location
The Atlantic city Centurion tower is located at 139 S Arkansas Ave. Which is in New Jersey 08401, United States. The building is 299 ft/91 m tall with 26 floors. 
It was opened in 1997 as a hotel under Caesars Atlantic City company. The Ocean tower was completed in 1996. So, both towers have been sharing almost the same timeline.
The location of the Ocean tower is at 500 Boardwalk, Atlantic City, NJ 08401. It's located on the same 2100 avenue as the Centurion tower. It's 228 ft/69.5 m tall and has 19 floors.
The Ocean tower was built on the boardwalk of Atlantic City. Thus it's much closer to the beach than the Centurion tower.
Booking Serial
For booking rooms, both online and in-person booking is possible. At peak season the rush of tourists is heavy. So it's better to book online a few months prior. 
Especially if your target is Caesar's Centurion tower. Both contact or contactless check-in check-out is possible. But some facilities come with restrictions and require special access.
For such cases, visitors have to provide necessary information to gain booking confirmation. Early check-in and late check-out are also permissible. 
While paying, you'll have to pay the mandatory destination, tourism, and resort fees. Other service fees are mandatory if you wish to use the service. 
The front desk does not accept cash. Therefore, either bring your debit or credit card for check-in and check-out. Also, don't forget to bring the documents needed for checking in.
If you want to avoid booking a serial, choose websites for searching accommodations. So, for Caesars Atlantic City Ocean or Centurion Tower book rooms via Booking.com or Tripadvisor.
Refund Policy
Refund policy is available at both Centurion and Ocean tower. If you wish to cancel your booking, contact the font-desk at least 24 hours earlier. 
Cancellation is possible without any extra fees if you let them know beforehand. In such circumstances, the front desk provides support to get your refund. 
The same policy should be applied if you run late to reach before check-in time.
Available Cuisine 
There are a lot of restaurants and cafes in both Centurion and Ocean tower. That leaves you with an array of options for dining. But that's not all. 
You can taste the dishes from ever so-famous Gordon Ramsey's Pub & Grill here. It's located right at 2100 avenue. So it's pretty close to both the Centurion and the Ocean tower.
There's Mia Restaurant which is quite famous for Mediterranean-style cuisines. It's located right at the center of the Caesars Atlantic City NJ.
For dining with an Ocean view, there are restaurants like Nero's Tuscan Steakhouse. They specialize in Italian cuisine and are open for dinner only.
Morton's The Steakhouse is well-known for its American cuisine. It's also only a diner-based restaurant and also a pub. The classic martini here is quite popular.
If you're into sushi and turf, The Atlantic Grill would be a good choice. For casual lunch and dinner, Palace Court Pizza is always open. 
There's also the famous Tazza coffee shop which is open for 24 hours.
Which One to Choose: Centurion Tower Or Ocean Tower?
Both towers are in pretty good condition and provide the best services for the guests. So, it totally depends on your choice. Centurion tower gives a closer look at the Ocean and boardwalk of Atlantic City.
In the Ocean tower, the view is better if you book rooms above the 7000 level. Otherwise, you'll have to be satisfied with the view of the rooftop. Also, you must ask for specific rooms if you want Ocean views.
That goes for both towers. Ocean tower is closer to the casino and spa. So, if these places are your priority, the Ocean tower would be more convenient for you. 
Since both towers provide the same facilities you'd get to enjoy the same services regardless.
FAQs
Where is the shopping mall located in Caesars Atlantic City?
The biggest shopping mall in Caesars is the playground pier. It's situated on the Caesar adjacent four-story pier. It's connected with a second-story sky bridge. There are other shopping malls like Caesars Exclusively, A Time For Wine, and Emperor's Essential.
What are the gaming facilities in Caesars Atlantic City?
The establishment of Caesars Atlantic City has around 145,000 sq. ft. of gaming space. There are over 3,000 slot machines and 135 table games available in the casino. The Palace East is specifically an Asian gaming area. However, poker is not available at the moment.
Does Caesars Atlantic City have a specific theme?
Yes, the Caesars Atlantic City has a roman style architectural design. Upon entering the hotel you'll see many white Roman statues. With low lighting, it gives an aesthetically soothing view.  You'll also find columns covered with paints that reach the ceiling.
Conclusion
That's all from our side about Caesars Atlantic city Ocean tower or Centurion tower. Hopefully, the discussion has helped you make up your mind about where to stay.
Don't hesitate to contact the front desk to know about any kind of queries. They are open 24 hours. You can also email them about your concerns if necessary.
Happy travelling!