When going on a cruise trip, you need to know where you're heading to. Trust me, you really don't want to miss out on your preferred destination!
Costa Maya and Progreso are two popular cruise ports located in the Yucatan Peninsula of Mexico, with ton of fun things to explore!
So, Costa Maya vs Progresso: Which Port is the better choice?
The Costa Maya has a man-made seabeach compared to Progresso's long stretch of sandy beach. Costa Maya is known for its resort-like atmosphere and beachfront shopping area, providing a convenient and relaxing experience. But Progreso has a more traditional Mexican feel, with a vibrant malecon along the beach. That offers local restaurants, shops, and a bustling market.
There are lots of aspects to compare Costa Maya with Progresso cruise ports to pick the right location. We'll help you explore all of them to pick your dream destination!
Costa Maya vs Progresso: In-Depth Comparison!
Both Costa Maya vs Progresso has several features. let's consider a concise comparison between the two.
| | | |
| --- | --- | --- |
| Feature | Costa Maya | Progreso |
| Port town | Mahahual | Progreso |
| Mayan ruins nearby | Chacchoben, Kohunlich | Chichén Itzá |
| Shopping area | resort-like shopping area, Diamonds International, Crown of Light, Tanzanite International, Del Sol | Few shops selling souvenirs and local gifts |
| Dining options | Limited, Mexican Lunch, juice and coffee bars. | Plenty, including Mexican, Spanish, and Italian cuisine, Mayan buffet. |
| Shore excursions | Expensive full-day excursions offered by cruise lines to visit Mayan pyramids, dolphin encounters, or snorkeling | Possible to visit a number of different archaeological sites as day trips from the city |
| Entertainment | Dolphin Swim, Salsa Beach Break, Open bar, Bamboo rafting. | Caven Swim, Sacred Cenote Ikkil, Tubing, Blue Hole, Cenotes & Swim Adventure |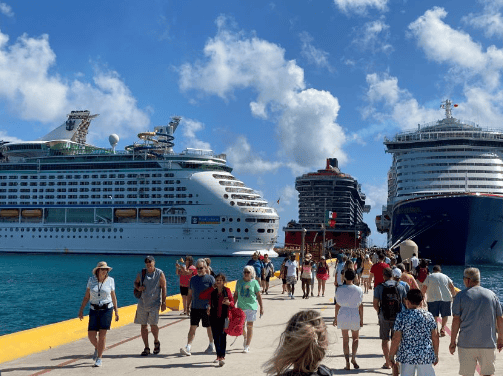 Source: Lhong Rtai
Port Town
Costa Maya and Progreso are two port towns in Mexico that attract cruise ships as popular stops. 
Costa Maya stands out with its resort-like area situated right at the pier, offering visitors a beach and pool experience.
On the other hand, Progreso is a port city located on the Gulf of Mexico, positioned to the northwest of the state of Yucatán.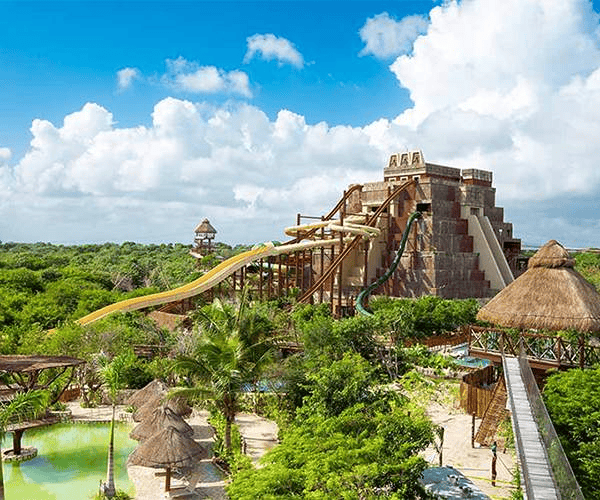 Source: country cruising
It's approximately 30 minutes north of the state capital, Mérida. It has emerged as a new destination for large cruise ships and is gradually developing into a resort destination. 
While both towns offer unique experiences, Progreso seems to have more to offer in terms of history and culture. But Costa Maya is more focused on beach and resort activities.
Mayan Ruins Nearby
Both Costa Maya and Progreso serve as gateways to Mayan ruins, although each offers access to different archaeological sites. 
Costa Maya enjoys closer proximity to some lesser-known ruins in the Yucatan Peninsula, such as Chacchoben and Kohunlich. 
Source: Travel tips
Chacchoben is located approximately an hour away from Costa Maya's cruise port. It is one of the closest ruins. And it offers a less excavated experience compared to more renowned sites like Tulum, Coba, Chichen Itza, and Uxmal.
However, Progreso provides easier access to the notable Maya civilization archaeological sites of Uxmal and Chichén Itzá. 
Chichen Itza is one of the New 7 Wonders of the World according to UNESCO. And Uxmal is located 62 km south of Mérida, the capital of Yucatán state in Mexico. You can also choose to visit Rosarito or Ensenada as both cities are located in Mexico.
Shopping Area-Costa Maya vs Progresso
Both Costa Maya and Progreso provide shopping areas that cater to the interests of visitors. 
Costa Maya provides a resort-like shopping area conveniently situated at the pier, with the added facility of a beach and pool. 
Source: Language and lipstick 
Additionally, a short taxi ride allows visitors to access a nearby beach. The shopping area at Costa Maya features a diverse range of shops, including those offering jewelry, leather goods, artisan chocolate, t-shirts, and authentic Mexican souvenirs.
On the other hand, Progreso presents a more traditional port town ambiance, with shops and restaurants lining the Malecon. It is a boardwalk that runs parallel to the beach. 
Along the Malecon, visitors can shop traditional Mexican handicrafts, clothing, and jewelry, providing an authentic Mexican shopping experience. 
The local market in Progreso is also worth exploring, as it offers fresh produce, seafood, and a variety of local products.
Dining Options at Costa Maya vs Progresso
Both Costa Maya and Progreso present a variety of dining options to match visitors' tastes. In Costa Maya, guests can enjoy the convenience of a beach bar-b-que included with their resort reservation. Though their food comes in limited quantities for each person. 
However, the resort-like shopping area in Costa Maya further provides a diverse range of dining choices, including Mexican cuisine, seafood, and American-style burgers and salads.
In contrast, Progreso offers a more traditional Mexican dining experience. It showcases local restaurants and street vendors serving authentic Mexican fare such as tacos, nachos, fish, ceviche, and guacamole. 
Exploring the local market in Progreso also allows visitors to an unlimited buffet and seafood. It adds to the local culinary experience for the passengers. Though you can choose a cheap cruise line such as Carnival cruise to visit these areas. 
Shore Excursions and Entertainment
Costa Maya and Progreso both provide a wide range of shore excursions that allow visitors to enjoy their rich history and culture. In Costa Maya, there are numerous tours and excursions available that explore the Mayan heritage.
It includes visits to the Chacchoben and Kohunlich ruins, offering insights into ancient civilizations. Additionally, visitors can take beach breaks, dolphin & taxi rides, and snorkeling excursions to explore vibrant marine life.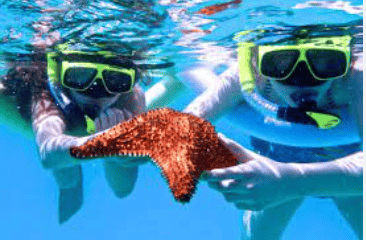 Source: Perth ocean diving
However, In Progreso, the focus shifts to tours of the Maya civilization's archaeological sites. Excursions to the city of Merida, with its vibrant colonial architecture and bustling markets, provide further cultural immersion.
Visitors to Progreso can also enjoy beach breaks, fishing, and snorkeling adventures. They can have cultural experiences that provide a taste of traditional Mexican customs. Though you will enjoy it more if you are there with friends. 
So, it's better to know how late can you add someone to your carnival cruise trip.
Costa Maya vs Progresso: Which One to Choose?
Choosing between Costa Maya and Progreso depends on personal preferences and interests. If you are seeking a resort-like experience, Costa Maya offers a convenient shopping area at the pier. 
It's also closer to lesser-known Mayan ruins such as Chacchoben and Kohunlich. This provides opportunities to explore the ancient history of the region. 
Costa Maya excursions are varied, including beach breaks, snorkeling, and cultural experiences.
If you prefer a more traditional Mexican feel Progreso may be the preferred choice. It offers tours to renowned archaeological sites like Uxmal and Chichén Itzá, as well as tours of the city of Merida. 
Progreso's excursions include beach breaks, unlimited buffets, snorkeling adventures, and cultural experiences. 
It'll provide a more immersive Mexican experience. So, overall choosing the best port site depends on the passenger's mood.
FAQs
Who Owns Costa Maya Port?
Costa Maya port is under the control of the cruise lines. Local companies do not have access to the privately owned Costa Maya Port. Also, There are no representatives from local companies present in the port complex.
How Many Ships Can Dock in Costa Maya?
4 ships can dock at the Costa Maya port together. The pier-side water depth is sufficient to accommodate even the largest passenger liners in the world, such as RCI's Oasis-Class ships.
Do You Need a Passport to Cruise to Progreso?
Passengers do not need passports to embark on closed-loop itineraries to the western Caribbean from the United States. This convenient option is offered by various major cruise lines departing from ports in Florida, New Orleans, and Galveston.
Conclusion
Now you have an idea of Costa Maya vs Progresso. 
However, Both Costa Maya and Progreso have their own distinct charm and appeal to their guest. Whether you prefer a beach-focused resort ambiance or a traditional Mexican heritage, both ports offer unique experiences.