Seeking to go for a holiday in Mexico? Well, tourists get confused when it comes to Ensenada and Rosarito.  
Both of these towns have spectacular places, you can visit. What's better depends on your preference.
So, you might wonder what's better, Rosarito or Ensenada?
Rosarito has great tourist spots including the beautiful beach. You can have a tour guide at a cheaper rate than Ensenada here. The food and attractions are great in both of the towns. As per the cost of transportation and living, Rosarito is preferable. 
Don't be puzzled by seeing the preview!. We are going to have an informative debate on this topic. 
Without further ado, let's jump in!
Quick Comparison
While you may want to visit both Rosarito and Ensenada, it's simply not possible in a time crunch to visit both. The situation is almost similar to visiting Block Island and Nantucket.
Rosarito and Ensenada both are located closely. But there are some experiences which you can get only in either of these towns. Like the Baja Beach Fest in Rosarito is very enjoyable. These persons enjoyed very much during that time.
That's why we have arranged this quick comparison so that you can understand all the factors at a glance.
| | | |
| --- | --- | --- |
| Parameters | Rosarito | Ensenada |
| Activities  | Motorcycle riding in mountains, Valle De Guadalupe Wine tour, Zip Lines, Paintball Games. | Ansell Wine Tours, Las Canadas Canopy Tour, ATF Off-road adventure, Horseback riding experience. |
| Attractions | Rosarito Beach, Rosarito Canyon, Puerto Nuevo, Los Coronados, Rosarito Beach Hotel, Baja Studios, Popotla Village. | Stroll Avenida Lopez Meteos, History Museum of Ensenada, Parque De La Bandera Water show, Plaza Cívica. |
| Budget-Friendly 7-Day Trip Cost | Around $2,446 | Around $2,236 |
| Accommodation Per Night(Mid-Range hotels) | Around $96 | Around $132 |
| Flight (Economy) | $67-$268 | $78-$298 |
| Transportation | Around $2.25 | Around $6.50 |
| Food (per day) | Around M$360 | Around M$520 |
Well, now you have the general idea of both of these towns. But before coming to a decision, you need to know more about the tourist attractions and amenities. 
If you decide to travel, Rosarito and Ensenada both offer tour guides for you.
Is a Guide Necessary For Your Trip?
Rosarito is a very tourist-friendly place. You will see the locals greeting and approaching the tourists here and there. For solo travelers, It's better not to go for a tour guide. 
But if you need a tour guide the local tour guides can show you around for less than $20 an hour. 
Many locals work as freelancers, and they can charge you even less or for free!
But when it comes to Ensenada, tour guides are kind of expensive. A tour combo can cost up to $85 per person.
But they will charge you less if your group consists of more members. 
If you are going to choose your tour guide, keep in mind what they are offering you. Your tour guide should not only help you with sightseeing but also give transportation, accommodation, and other adventures.  
The best tour guides in Ensenada are The Bufadora Private tour, and the Ensenada Excursions and tours. 
You need to spend a few more bucks for the experience in Ensenada. 
On the other hand, you can find a local in Rosarito by visiting the Tours and Guides sites. It's cheaper and a great option for a solo traveler. 
Detailed Comparison
Well, now you have a general idea of the quick features of both of these places. Now, let's jump into the details!
Flight
Flights are available for both times. Flight expenses may vary because of where you are flying from and the season. 
As Rosarito is one of the tourist spots, there are 21 carriers that serve this town across the globe.
AeroMexico, VivaAerobus, and Volaris fly more frequently to Rosarito and Ensenada.  You should choose AeroMexico, rather than Interjet.
The cheapest flight will start at $67 if you are flying to Rosarito. If you are going for economy flights, the round trip will be around $329. 
Here are some flight durations from US to Rosarito:
New York to Rosarito: 5h 23 minutes
Atlanta to Rosarito: 4h 17 minutes
Georgetown to Rosarito: 2 hours 46 minutes
Flight times are different for Ensenada. Average flight time from the US to Ensenada:
New York to Ensenada: 5h 16m
Chicago to Ensenada: 3h 49m
California to Ensenada: 58m 
Accommodation
The prices of accommodation will depend on the stars of your Hotel. If you are into luxurious hotels, it's better to keep some extra bucks in your pocket.
The cheapest hotel starts from $27 per night in Rosarito. But keep in mind that these are cheap because these are two stars. But there are Hotels like The Mediterraneo where it starts from $59. Some of the best hotels in Rosarito are listed below.
For groups of large people, check the Poco Cielo Hotel on Tripadvisor.
The Del Mar Inn Rosarito is a great hotel with Spa and other facilities. You can check the booking price on Tripadvisor.
If you don't have extra money to spend, it's better to go for the cheap hotels in Rosarito. But if you are looking for a mid-range hotel with many facilities you should keep around $167 with you. Here are some of the best hotels in Ensenada.
Hotel Coral Y Marina is a nice luxurious hotel for your family. You can check the room price on Tripadvisor.
For mountain view, check out Bruma Valle de Guadalupe. You can check the booking price on Tripadvisor.
The accommodation cost in Ensenada is a little expensive. You get a mid-range hotel for around $154. But expensive hotels might ask for around $259 per night. 
Want to Be In Control of Your Entire Trip?
You don't want a tour guide? Well, good for you! Now, you get to experience the whole Rosarito and Ensenada by yourself!
Take a leap into them for the finest journey!
Food
There are some must-try foods when you are in Mexico, especially in Rosarito or Ensenada. 
There are many local delicious foods available, but you also need to try some special exquisite meals. 
Rosarito
Meal prices may vary around your location, but by estimation, we can say that a meal in a cheap restaurant is going to cost you around $8.50. 
However, you must try these foods if you are in Rosarito!
Tamale 
Chorizo and eggs at El Nido
Chilaquiles at El Nido
Handmade Tortillas
Gourmet Street Food
Ensenada
The cost of food in Ensenada is pretty high. If you are looking to spend less, you need to stick to fast food chains and street foods. Otherwise, you are going to spend around $25 on meals per day. 
However, these are some of Ensenada's top cuisine offerings: 
Baja-Style Tacos
Puerto Nuevo Lobster
Caesar Salad
Camarones Enchilado
Tecate Bread
Ceviche
Don't forget to try these foods if you are in Ensenada!
Transportation
In neither location is transportation a concern. To get around, you can find buses, rental automobiles, and taxi cabs.
The cost of transportation will depend on the location and the transport you are choosing. 
Rosarito
The easiest and cheapest way to get around Rosarito is the bus. The bus fare will not be lower than $2.50 per day.
But if you are visiting with your family, you can choose to rent a taxi or a car. There are taxi services available at cheaper rates all around Rosarito. 
Calling a cab is also convenient here but Uber is not always available in Rosarito. So if you are in need of a car for a whole day just rent a car.
But before renting a car, make sure you are carrying your international license. 
There are also shuttle services available for Rosarito. 
Ensenada
There are many ways to move around and see Ensenada. If you are on a budget you can get around the city with local buses and taxis.
Uber cars are also available in Ensenada. You can easily go with Ensenada travel tours to get a whole city look with their bus. 
But the Transportation cost of buses, taxis, and uber rentals is expensive in this town. The cheapest fare is around $6.50 here. 
You can also use a cycle or walk to go to nearby places around you.
Places to Go
Rosarito and Ensenada both are great places to do a lot of fun stuff this summer. 
The first place you should go to in Rosarito is Rosarito Beach. This is a beautiful, white-sand beach for you to stroll around or get a nice sunbathe. 
Well, does Rosarito Beach remind you of Ocean Beach or Pacific?
If you are at the beach don't forget to do sports fishing. Whale watching is also a very enjoyable thing to do. You can 
To relax, you can visit Le spa. They offer premium services including sugar scrubs, sea salt soaks, and unique massages. 
You can go motorcycle riding in the mountains. If you are a wine lover, go for the Valle De Guadalupe Wine tour.
Unlike Rosarito, Ensenada has some historic and great places to visit. Firstly you need to walk along the Malecon. It runs along the port and it is a beautiful area. 
You should go for an ATF Off-road adventure, but make sure you take all of the safety precautions. Don't miss the Horseback riding experience while you are there.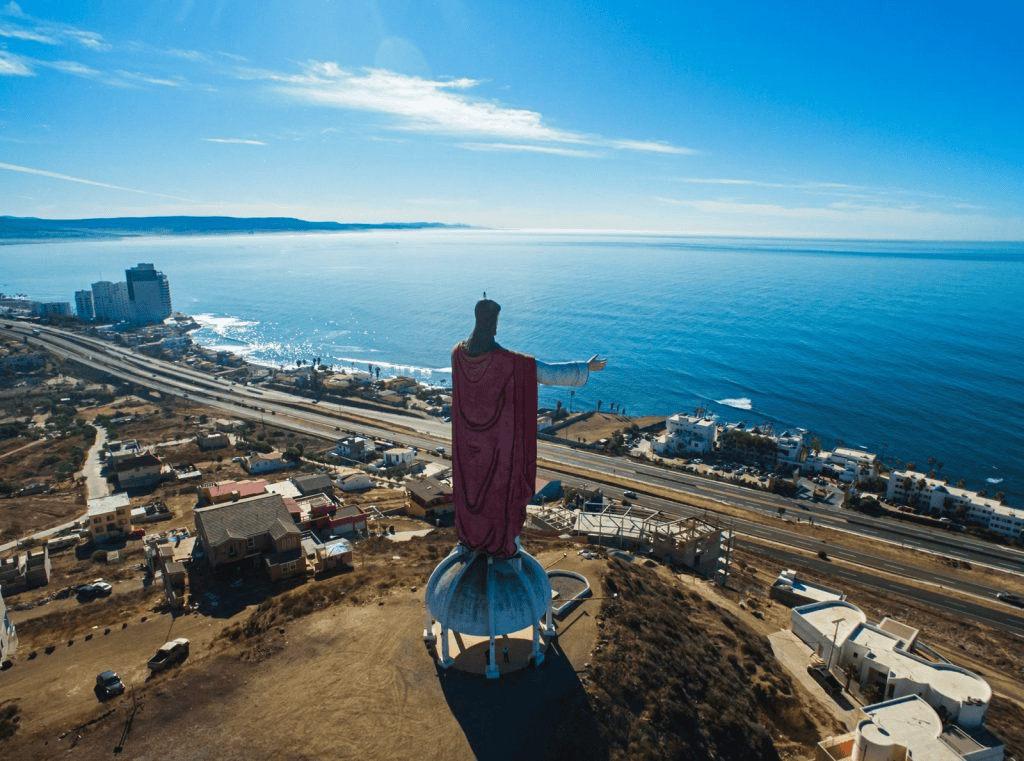 So, Which Place is Better for You?
Well, that's all the information we had for you today! Now to get the whole picture at a glance just look at the table!
| | |
| --- | --- |
| Place | Features |
| Rosarito | A great place for adventure and experience with less cost. |
| Ensenada | Great views and experience but can get out of budget. |
Now, you need to understand what place you like better. Both of these towns will have a great experience waiting for you!
Frequently Asked Questions (FAQs)
Is Rosarito safe for tourists?
Yes, it is. Experts in crime and security say that despite the warnings, popular tourist destinations in Baja California, such as Rosarito and some of Tijuana, are largely safe from cartel crime or violence targeting American tourists.
What's the must-try in Ensenada?
The wine is a must-try. Since it is one of the entry points to the Wine Route in Baja California, Ensenada is referred to as the "Capital del vino Mexicano" (Capital of Mexican wine).
Is Rosarito Beach clean?
Yes, it is. It is one of the cleanest beaches in the world. If you are jogging for an hour alongside the beach, you probably haven't seen a speck of dirt. 
Endnote
Now you know all about both of these towns. Let's choose between Rosarito and Ensenada now. 
Enjoy your summer in Mexico!