Sometimes people want to add their friends or relatives to the carnival cruise trip after fixing the booking. In such cases, they feel confused as they don't know the proper way.
So, how late can you add someone to a carnival cruise?
It is possible to add someone to a Carnival Cruise booking until a few days prior to departure. This basically depends on the room's capacity. It is advised to make changes before the final payment due date to avoid potential deposit loss. Adding someone can be done through a travel agent, online during check-in, or by contacting Carnival directly. 
There is a lot more to know about how you can add someone to your carnival cruise trip. To have the proper knowledge about this issue go through the whole article.
How Late Can You Add Someone to a Carnival Cruise Booking
You have the option to include someone in a Carnival Cruise reservation until a few days prior to departure. But there are considerations to keep in mind when adding someone after the initial booking.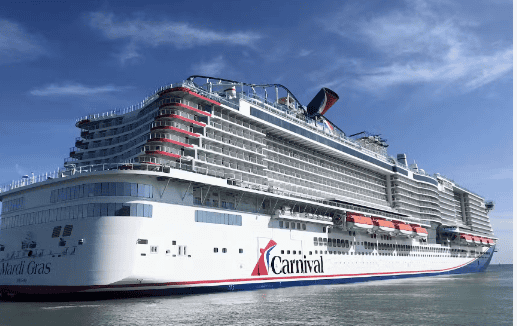 Source: Crusecritic
The specific deadline for adding a person depends on the type of room you have reserved and its capacity for occupants. Making the change before the final payment due date can carry the risk of losing your deposit. Especially when the final payment is not made on time. 
Typically, 90 days in advance for a weeklong cruise is set as the due date by the company. 
Nevertheless, it is not recommended to delay booking or make modifications to your reservation. As accommodations could become unavailable, you might miss out on the opportunity to secure excursions and other onboard activities. Most of the time Gen Z likes to travel with lots of friends and they want to add extra guests after booking.
Process of Adding Someone to a Carnival Cruise Booking
The process of adding someone to a Carnival Cruise booking can be done through two methods: using a travel agent or online.
Add Someone To Carnival Cruise Through Travel Agent
If you made your Carnival Cruise booking through a travel agent, you can reach out to them. And, provide the details of the additional person you wish to add. The travel agent will then contact Carnival on your behalf and handle the necessary arrangements.  
They will assist with any required paperwork, and payments, and ensure that the booking is updated accordingly.
Add Someone To Carnival Cruise Online 
In case you need to add a minor guest, you can conveniently do so during the online check-in process. Simply click on the "Include guests from another booking/stateroom" option and provide the necessary booking information for the minor guest. Through online check-in you can add dinner bookings and also know information on when the captain's dinner on the carnival cruise would be.
Add Someone To Carnival Cruise By Contacting Cruise Carnival
When you have booked your Carnival Cruise directly with Carnival, you have the option to contact them directly to add another passenger to your cabin. It is highly recommended to get in touch with them as soon as possible to prevent any potential problems related to availability or accommodations.
By utilising either the assistance of a travel agent or the online booking system, you can easily add someone to your Carnival Cruise reservation., Eensuring that all necessary details and accommodations are properly arranged for a smooth and enjoyable cruise experience.
Does Carnival Cruise Booking Policies Let You Add Someone 
Yes. In general, it is usually allowed to include an extra person in a Carnival Cruise booking. It is possible even after the initial reservation has been made according to their policy. This depends upon the room you have booked having sufficient space to accommodate additional passengers. 
Source:Texas daily
However, if the room is already filled to its maximum capacity with the current occupants, it may not be feasible to add another person.
Potential Additional Costs of Adding Someone to a Booking
When adding someone to a Carnival Cruise booking, it's important to consider potential additional costs that may arise. These costs can include:
Port Fees and Taxes: 
Each passenger is typically required to pay port fees and taxes. If the initial booking was made for double occupancy and these fees were paid for two people, it is expected that the additional person will also be charged these fees.
Cost of the Cruise Fare: 
The cruise fare may increase based on the number of individuals in the stateroom. For instance, if the room originally cost $900 and two people were occupying it, they would each pay $900. If a third person is added, they would also be required to pay $900. 
If you need to add a 3rd person to your booking, the same general rules and guidelines for changes apply. These modifications can usually be made as long as they are done before the final payment date. However, after the final payment date has passed, there may be a $50.00 name change fee. It is likely that fees will apply to any changes made to the booking. 
Other Fees
Depending on the specific circumstances, there may be additional fees associated with adding someone to a booking. This can include cancellation fees or change fees, among others. Generally, a carnival cruise is cheaper than other cruises.
To obtain accurate information about any potential additional costs it is better to contact Carnival Cruise Line's Guest Services. They will be able to provide specific details and assist with any inquiries regarding fees and charges.
FAQs
Now we'll be answering some of the most commonly asked questions regarding this.
What Happens if a Guest Doesn't Show up to a Carnival Cruise?
When a guest fails to show up for check-in on a Carnival cruise, the Customer Service Team will reach out to the guest to ascertain the reason for their absence. They will confirm whether the guest intends to cancel the booking or if they join from a different port. 
Can 3 People Share a Room on a Cruise?
Yes, 3 people can share a room on a cruise. It is possible to have three people, or even a fourth cabin mate, on a cruise. This option allows passengers to sail with family or friends without incurring the expense of an additional room.
Do I Need a Passport on a Cruise?
Yes, It is highly recommended that all individuals embarking on a cruise from the United States possess a passport book. While certain "closed-loop" cruises may not explicitly require a U.S. passport. But it is advised to carry one in case of unforeseen emergencies. For example medical air evacuation or a situation where the ship needs to dock at an alternative port. 
Conclusion
Now you know How late can you add someone to a carnival cruise. To ensure the best chances of adding someone to your booking, it is recommended to contact your travel agent. 
Also, you can call Carnival Cruise Line directly as soon as you decide to add an additional passenger. Best of luck for your cruise voyage!