Carnival Cruise offers special events and nights on its voyages to make the time more attractive for its guests. Captain's Dinner is one of them. 
So, when is the Captain's Dinner on Carnival Cruise?
The Captain's Dinner is the second night of the cruise, where the captain and his officers join the guests. However, the schedule depends on the itinerary of the Carnival Cruise. The dress code includes dress slacks, shirts, sports coats, formal tuxedos, or suits for men. And cocktail dresses, pantsuits, elegant blouses, and skirts for women. 
Go through the article to know how to book this event and what it will take to join this event.  
What Day Is The Carnival Cruise Captain's Dinner 
So, the Captain's Dinner on Carnival Cruise is generally scheduled on the second day of the cruise. But the timing can change depending on the itinerary. 
It's a formal dinner night where you can enjoy the time with the captain and his officers and take photos. It usually happens on one or two evenings over the whole cruise and is included in the cruise package. The main dining room is decorated accordingly for this event.  
There is a special dinner menu and entertainment for this night, where guests are assigned to their tables. Captain and his officers sit at a separate table. The captain holds a toast to the guests at the start of the event. 
As this is a popular event, it's better to arrive early so that you can get a good table. You can sail on your cruise to Costa Maya or Progresso and enjoy the special night of Captain's Dinner. 
What Is an Elegant Night in Carnival Cruise? 
The Elegant Night in Carnival Cruise is a formal event that happens on one or two evenings across the cruise. 
This is no different than Captain's Dinner apart from the dress code part. While Captain's Dinner is a specific event on the 2nd day of the cruise, Elegant Night is several evenings. 
The dress code is the same, and you get to enjoy different specialty restaurants within a rich and formal atmosphere. 
How to Book Captain's Dinner on Carnival Cruise?
Although Captain's Dinner is open to all guests of Carnival Cruise, it's recommended to book a reservation. 
Follow the suggestions below to book the captain's dinner on Carnival Cruise. 
Check if your cruise package includes this event. 
You can make a reservation before your cruise on carnival.com. Access "Manage my booking/cruise manager" to make a reservation for you and members of your party.
You need to make payment at the time of the reservation to complete your reservation. 
Alternatively, you can book Captain's Dinner or get additional help by calling the Carnival cruise number: (800) 764-7419.
So, make your reservation fast, as Captain's Dinner honors the reservation on a first come, first served motto. 
What Is The Carnival Cruise Captain's Dinner Menu?
The dinner menu of the Carnival Cruise Captain's Dinner offers starters, salads, main courses, desserts, beverages, and wine selections. 
The Captain's Dinner always offers a Lobster option, while other menus can change for different cruises and ships. The dinner menus are also pre-fixed, so guests don't have to choose them. 
The dinner menus will introduce the famous taste of Carnival Cruise's specialty restaurants. These include menus from The Steakhouse, Ji Ji Asian Kitchen, Cucina Del Capitano, Bonsai Teppanyaki, Rudi's Seagrills, Il Viaggio, etc. 
However, these restaurant choices can vary depending on the Carnival Cruise ships and cruises. Still, you might just get invited to the Captain's table if you are lucky enough!
The starters may include fresh tropical fruits and berries, Mississippi Delta Prawns, West Indian Pumpkin Soups, Wild Mushrooms, etc. The salads may consist of Caesar Salads, Mixed Garden and Field Green Salads, etc. 
The main course of this event depends on various cruise and chef's choices. But there'll be surprises with rich courses ranging from French cuisine to Spanish or Italian dishes.  
There are also varieties of dessert and entree options in Captain's Dinner. There's only so much you can eat within the rich and elite atmosphere of the event. The beverage and wine selection of the event is another thing to enjoy.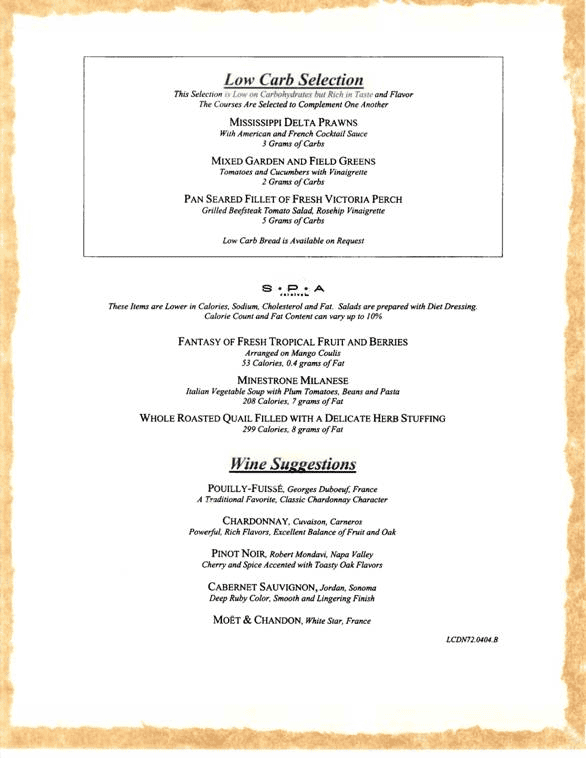 There may be rich French wine selections like Georges Duboeuf's classic chardonnay character Pouilly-Fuissé. It'll definitely hit your tastes with its classic rich taste. There are also entertainment options at the event, such as live music bands or magicians. 
Is There A Dress Code for Carnival Cruise Captain's Dinner?
The dress code of the Carnival Cruise Captain's Dinner is "Cruise Elegant" instead of "Cruise Casual."
The men's dress code is dress shirts, slacks, sports coats, tuxedos, or a suit. For women, the dress code is pantsuits, cocktail dresses, evening gowns, elegant skirts, blouses, etc. 
As this is a formal evening, you need to dress right for the event. And so, cut-off jeans, sleeveless shirts, t-shirts, men's shorts, sportswear, baseball caps, bathing suits, or thongs are not permitted. 
What Is The Cost of Captain's Dinner on Carnival Cruise?
While there is no cost for Captain's Dinner on Carnival Cruise, an 18% additional service charge will be included. 
However, there are different reservation fees for different Carnival specialty restaurants. Some have reservation fees of $99 per person, while some cost $80 for the Chef's Table. This reflects why the Carnival cruise is so cheap.  
Other specialty restaurants on Carnival Cruise cost much less than Chef's Table. But, the Captain's Dinner is open for all with the additional charges only. 
Also if you want to add someone to the carnival cruise at the last minute then this article will help you a lot.
FAQs
Is There Dinner on The First Night of A Cruise?
Yes, there will be selected restaurants and bars that will be open during the first night of a cruise. However, it gets overcrowded on the first night across the restaurants and bars. So, be there early to get a good spot.  
How Long Is Chef's Table on Carnival?
Chef's Table on Carnival usually takes from 2 to 4 hours. So, be prepared for a long dining experience, as this is not just ordinary dining. You get to enjoy the luxuriant meals that are truly worth the experience. 
Can You Eat As Many Times As You Want on Carnival Cruise?
Yes, you can eat as much as you want with the additional service charges. Most of the food is included within your cruise fare except for the Steakhouse, and Cucina Del Capitano. 
Conclusion
So, hope now you know when is the Captain's Dinner on Carnival Cruise. 
Expect a VIP atmosphere with an elite and formal environment there. Bring your partner or group and enjoy a classy evening with the Ship's Captain and officers.