Amusement parks have always been the best place for parents and children to bond together. And Dutch Wonderland, as well as Hershey Park, are two of the best amusement parks. 
Set 32 miles apart from each other, people often look to choose their preferred park between the two. 
So, where should you go? Dutch wonderland vs Hershey park?
Between Dutch Wonderland and Hershey Park, Dutch Wonderland is geared towards younger children. Whereas, Hershey Park has a more wider variety of thrilling rides that are suitable for older children and adults. However, Hershey Park tends to be quite crowded while Dutch Wonderland has a more relaxed environment.
Well, looks like the above information isn't enough to help you come up with a decision. But worry not! We have an in-depth guide differentiating the two parks. So, let's get started, shall we?
Quick Comparison
There are several factors that set these two signature amusement parks apart. To choose one, first, you need a quick look at what these two are offering you. 
Let's have a look!
| | | |
| --- | --- | --- |
| Feature | Dutch Wonderland | Hershey Park |
| Location | Located in Lancaster, Pennsylvania.  | Located in Hershey, Pennsylvania. |
| Theme | Fairy Tale | Chocolate |
| Age Range | 7-12 Years Old | 12-18 Years Old |
| Rides | Over 35 rides | Over 70 rides |
| Room Facilities | Cartoon Network Hotel, Old Mill Stream Campground. | They provide cabins, RV sites, Tent Sites. |
| Packages | Provide 3 future plans to tackle booking serial. | Provide 3 future plans with a specific timespan. |
| Refund Policy | Refunds can only be made if the reservation is canceled 72 hours before arrival time along with penalties. Most activities are non-refundable. | Tickets are non-refundable. |
| Weather Policy | Provides a rain guarantee if the activities are halted due to weather conditions. | Doesn't provide Return Visit Voucher unless most attractions are closed for more than an hour. |
This was a quick sneak peek into the differentiating factors between these two famous amusement parks. But, there is much more about these factors that you need to know before choosing one. 
The next section will cater to all your queries! 
Detailed Comparison
In this section we will be talking about the aforementioned features in a more detailed way. This will help you understand which features suit you better and choose one for yourself. 
Let's begin, shall we?
Facilities & Attractions
Before diving into the location and packages first let's get a glimpse of what each of these park features.
Dutch Wonderland
The Dutch Wonderland offers a total of 35 attractions and rides. They have areas designated for playing in water such as Duke's Lagoon.
Source: uncoveringpa.com
There is a suspended coaster there as well called the "Merlin's Mayhem". They also have a family roller coaster named "Joust family Coaster".
Dutch Wonderland has many more fun rides like- Dragon's Lair, Pipeline Plunge, Wonder House, Leapin Frogs and so on.
You can also explore many fun events that take place at Dutch wonderland. The carnival weekend that takes place on May 21-22 gives you a peak carnival experience. They have jugglers and even balloon artists putting on an amazing show.
There are amazing facilities for snacking as well. The "Penley's Pub" offers an array of Pretzel themed snacks and local beers. Then, there is "Merlin's Pizza & Pasta Buffet", "Nathan's Famous", "Dippin' Dots", "The Slush Slack" and more. 
Now, you may wonder is parking free at Dutch Wonderland?
Parking is not free for commoners in Dutch Wonderland. However, if you're a Premium or Gold pass holder, then you can enjoy free parking there!
Other than that, Dutch Wonderland also provides great general parking facilities. The $15 General Parking is for all vehicles. You can stay closest to the front entrance with the $25 Preferred Parking. A $15 Accessible Parking will give you access to everything and the preferred lot.
The best part is, parking for tour buses and school buses is absolutely free! 
Other than that, there are some really cool restaurants near dutch wonderland. There's Potato Patch and Snack Snack. Two of the finest dine-in service in Pennsylvania.
Hershey Park
Now, let's talk about Hershey Park!
Hershey park is all about fun times with your family. You can enjoy the exclusive "Candymonium" roller coaster and the Chocolatier Restaurant bar at Hershey's Chocolatetown. 
You can also click amazing selfies in front of the world-famous Kisses Fountain!
Some of the unique Hershey park amenities include locker rentals, stroller and wheelchair rentals, Wi-Fi, pet kennel, first air and so much more!
The Boardwalk at Hershey Park is basically an 11-acre water park for you to splash like hell! Enjoy ZooAmerica, home to more than 200 North American animals. 
For snacking, you have a variety of options at your disposal. From Dunkin' Donuts and Chocolatier to  Dippin' Dots and many food trucks you have it all! The best part is that they have "Hydration Booths" spread across the park for instant beverages. 
HersheyPark has parking lots for you to park your vehicles. They are accessible 2 hours prior to the opening of the park. Parking charges are $25 but for vehicles with 15 or more passengers it's totally free!
Location
Location is an important aspect to consider before locking on a destination. You don't want to drive too much and get tired even before reaching the park.
The Dutch Wonderland is located in the East Lampeter township just east of Lancaster, Pennsylvania.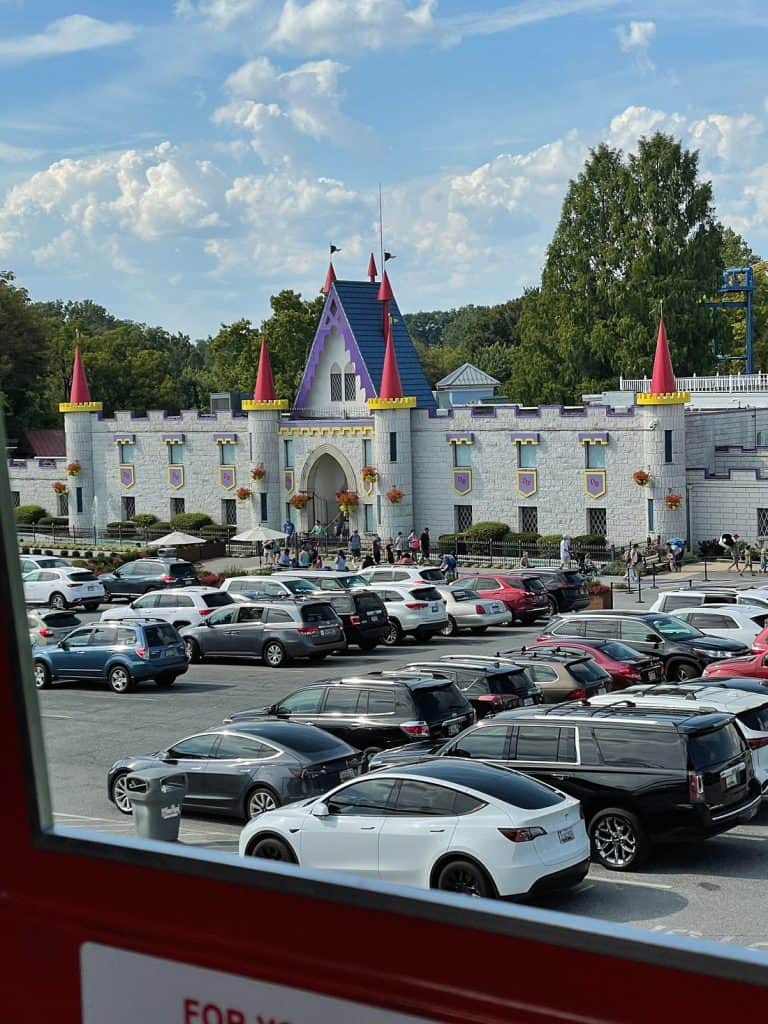 On the other hand, Hershey Park is located in Hershey, Pennsylvania. It's only 15 miles from Harrisburg and 96 miles from Pennsylvania. 
There's a high probability that you're going to spend the entire day roaming around the parks. In that case, you'll have few opportunities to keep your phone charged. And trust me, you don't want to run out of phone charges while there are so many pictures to take!
So we're here to recommend some power banks to give you an extended backup for your phone battery:
These power banks will make sure that you'll never run out of battery for a moment. And that means you won't have to worry about your phone again!
Room Facilities
Dutch Wonderland has partner hotels where you'll get an amazing experience while staying near the park. The first one is the Cartoon Network hotel and then there is the Old Mill Stream Campground.
You can stay at the world's only Cartoon Network-themed hotel, the Cartoon Network Hotel. It offers amazing character-themed rooms and suites. It also has the Cartoon Kitchen with dishes from your favorite cartoons!
There is also another partner of Dutch Wonderland who'll offer you amazing amenities and accommodation experience. They are the Old Mill Stream Campground. 
You'll get RV and tent areas in the campground. There will be a playground, Modern lavatory systems and a country store available there. Also, you'll get exclusive discounts on Dutch Wonderland tickets if you're one of Old Mill's guests!
On the other hand, Hershey Park provides RV sites, tent sites, and cabins for your stay.
The cabins have all the features of a home along with a firepit! You can have partial or full hook-up facilities with water and electricity supply at the RV sites. Lastly, the tent sites offer primitive or deluxe experiences with a supply of water and electricity.
However, none of these parks offer any form of honor bars.
Packages
Amusement parks often offer packages to help you reduce the hassle as well as costs. And so, this is super important.
If you are visiting Dutch Wonderland, You can avail 3 packages for your visit. Dutch Wonderland season pass starts with 4 payments of $27 and can only be availed online. If you're not sure about the date of your visit, get the "Any Day Ticket" for $61.99 as of April 2023.
But, the package is the "Pick Your Date Ticket". You can save 30% if you choose this package. Just mention the specific date of your visit!
As for Hershey Park, they provide two packages. The first one is the "Hershey Park Summer Camping Package. In 4 simple steps, you can book your reservation along with the date and cabin.
The second package is the 'Camp and Play Package". This allows you to save much on the accommodations and tickets for the park. And as a bonus, you get a Camp and Play patch!
Don't forget to take your sunscreen before visiting! It's really important to protect your skin from the intense heat of the summer. You can take look at some of our sunscreen recommendations:
Don't let the fear of sunburn ruin your fun. Try these sunscreens today!
Refund Policy
Dutch Wonderland refund policy is pretty much a straightforward procedure. 
To cancel your reservation at Dutch Wonderland, you've to call 1-800-871-6385 and speak with the representative. However, this has to be 72 hours prior to arrival or you'll have to pay for one night.
You cannot get a refund on the service charge that you've paid. On top of that, a $25 cancellation penalty is charged.
Now, let's talk about Hershey park. Well, there is nothing to talk about, the tickets to Hershey Park are non-refundable! 
Weather Policy
The Dutch Wonderland provides a "Rain Guarantee" that ensures you don't miss out on the fun. If it rains for more than an hour and you wanna leave, get a Rain Ticket. It gives access to the park on any other day in the remaining season!
Hershey Park also has a plan B for you in adverse weather conditions. Unless there's an extreme weather condition, Hershey park weather policy states the park will remain open. This includes rain, snow, lightning, and wind. 
But if most facilities are closed, they'll give you a Return Visit Voucher.
You can avail yourself of it any day in that particular operating season.
Hopefully, now you have an in-depth idea of the features of both these amusement parks. TIme to choose one!
Which One To Choose?
Like Comparing Grand Canyon and Yellowstone, it's easy to get confused about these two amusement parks. Well, it's totally up to your preferences to be very honest!
If you have little kids, the Dutch Wonderland will be the best option for you. Not only that! For those craving to experience the magical Cartoon Network Hotel, Dutch Wonderland is the best choice! 
However, if your kids are a little older, Hershey Park is the way to go!
If you aren't sure if you'll be able to go, it's better to play it safe. Remember Hershey Park sticks with a non-refundable policy! 
Whichever you choose, there is no denying that you'll have the most exquisite experience ever! 
FAQs
Does Hersheypark Own Dutch Wonderland too?
Yes, Hershey Park owns the Dutch Wonderland. They bought the complex as well as the Old Mill Stream Campground back in 2011. The previous owners were the Clark family. In 1963, they founded the park and sold it for $5.65 million.
Is Dutch Wonderland Okay for 10-year-old Kids?
Yes, Dutch Wonderland is definitely suitable for little kids. In fact, it is themed for little kids to come with their parents and enjoy. Their rides are kid-friendly as well. The part is essentially suitable for kids from 8-10.
Is One Day Enough to Explore Hershey Park?
Well, yes you can explore Hershey Park in one day. However, we recommend that you take two days for your visit. You should visit Chocolate World on the first day. Then, keep the other day just for Hershey Park.
Does Hershey Park Season Pass Work at Dutch Wonderland?
Yes! a Hershey Park season pass allow unlimited access to both Dutch Wonderland and Hershey Park. So, it's totally worth getting if you're interested in visiting both the park.
Wrapping Things Up
Hopefully this article was able to clear your confusion regarding dutch wonderland vs Hershey park.
Did you know that there's early access for guests of Cartoon Network Hotel at Dutch Wonderland? With early reservations, you can have your own spot booked as well!
Till next time, have fun!