Fairfield & Courtyard are both owned by Marriott at a similar price point. Hence, it may be difficult for you to choose between the two chains.
So, which is better when it comes to fairfield vs courtyard?
Fairfield by Marriott is generally considered a mid-range hotel whereas Courtyard is known for its upscale and modern accommodations. Courtyard also offers larger rooms with more luxurious amenities such as on-site dining options, meeting and event spaces and 24-hour fitness centers. However, Fairfield is more on the cost effective side.
That's just a brief summary of the whole debate. We have a detailed comparison laid out for you. Just stay tuned!
A Quick Comparison
First off, we've prepared a quick little chart to sum things up for you. Let us go through the features now!
Features
Fairfield
Courtyard
Breakfast
Complimentary
Not complimentary
Star Rating
3
3
Suitable For
Leisure and Business Travellers
Business Travellers
Amenities
Free Wi-Fi
Fitness Centre
Business Centre
On-site Convenience Store
24-Hour Fitness Centre
On-site Dining
Meeting and Event Spaces
Outdoor Spaces
24/7 Market
Bar/Lounge
Theme
Simple and Practical
Modern and Upscale
Pet Friendly
Yes
Yes
Marriott Bonvoy Points
10 Points Per $1 USD Spent
10 Points Per $1 USD Spent
Price Range
Starts from 205 USD
Starts from 190 USD
The above applies for most of the Fairfield hotels, other than those located in the Asia Pacific. 
Let's get into more details for a better understanding!
Detailed Comparison
Let's get straight into the details regarding the amenities you can find in these two hotels. So, what is the difference between fairfield inn and courtyard.
Well, both fairfield and courtyard have facilities which allow them to stand out. Why don't you decide for yourself?
Facilities 
For your ease, we'll go through the amenities provided by them in Orlando, Florida. 
Even though a lot of these facilities are common in most of their hotels. Especially, wifi, fitness center and parking. 
So, let us browse through the facilities that are available for any guests at these hotels. 
Wifi
Both courtyard and fairfield by marriott offer free, high-speed internet for their guests. So rest assured that you can browse around at the hotel. 
So you can get any urgent work done if you need to. The internet comes complimentary with the room! Plus, you can also use it anywhere in the hotel and in outdoor spaces. 
Pool
Fairfield by Marriott hotels typically have indoor swimming pools which are heated and open year-round. Some locations may also have outdoor pools, particularly in warmer climates.
On the other hand, Courtyard by Marriott hotels often have outdoor swimming pools which are typically open seasonally (in warmer months) and may include features like waterfalls or hot tubs.
The size and depth of the pool may vary by location, but it is generally designed for recreational swimming and relaxation. Towels are typically provided for guests to use at the pool.
Gym / Fitness Center
Fairfield hotels typically have a small fitness center with basic equipment like treadmills, stationary bikes, and weightlifting machines.
The size and selection of equipment may vary by location but the fitness center is generally designed for guests who want to maintain their fitness routine while traveling.
Courtyard by Marriott hotels often have a larger and more extensive fitness center than Fairfield hotels, with a wider range of equipment including cardio machines, free weights and weightlifting machines.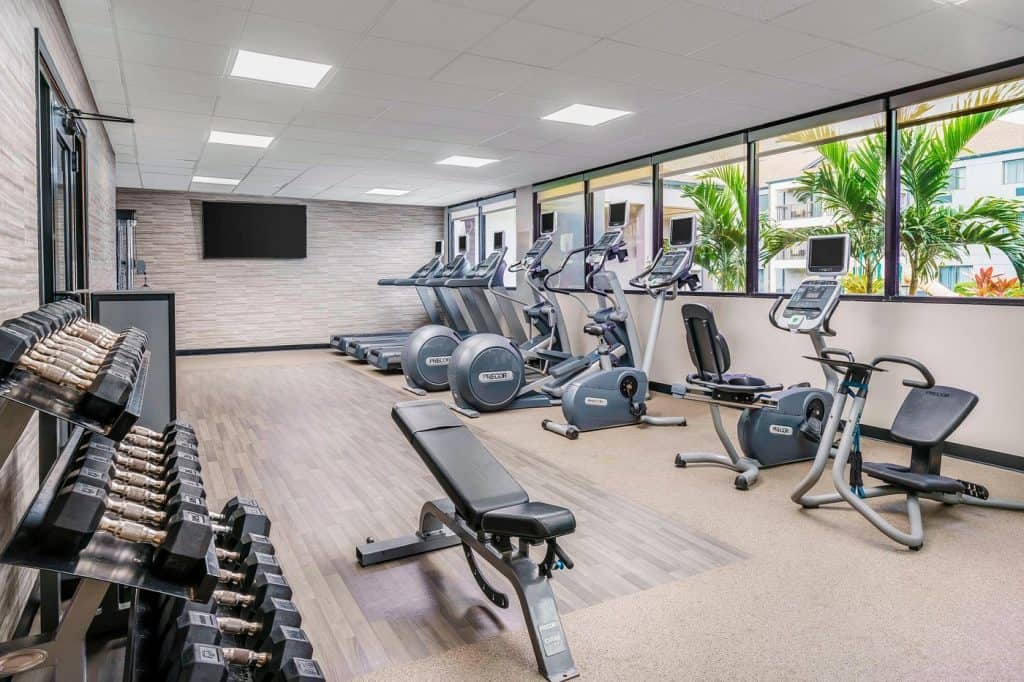 Some locations may also offer fitness classes or personal training sessions. The fitness center is designed to cater to the needs of business travelers and guests who want to maintain a healthy lifestyle while on the road.
Pet friendliness 
Fairfield by Marriott hotels generally allow guests to bring up to two pets per room with a maximum weight limit of 50 pounds per pet. There is typically an additional fee of $75 per night for bringing pets.
Guests are usually required to sign a pet waiver and are responsible for any damage caused by their pets. Some locations may also have restrictions on where pets are allowed within the hotel such as limiting access to certain floors or areas.
Pets are also allowed at Courtyard. Two pets of any size are allowed for an extra cost of between $50 per stay and $50 per night.
However, not all places allow dogs and different properties may have different costs and weight limits.
Don't worry if your pets are over the allowed weight limit. That's because there are daycare centers where you could leave your pets. And they can definitely pamper your pets similar to the way you would.
But some dogs don't like daycare. You have to figure it out yourself.
Bar
Fairfield typically does not have any designated bar area. Guests can enjoy drinks and light snacks at the lounge area.
While there isn't a bar in Fairfield Inn, there is a bar in courtyard marriott. At the bar guests can usually expect to find a range of beer, wine, cocktails and non-alcoholic beverages. Some locations may also offer happy hour specials or other promotions.
However, both the hotels have restaurants that offer cocktails and alcohol. So that's not too bad after all.
But if you're looking for a bar specifically, Courtyard might be an optimal choice. 
On-site Store
One of the things that we loved about the Fairfield has to be its convenience store. Some Fairfield hotels have a small convenience store where guests can purchase snacks and essentials.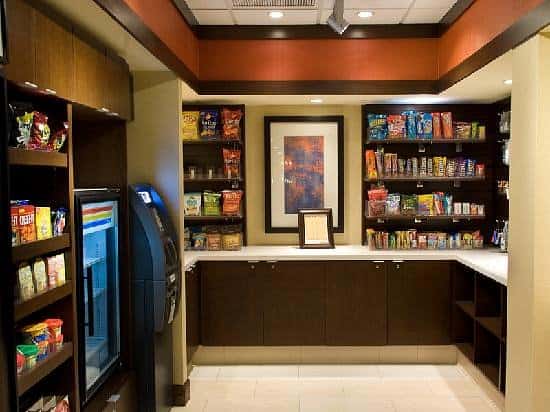 The same can be noticed for Courtyard but even better. Courtyard hotels often have a 24/7 Market where guests can purchase snacks, drinks, and other essentials at any time of day or night. This means whenever you are hungry you can just stop by one of these stores.
Parking 
In both Fairfield and Courtyard, the parking is absolutely free. But you'll have to self-park your car as a valet is not available. 
And if you're not traveling in a car, they do provide airport shuttle services. 
However, that might come with some extra charges. And if you need to, they do also provide on-site renting for cars!
Accessibility 
When it comes to accessibility, Fairfield Inn is less accessible compared to Courtyard. 
But Fairfield Inn does provide better accessibility in terms of parking and pool. The rest might be a little inconvenient.
On the other hand, Courtyard offers full accessibility. And that applies throughout the hotel, including the pool and the parking areas. 
Additional note: Please keep in mind that some of these facilities may be unavailable due to COVID-19 restrictions.
Business Center
Courtyard by Marriott hotels often have a larger and more extensive business center than Fairfield hotels. They have multiple computers, printers and other office equipment like scanners and shredders.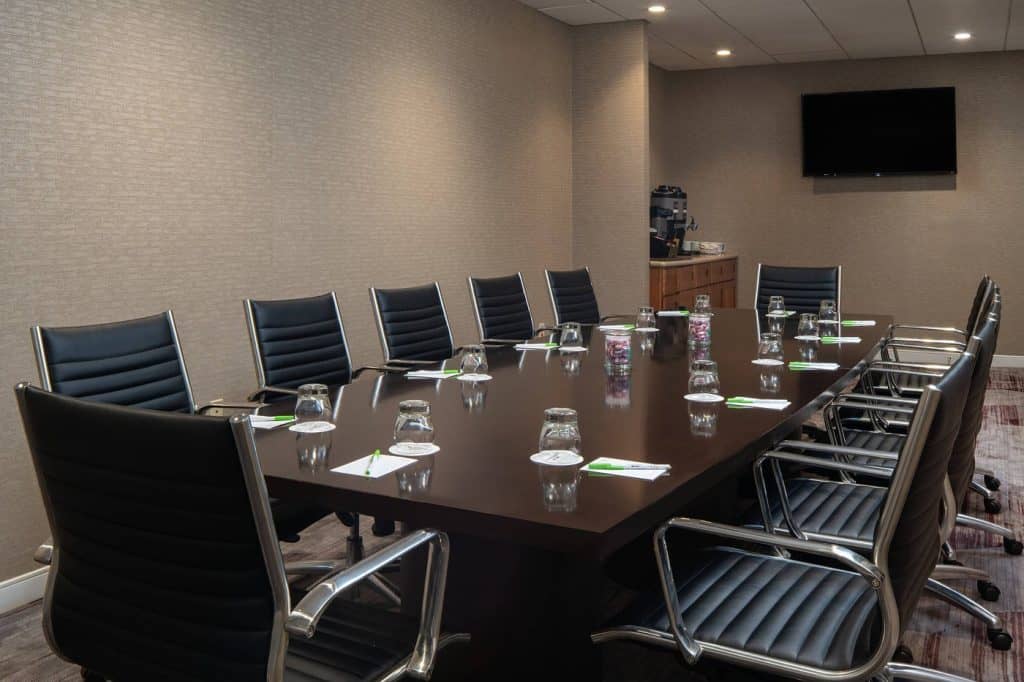 Guests can use the business center to print documents, send faxes or access other business services. The business center may be located in a separate room or area or it may be located in the lobby.
Room Facilities 
Now, let us move on to the room facilities provided by these Marriott hotels.
Fairfield Inn
There are 2 types of rooms available at Fairfield Inn, Orlando. 
A basic guest room at Fairfield primarily includes a king-sized bed. And it can be rated around 205 to 215 USD per night. 
And the other is a larger guest room having a king-sized bed, besides a sofa-bed. And that can be rated around 215 to 225 USD per night. 
These rates are all-inclusive with taxes and any other fees. However, if you're a member, these rates may be more flexible. And that can be based on membership card discounts, duration of stay, etc. 
Now, the rooms might seem a little old-fashioned. But they are definitely clean and well-maintained. And they all contain a desk and a TV. 
Courtyard 
In the courtyard marriott near orlando airport, there are 5 types of rooms available. 
Firstly, Courtyard by Marriott has a basic guest room which comes with 1 king-sized bed. But it also has a sofa-bed and a balcony.  And that can be rated from 190 to 230 USD per night.
The other type of basic guest room also comes with similar facilities. The only difference is a courtyard view instead of the balcony. And it's rated around 215 to 250 USD per night. 
The next type is a guest room with 2 queen-sized beds. And it's rated around 230 to 260 USD per night.
The best thing is, all 3 rooms can accommodate at least 3 guests. So if you're traveling in a pack of 3, 1 room will suffice for the lot. 
And now comes the bedroom suites. One type comes with a king-sized bed and a sofa bed. And the other bedroom suite has 2 double beds and a courtyard view! 
Both bedroom suites are rated at around 240 to 270 USD per night.
Location
Fairfield Inn by Marriott is located near Orlando Airport. But there are 7 other Fairfield Inn hotels in Orlando. 
There are 9 Courtyard hotels by Marriott in Orlando, Florida. But, the Courtyard hotel referred to in this article is also located near Orlando Airport. 
Refund Policy
Marriott is one of the world's largest hotel chains. And the refund policy applies to all of their hotels in the US and Canada. And also in all their hotels in Latin America and the Caribbean. 
Now, if you're planning to cancel a reservation, do it 48 hours before the said date. Otherwise, you'll have to pay the fees for at least one night's stay. 
The idea behind this policy was to prevent any last-minute cancellations. And as a result, prevent a notable number of unsold rooms. 
If you're wondering how to pay, both Expedia Pay Now and Pay Later are accepted by Marriott Hotels.
Available Cuisine 
Now, for Fairfield Inn at Orlando Airport, there are not a lot of options available for restaurants.
So, in that case, you can always have local restaurants deliver you food instead. Or go out and venture around local restaurants, and dine there instead. 
However, they do serve free breakfast in whichever form you prefer. You can get breakfast to-go, or go down for a breakfast buffet. And even have a hot breakfast brought up to your room.
All of that is complementary to the room. Now, on the other hand. The courtyard does not offer free breakfast. However, they do have Starbucks for your breakfast and coffee.
Plus, they also have a restaurant called The Bistro. It's known to serve American cuisine. 
And it has both breakfast and dinner options. Along with beer and cocktails at night. 
So at Courtyard, you should be able to enjoy a great dining experience. And it's much easier since you can have that without even leaving the hotel!
Fairfield or Courtyard: Where Should you Stay?
Now, are you still having trouble deciding where to stay between fairfield or courtyard?
Well, you certainly have a higher number of accommodation options at Courtyard. But Fairfield is also relatively cheaper. 
Courtyard is mainly for business travellers whereas Fairfield is mainly for leisure travellers. If you want to enjoy additional amenities and prefer spacious rooms then definitely opt for Courtyard by Marriott.
On the other side, pick Fairfield if you're on a budget and you don't really need the additional amenities.
Hope you can now decide just as it is suited to your needs. Given that you now know what each of these Marriott hotels offers!
Plus, there are other Marriott hotels you can check out as well. For instance, here's a detailed article on residence inn and springhill suites. Hope it helps you out!
FAQs
Does Fairfield by Marriott serve complimentary breakfast?
Yes, Fairfield by Marriott serves complimentary breakfast with your stay. There are a wide variety of breakfast items to choose from.
What are some of the more well-known Marriott Hotels?
Some of the more well-known Marriott hotels include The Ritz-Carlton, St. Regis, JW Marriott, etc. These are a few of the most luxurious Marriott Brands. And the experience that you'll have there is said to be absolutely exquisite. The service is amazing and the locations plus hotels themselves are amazing.
Are Marriott hotels full-service hotels?
A lot of the Marriott hotels are full-service hotels. Now, full-service hotels are those that offer a great variety of services. And it's available in mid-range to upscale to luxury hotels. But there are some select-service Marriott hotels too that don't provide a full-time concierge. 
Which is the largest brand of Marriott?
The largest brand of Marriott is actually Courtyard. It has hotels and resorts in over 1000 different locations. And it's also prevalent in airports in different cities. But unfortunately, they are also a brand that has lots of variation in quality. 
Final Words 
So, that's all we had for you in terms of fairfield vs courtyard. Hope we helped you reach a conclusion on where to stay.
Feel free to look through more of Marriott's hotels. Some of them offer even better facilities.
Good luck with the hotel hunt! Have a lovely stay!