When it comes to picking the perfect ski resort for your winder adventure, two significant come into mind, and hence we have pitched Okemo vs Killington for an ultimate review.
Okemo mountain resort is above the village of Ludlow in Vermont. The Okemo Ski Resort is a family-run four-season outdoor playground perfect for friends, family, and solo adventurers.
Killington mountain ski resort however is one of the largest ski and snowboard resorts in eastern North America. It is famous for its long season of snow activities i.e., from October to May.
But the question remains when going for your next ski adventure, which one lives up to the hype? To answer this question, read on ahead for a comprehensive comparison of Okemo vs Killington!
Okemo Vs Killington – Location And Accessibility
Okemo mountain is located in the town Ludlow Vermont USA. It is surrounded by nearby major cities like Londonderry, Rutland and northwest Boston. There are several busses and shuttles that can get you to and from Okemo to nearby cities. General parking is mostly free and spaces fill up by 8:30 am on weekends and holidays.
Much like Okemo, Killington peak is located east of Rutland on the south central vicinity of Vermont. The peak is a stop on the long tail that shares its route with Appalachian trail. Killington peak is surrounded by cities like Rutland, Randolph, Hartford and Lebanon. The cities are within 41 miles of Killington Village making them easily accessible from road.
Ski Terrain And Mountain Features
Okemo is known for its highly groomed and proper upkeep. 32% of its trails are classified as beginner, 38% of it are classified as intermediate terrains and about 30% are specially for experts, making Okemo the perfect beginner friendly peak to conquer.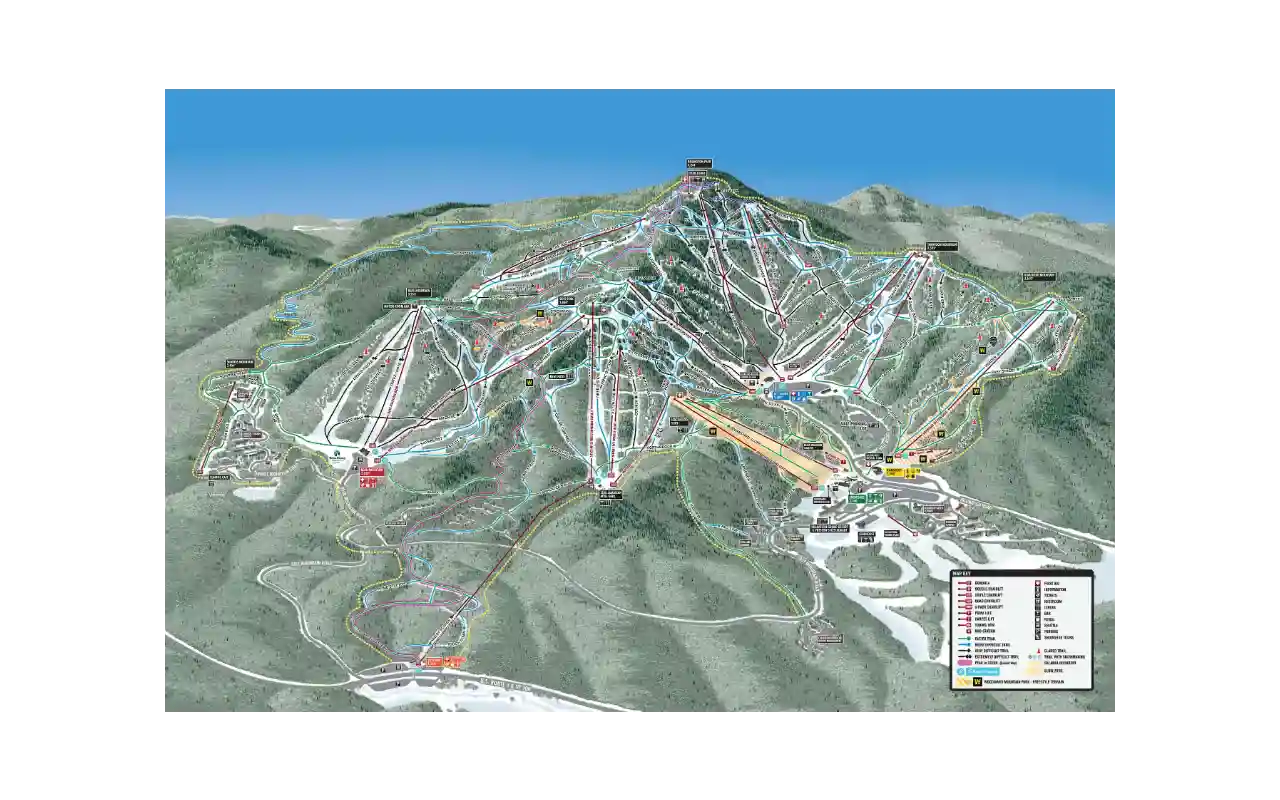 Killington on the other hand, features 28% terrains categorized as beginner, 33% as intermediate and 39% for experts. While Killington has something for everyone, the numbers suggest that there's more you can do and make the most of it you're an intermediate or expert level skier.
Mountain-Details
Difficulty Score
Details on runs
Okemo
53.9 out of 100. This makes the resort relatively beginner friendly. 68% of its trails are classified for intermediate and expert level skilled individuals
Total runs 121
Lifts 20
Skiable terrain in acres 632
Killington
69.6 out of 100. 83% of the trails are categorized as intermediate to expert Rest are for beginners
Total runs 213
Lifts 28
Skiable terrain in acres 1,997  
When talking about Okemo, 32% of its trails are considered the easier with a minor elevation of 25% or less. The most crowded runs include some of the most popular and crowded trails with a slope of somewhere between 25-40% what consist of 36% (228 acres) of the mountain. 32% (202 acres) are left for the experts. These are the hardest slopes on the mountain and have an steep slope of 40%.
Killington however, only has 18% (356 acres) beginner friendly terrains with 25% or less slope to cater to beginner skiers. 43% (840 acres) of its terrains are highly popular particularly in the holiday season and have a slope of 25-40%. The expert level trails encompass 40% (781) of the terrain, that are specifically for highly skilled experts with a steep gradient of over 40%.
You can use your Ikon Pass for Killington, however for Okemo, you have to use Epic Pass if you want to save on tickets and other amenities.
Okemo Vs Killington: Snow Overview
Okemo Mountain Resort
Mountain resort of Okemo gets about an average of 121'' of snow annually and has an average of 33 snow days. The average snow depth that Okemo experiences in 20''.
| | | | | | | |
| --- | --- | --- | --- | --- | --- | --- |
|   | Average snowfall | Snowfall days | Average base depth | Average summit depth | Max base depth | Biggest snowfall |
| November | 7'' |  2 days | 11'' | 13'' | 26'' | 18'' |
| December | 28'' |  7 days | 16'' | 21'' | 28'' | 23'' |
| January | 25'' |  8 days | 20'' | 28'' | 35'' | 14'' |
| February | 32'' |  9 days | 25'' | 34'' | 40'' | 22'' |
| March | 25'' |  6 days | 27'' | 36'' | 46'' | 23'' |
| April | 4'' |  1 days | 20'' | 26'' | 36'' | 16'' |
| May | 0'' |  0 days | 0'' | 0'' | 0'' | 0'' |
| June | 0'' |  0 days | 0'' | 0'' | 0'' | 0'' |
When it comes to Okemo, Okemo exhibits the highest snowmaking efficiency amongst ski resorts in Vermont. 98% of all terrain in Okemo uses snowmaking capabilities. When talking about the best weather to ski in, in contrary to popular belief, skiing in 60-degree weather is quite enjoyable and some might even say its perfect!
If you plan on visiting some of the bigger ski resorts then head to Aspen Snowmass which has even more skiable terrain.
Killington Mountain Resort
Being in the same vicinity, Killington gets an annual average snowfall of 174'' and has 54 annual snow days which is just a little more than that of Okemo.
| | | | | | | |
| --- | --- | --- | --- | --- | --- | --- |
|   | Average snowfall | Snowfall days | Average base depth | Average summit depth | Max base depth | Biggest snowfall |
| November | 16'' | 5 days | 11'' | 16'' | 24'' | 19'' |
| December | 37'' | 12 days | 15'' | 22'' | 30'' | 18'' |
| January | 37'' | 11 days | 19'' | 26'' | 36'' | 15'' |
| February | 43'' | 12 days | 22'' | 31'' | 36'' | 19'' |
| March | 31'' | 8 days | 26'' | 34'' | 36'' | 16'' |
| April | 9'' | 4 days | 21'' | 28'' | 36'' | 10'' |
| May | 0.2'' | 0 days | 16'' | 20'' | 36'' | 1'' |
| June | 0'' | 0 days | 3'' | 5'' | 18'' | 0'' |
Killington is able to cover 80 acres with 12 inches of fresh snow by using snowmaking system pumps that pump over 700000 gallons of water to roughly 240 snow guns!
Okemo vs Killington – Resort Amenities And Facilities
When comparing the amenities at Okemo Mountain Resort vs Killington Resort, some major factors need to be considered.
Okemo Mountain Resort has many dining options including slope side restaurants, cafes and pubs that offer a range of cuisine from casual to gourmet. On mountain lodging options like hotels and condominiums provide convenient access to the slopes. Okemo also has a variety of shops and retail outlets where visitors can find equipment, clothing and souvenirs.
Killington resort however, is raved about for its extensive expert terrains and lively après-ski scene. They offer a huge range of dining options as well from casual to upscale restaurants to cater to all sorts of taste buds! The on mountain amenities include shops where visitors can find ski and snowboard gear as well as fashionable apparel options.
To compare, both Okemo vs Killington offer equipment rental services for ski and snowboard enthusiast along with ski schools and instructional programs for gainers looking to hone and improve their skills. They also have terrain parts and freestyle features for snowboarders and freestylers.
With regards to overall size and variety of provided amenities, Killington Resort mostly has larger selections due to its status as one of the largest ski resort in the eastern side of the US. Okemo however, is well known and regarded for being a family friendly resort with an excellent atmosphere and unparalleled customer service.
Accommodations And Lodging
Okemo Mountain Resort offers a great selection of accommodations to choose from. You can kick back in the hotels, snag a cozy condo or even rent a mountain home. The best part is that some of these options are just a walking distance from the slopes.
The Killington Resort doesn't disappoint either. When it comes to accommodations, they've got hotels, loges, condos and rentals. Most of these are conveniently located near the slopes. This means that you spend less time walking and more time carving up the powder.
Both Okemo vs Killington makes sure you can spend less time commuting and more time enjoying the powdery goodness. While some accommodations offer ski-in and ski-out access, others might require a short walk or quick shuttle ride.
Crowd And Atmosphere
So, now that we've got the bases covered, let's talk people. Okemo and Killington offer a unique experience catering to different preferences and tastes. Let us explain;
Okemo is famous for its welcoming and family friendly atmosphere. It tends to have a more relaxed vibe and attracts visitors who are looking for a chill laid back skiing experience. The crowd sized are pretty manageable allowing more room on the slopes and shorter lift lines. Families with children often choose Okemo for its beginner-friendly terrain, excellent ski school programs, and overall family oriented atmosphere.
On the flip side, Killington Resort has a reputation for its vibrant and enigmatic energy. It tends to attract a more diverse crowd including both families and part oriented skiers. Killington is known for the bustling après-ski scene. It has numerous bars and cafes with live music where you can have fun and socialize and unwind after a long day on the slopes. The resort often hosts exciting events and competitions creating an energetic and lively ambiance. The crowd size s are relatively larger particularly during peak times and weekends but the resort's cast terrain helps distribute skiers and riders across the mountain owing to its huge size.
Flights And Routes To Each Ski Resort
For Okemo Mountain Resort, the closest airport is Rutland Southern Vermont Regional Airport, which is located about 30 miles away from the resort. The airport offers limited commercial flights so it's important to check the availability of the direct flights to the Rutland from the departure location.
Visitors can also consider flying into larger airports such as Albany International Airport in New York or Burlington International Airport in Vermont. Both the airports are almost 2 hours driving distance away from Okemo. You can either get a bus, private shuttle or car rental to get to the resort from there.
Same as Okemo, the closest airport to Killington is Rutland Southern Vermont Regional Airport which, much like Okemo, has limited flights.
When considering flights to both resorts, it's important to check for direct flight options from your departure location. Direct flights can provide convenience and save time compared to flights with layovers. Layovers can vary in duration and location so it is essential to factor in potential layovers when planning your travel.
Feedback And Reviews
Okemo Mountain Resort has generally received positive reviews from visitors. Many reviewers highlight the resort's excellent grooming, family-friendly atmosphere and quality customer service. Visitors tend to love the huge range of slopes and beginner friendly terrains! The resort's commitment to providing a welcoming and enjoyable experience for families is often praised by users. While there may be an occasional negative review here or there it is necessary to remember that by mutual consensus, Okemo stands as one of the best most well likes ski resorts!
Killington on the other hand is a mix plate. Owing to its extreme terrain it tends to be a hit or miss with enthusiast with little in between. Many reviewers love and appreciate the number of trails, terrain options and lively atmosphere but there are some visitors that feel like the slopes are too crowded for third taste especially during the weekends or the holiday season.
And if, however, you want to head to Colorado then do check our take on Vail Ski resort as well.
Okemo Mountain Resort Vs Killington Mountain Resort: Pros And Cons 
Resort
Pros
Cons
Okemo Mountain Resort
Family friendly
Excellent grooming
Quality customer service
Wide range of slopes for all skillsets
Convenient on mountain amenities
Welcoming and enjoyable experience for families
Onsite shops for equipment and souvenirs
Crowded slopes during peak times
Limited advanced terrain
Distance from major airports
Potential for limited transportation options.
Killington Mountain Resort


Extensive terrain and variety of trails
Vibrant après ski scene
Lively nightlife
Diverse terrain options
Numerous dining options
Ski in and ski out accommodations available
Proximity of accommodations to slopes
Crowded slopes during weekends and holidays
Variable slope conditions depending on weather
Potential for limited availability or advanced terrain
high travel time to major airports
layovers in flights possible  
Another great comparison of Killington can be drawn against Stratton vs Killington. Do check out our in-depth article to know the result.
Final Verdict
In the end, choosing between Okemo Mountain Resort and Killington Resort depends on personal preference completely!
If you're looking for a family friendly atmosphere, excellent grooming and a homely welcome then Okemo is for you!
On the flip side, if you want a vibrant expert level terrain, lively nightlife and an enigmatic social environment then Killington is the only choice!
Ultimately, if you're travelling with your family or prefer a quitter and more relaxed skiing experience, Okemo is recommended, if you are however, seeking adventure at a larger ski resort with an exciting nightlife then its hand down, Killington! 
Making a comparison between Okemo vs Killington shows that both have a unique set of features that cater to different tastes and preferences, so you can choose the one that aligns perfectly with what you want or need. Regardless of what you end up choosing, both resorts offer an unimaginably amazing experience, one you'll remember for a lifetime!