NCL is a renowned cruise ship that arranges trips to different parts of the world. Among all of their suites, there are two that stand out the most: the standard suites and the Haven.
But between NCL Suite vs Haven, which one is better?
NCL Haven is better than the Suite in terms of luxury. But for budget and family travelers, Suites are a better option. Haven guests are prioritized over other guests when it comes to onboarding, offboarding, reservations, etc. NCL Haven offers specialty dining service while Standard Suites doesn't. Also, standard suites cost almost half as much as the Haven suites.
In the next sections, you'll get to know more about the features of the standard suites and the Haven suites.
NCL Suite Vs Haven: What's The Difference? 
So, you already know that there are multiple differences between NCL Suite and Haven. But before we discuss the differences in detail, let's take a glance at them.
| | | |
| --- | --- | --- |
| Amenities | NCL Haven | NCL Suit |
| Location | On top of the ship | Throughout the ship |
| Priority | Prioritized when onboarding and off-boarding  | Not prioritized |
| Accommodation | More luxurious | Luxury suits are not available on most ships |
| Butler | Yes | Yes |
| Concierge | Yes | Yes |
| Personal escort | Yes | Yes |
| Haven Attendant | Yes | No |
| Pool, Sundeck, and Hot Tubs | Yes | No |
| Cocktail Party | Yes | No |
| Specialty Dining Delivery | Yes | No |
| Wifi | Yes with 24-hour internet cafe | Yes with 24-hour internet cafe |
| Pet Allowance | No | No |
| Price Range | More expensive | Less expensive |
Now, we will get to know the differences in detail. If you're familiar with MSC Yacht Club, it will be easier for you to understand this. That's because the MSC Yacht Club and the Haven both offer a ship-within-a-ship experience.
Location
Haven suites are located on top of the ship, unlike standard suites. Because of this, you can enjoy a better view of the ocean and the surroundings. On the contrary, standard suites are located throughout the ship and don't offer a top view.
Priorities of NCL Suite Vs Haven
Haven guests are given priority over the Standard Suite guests while onboarding and offboarding. So, as a Haven guest, you won't have to wait in line to get on or off the ship.
This prioritization also applies if you're facing problems, such as if your NCL eDocs aren't ready when they should be. 
Haven guests are given a special Haven keycard compared to the purple keycards given to standard guests. These keycards will give you access to parts of the ship that are not accessible as a standard suite guest.
Haven guests are also given priority while making a reservation for virtually anything. You will get the best tables and restaurants and will get VIP seats to any recreational activity on the ship.
Also, do check out the benefits of NCL Royal Up and see if it suits you.
Accommodation differences between NCL Suite Vs Haven
The accommodation options also vary for Haven guests and standard suite guests. Although very similar, there are some significant differences in accommodation options.
Let's see a comparison of the accommodation options-
3-Bedroom Garden Villa 
The Haven's 3-bedroom garden villa is almost the same as the standard garden villa. Both of these suites have a size of 6694 sqft and can accommodate up to 8 people. These suites have 3-bedrooms, two baths and a half bath, and a hot tub.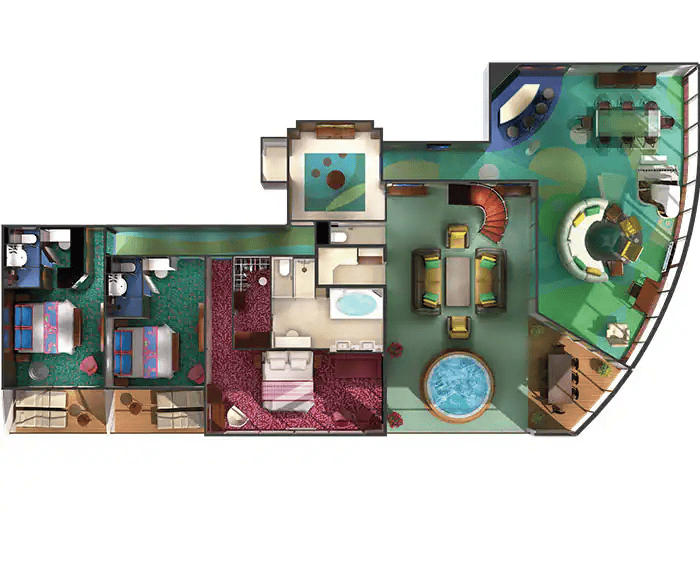 But the real difference lies in availability, The Haven's 3-bedroom garden villa is available on 6 Norwegian ships. But the standard one is only available on two.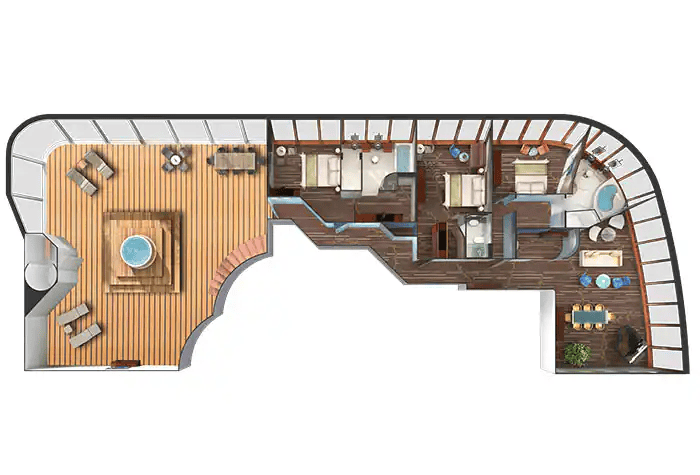 Deluxe Owner's Suite With Large Balcony
The Haven's Deluxe Owner's suite is a bit smaller than the standard one. The standard Deluxe Owner's suite is 1382 sqft but the Haven's suite is only 1307 sqft. But both of these can accommodate up to six people.
The main difference is that the Haven's suite has a luxury bath but the standard one has a regular bath. In spite of the name, only one of the three ships with this standard suite has a balcony. 
But all the eight ships that feature this Haven's suite come with a large balcony as the name suggests.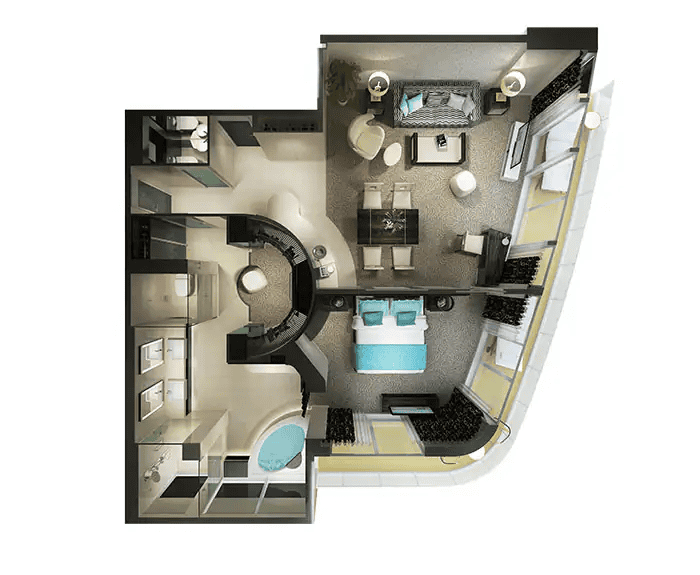 Also, in some ships, this Haven's suite can offer even two bedrooms. 
Owner's Suite With Large Balcony
Like the Deluxe owner's suite, the Haven's normal owner's suite is also smaller than the standard owner's suite. The standard owner's suite is 957 sqft and the Haven's suite is 824 sqft. 
The standard suite can house five guests but Haven's suite can house only four guests. Also, the Haven's suite has a luxury bath but the standard suite has a regular one.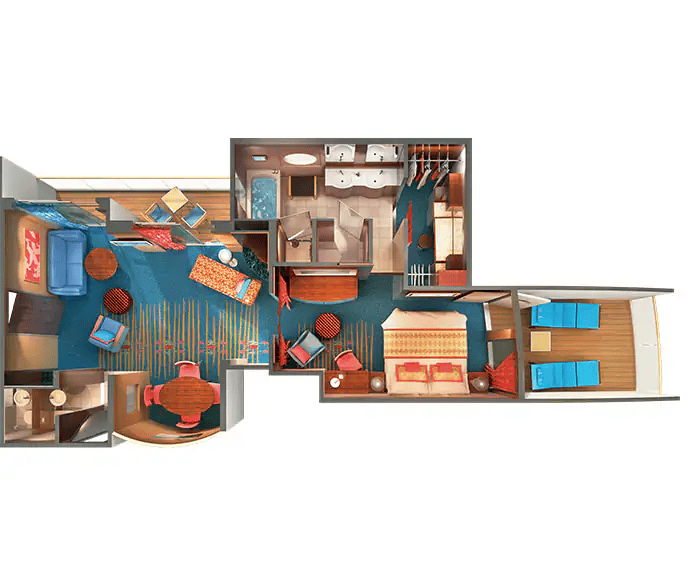 Also, this Haven's suite is available in eight different ships. But the standard suite is only available in five ships. In the Norwegian Dawn, you get a double balcony instead of one in the standard suite. Also, in some ships, the dining and living room is combined.
Family Suites
If you're looking for a good family time the standard suites have three different family suites: Regular, 2-bedroom, and 2-bedroom Deluxe. But the Haven has only one family suite option, a 2-bedroom villa with a balcony.
Penthouses
The Standard Suites have 4 penthouses compared to 3 penthouses in the Haven. There are three types of penthouses available in the Haven: Courtyard, Forward-facing, and Aft-facing. These penthouses are available on most ships.
On the other hand, Standard Suites' penthouses are Deluxe with a balcony, with a large balcony, Forward-facing, and Aft-facing. 
Spa Suites
The luxurious Haven offers you two types of spa suites that you will not find in standard suites. You can choose from Deluxe and Regular spa suites.
These spa suites are the epitome of luxury on Norwegian cruise ships. These suites will offer you a king-sized bed, hot tub, oversized waterfall shower, body spray jets, and spa décor. 
Additionally, you may use the Mandara Spa and Fitness Centre, Thermal Spa Suites, and multiple body spray jets.
Special Services
Other than luxurious accommodations, you will get some special benefits as a Haven guest. The main attraction is the private pool, sundeck, hot tubs, and specialty dining services that you can access. 
The private venues include-
The Haven Lounge
The Haven Restaurant
The Haven Courtyard and Sundeck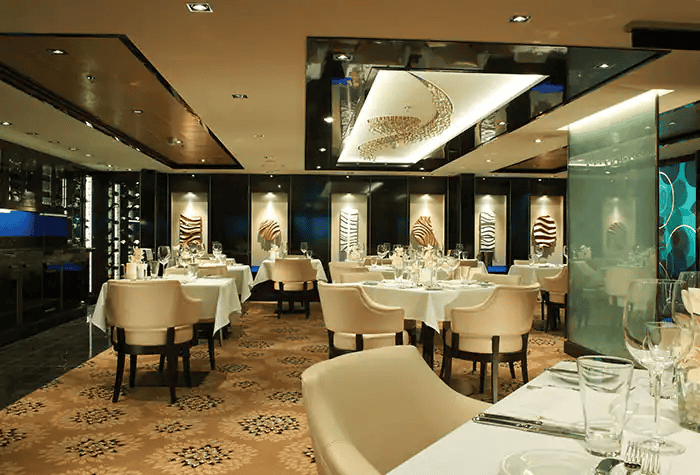 Source: NCL
But keep in mind that these privileges are only available in Breakaway and Breakaway Plus class ships. 
Also, when you're in the courtyard and the sundeck, you'll have an attendant accompany you and fulfill every demand. 
Pro Tip: Always ensure to log out from NCL Internet once you are not using it to protect against any data breach.
Cost 
In general, the cost of Haven is nearly double the cost of a standard suite. On average, to get a suite, you are expected to spend around $2934 to $5734 per person. In order to stay at Haven, you will have to spend between $4100 and $11200 per person.
Keep in mind that this is an average price range. The actual price will vary on many things, like the destination, travel dates, etc. For a better and more accurate quote of the cruises, we suggest you directly contact NCL.
Moreover, you can use your CruiseNext Extension to save some money, but first, you must see the expiry date and procedures to use it.
NCL Suite Vs Haven: Which One Should You Go For?
We recommend the NCL Suite if you're traveling with your family and considering your budget. If money is not the issue and luxury is your first priority, go for Haven.
Also, the Haven costs almost twice as much. In exchange for that,  you are treated like a priority customer, which can make your trip more pleasant. 
Although NCL Haven's amenities are lucrative, some would argue that Holland America is better than Norwegian.
FAQs
What's The Best Norwegian Cruise Ship? 
The Norwegian Prima unveiled in 2022, is considered the best Norwegian cruise ship for luxury lovers. This ship is designed to be more upscale than previous vessels in the Norwegian fleet. It offers a high-end cruising experience for passengers. 
Which NCL Ships Have The Haven? 
The Haven is available on multiple NCL ships. These ships include: Norwegian Escape
Norwegian Getaway, Norwegian Breakaway, Norwegian Gem, Norwegian Jade, Norwegian Jewel, Norwegian Bliss, and more.
Which NCL Ship Has The Best Haven? 
Norwegian Prima is considered the best Haven regarding its features and amenities as it's the latest ship in their fleet. Norwegian Epic is also considered the best Haven in terms of service.  
Conclusion
It should now be clear to you which option suits you best after comparing NCL Suite vs Haven. 
But for better trip planning you can always contact the NCL support. They will be able to provide with you the latest prices and features. This will also enable you to make a proper decision.