Finding two distinct brands of establishment under one roof is rare. But that is achieved by Marriott as they have joined Residence Inn and SpringHill inn.
These two brands are people's favourites for being moderate to expensive. So, people often find themselves in a dilemma on which hotel to pick.
So, which one do you think is better, Residence Inn or SpringHill suites?
The Residence Inn is more suitable for large groups of people than SpringHill suites. They offer larger rooms rooms. Rooms in the SpringHill suite are suitable for smaller groups of people. Residence Inn also provides a full kitchen but SpringHill doesn't. But, pets are allowed in SpringHill suites.
That was only a fraction of our today's discussion. Wanna find out more? Then join us in the detailed discussion.
Let's begin!
Quick Comparison
Choosing between the Residence Inn and SpringHill Suites can be tough. But rest assured as it is nowhere near as complicated as choosing between Riu Palace Riviera Maya and Mexico.
SpringHill suites is beautiful. Here's a nice view of SpringHill suites.
Here are some key differences between Residence Inn vs SpringHill suites. 
| | | |
| --- | --- | --- |
| Aspects | Residence Inn | Springhill Suites |
| Suitable For | Large groups | Small groups |
| Amenities | More  | Less |
| Attached Full Kitchen | Yes  | No  |
| Theme  | Apartment style | Hotel-like  |
| Bar/Restaurant | No | Yes  |
| Pet-friendly  | Yes  | Some branches |
Let's jump on to the main discussion.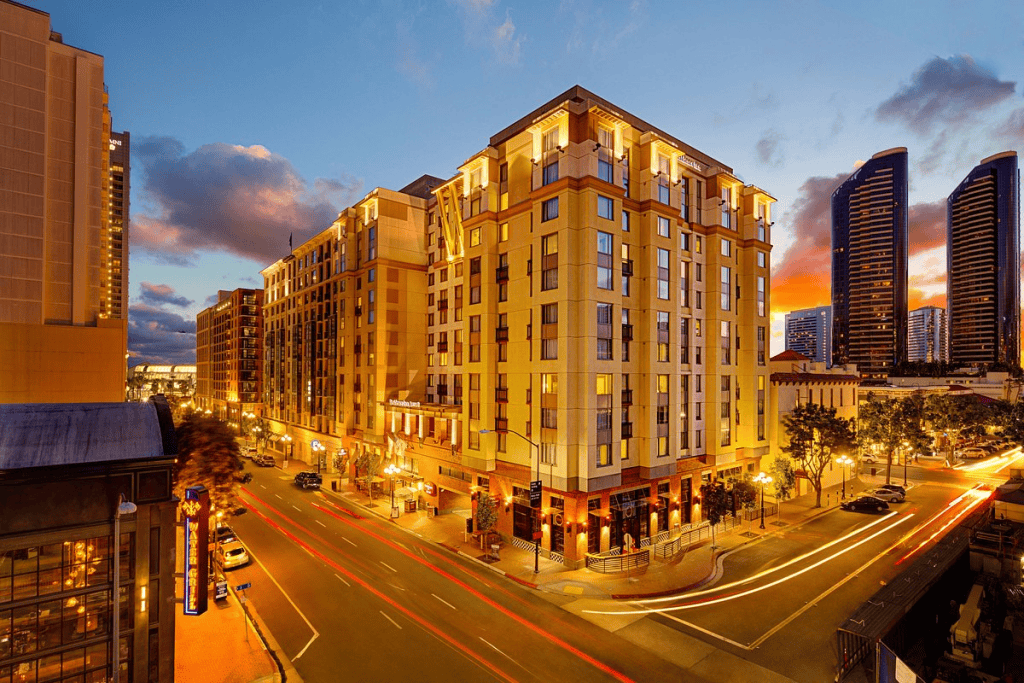 Detailed Comparison
Residence Inn and SpringHill suites both are two separate brands under Marriott International Inc. They have collaborated as Marriott chain hotels and are now under the same roof.
Unlike Caesar's Atlantic City Centurion Tower or Ocean Tower, they are not separate buildings. The SpringHill Suites and Residence Inn are two independent parts of the same building. 
However, they do share some properties together. We'll get to those one by-on-one. So, stay tuned! 
Here comes the detailed discussions.
Facilities 
There's an array of facilities arranged by both of these luxury brand hotels. After all, they both are rated 3-star and even higher ratings from the customers.
Let's get to know them one by one.
Wifi
Both SpringHill suites and Residence Inn provide free internet service in the common space. They also provide wifi service in the guest rooms.
There are a few complaints about the slow connectivity issue from the SpringHill side. But they have a separate ethernet section. So, in case you need to use them you can simply let them know.
Pool & Spa
Springhill suite and Residence Inn share the same outdoor pools and spa centre. They also have a shared lobby area. In case you were hoping for separate indoor pools there are none. 
But in separate establishments both offer indoor pools. In the Residence Inn you'll have an indoor pool feature in every room. 
But not all establishments of SpringHill suite offer a pool feature. The same goes for the spa centre.
Pet friendliness 
Residence Inn allows pets. They'll charge you USD 75 for each accommodation. Service animals are also welcome. Springhill suite doesn't allow pets. But just like Grand Haven and South Haven, service animals are allowed.
Not all branches of SpringHill suite have a restriction on pets. Some of the separate branches allow dogs and cats with a limitation of two per room. 
The pets must be under the supervision of the owner. Additional fees are charged for pets. Service animals are allowed in all branches.
Gym
Unfortunately there's no gym in the joint establishment by the Residence Inn and SpringHill suite. But you'll find fully functional gyms in separate hotel branches.
Bar
Although they share the same roof the bar-restaurant is owned individually by SpringHill. It's a mini-bar-style restaurant that serves food for lunch and dinner.
You can enjoy drinks here too. Unfortunately, there's no bar or restaurant in the Residence Inn. So you'd have to rely on the bars and pubs around the area.
Parking
Both hotels offer onsite parking services. Residence Inn offers self-parking and extended parking for personal vehicles. They also allow vehicles like buses, trucks, RVs, vans, etc.
Wheelchair-accessible parking on site is also allowed. They don't provide valet parking service. But Springhill suites do provide onsite valet parking service for USD 40 per day.
They also have wheelchair-accessible parking options and off-street parking spaces.
Accessibility 
Both brands of the hotel have a bunch of accessibility options available for guests. You can ask for wheelchairs for guests with special needs.
The parking place, registration desk, fitness centre, and pool area are made wheelchair accessible. The elevator is also wheelchair assistive. 
There are many in-room accessibility items within the rooms the guests stay in. You'll find closed-captioned TV, and visual alarms located in the hallways. 
The washrooms inside the rooms are fully accessibility supported. There's a grab bar near the toilet, lowered locks, and height adjustable showerheads.
Roll-in showers and level food handles are also included.
Corporate Facility 
There are business facilities in both hotels. But SpringHill would be a step ahead of Residence Inn in this aspect. They have a business centre, 4 meeting rooms, and a conference centre.
The conference centre is of 5,000 sq. ft area. ATM booths are also located inside the building. The Residence Inn has a business centre and a computer station.
Room Facilities 
Both Residence Inn and SpringHill suites have great room facilities. But area-wise Residence Inn rooms are bigger in size than the rooms in SpringHill.
They also provide 2-bedroom suites which are suitable for providing accommodation for large groups. On the other hand, SpringHill suites are mostly one bed. 
The cost is the same as the Residence Inn. But the rooms are smaller and have less furniture. So, if you're visiting with a large group, the Residence Inn would be more suitable.
Another perk of staying in the Residence Inn is you get to use the full-kitchen. The kitchen comes with all the necessary appliances and tools that you'll need.
In SpringHill suites, there is no kitchen but you'll have a microwave, coffeemaker, and a mini-refrigerator. The suites give more like a residential hotel vibe.
Residence Inn on the other hand gives more of a residential apartment vibe. It has amazing room services and is super clean. It's more suitable for long stays. 
Much like the differences visible between SpringHill suites and TownePlace suites. Also, there's separate space for sleeping and sitting areas. 
The rooms in SpringHill suites aren't updated very frequently. So, it's not always in its top form.
Location
The joint establishments of Residence Inn and SpringHill suites are in quite a few locations. You'll find them in the same establishment in San Diego, Milford, Orlando, Greenville, etc.
Both Residence Inn and SpringHill suites have many separate establishments all over the world. The number of joint hotels isn't small either. Directed under Marriott they are opening more joint branches in many places.
Booking Serial
Booking hotel rooms in both hotels can be done in person or on online platforms. On regular days you'll most likely find a suite to your taste. But during the holidays it's a bit hard to make reservations.
That's why it's better to make reservations months earlier. Finding a two-bed suite provided by SpringHill will be tough. So, if you need bigger rooms better look for rooms in the Residence Inn first.
Bring a credit or debit card with you for check-in and check-out. They don't accept cash. You'll also need a government-issued photo of yourself.
There's an age restriction for checking in both hotels. Residence Inn allows people older than 21. Springhill allows people who are over 18.
Check-in time in the Residence Inn is from 3 PM to 1 AM. Check-out time is at noon. The check-in time for SpringHill suites starts from 4 PM to midnight. 
The check-out time for them is also at noon. The rooms stay vacant for 72 hours before new guests check-in. In the SpringHill suite, you'd have to pay a mandatory destination fee per person. 
By using websites like Tripadvisor or Booking.com, you can easily book any hotel. So, for Residence Inn, you can check the prices of rooms on Tripadvisor or Booking.com.
Same goes for SpringHill Suites, you can compare the prices on Tripadvisor or Booking.com.
Refund Policy
Both residence hill and SpringHill suites give free cancellation for a full refund. Full refund cancellation is applicable if you let the authorities know a few days beforehand.
Make sure you read all the terms and conditions for property cancellation in advance. Also, maintain the basic rules of hotel safety tips.
Available Cuisine 
Residence Inn by Marriott doesn't have an in-house restaurant or bar. But the breakfast is provided by the hotel. The breakfast area has a court setup.
Light dinner and snacks are provided free for the guests on Monday-Thursday night. Beers are also included. Coffee and tea services are available in the lobby or common areas.
They also have a grocery delivery service. For lunch and dinner, you'd have to rely on restaurants nearby. Springhill on the other hand has a small bar-style restaurant called Degree Metropolitan.
They specialise in serving American-style cuisines for lunch and dinner. Drinks are also served. They have happy hours dedicated to the customers. Like Residence Inn breakfast is free in the SpringHill suite as well. 
Breakfast is available from 6 AM to 9:30 AM on regular weekdays. On weekends the schedule for breakfast is 7 AM to 10 AM. There are coffee and tea services available in common areas.
So, Which One is Perfect for You?
Both Springhill Suites and Residence Inn are excellent places to choose for spending your holidays. But some of the differences surely matter when making a decision.
Both establishments are great but they have their own shortcomings. So, go with the one which suits you the best. We recommend you to go with the Residence Inn if you have a large group.
Also if you have plans to stay for a long time. Residence Inn will be a more comfortable choice. With the same pricing as SpringHill, why bother to go for smaller rooms?
You can enjoy more living space for the same price in the Residence Inn. Although you'll have to rely on outside restaurants for lunch and dinner. But we think it's totally worth it.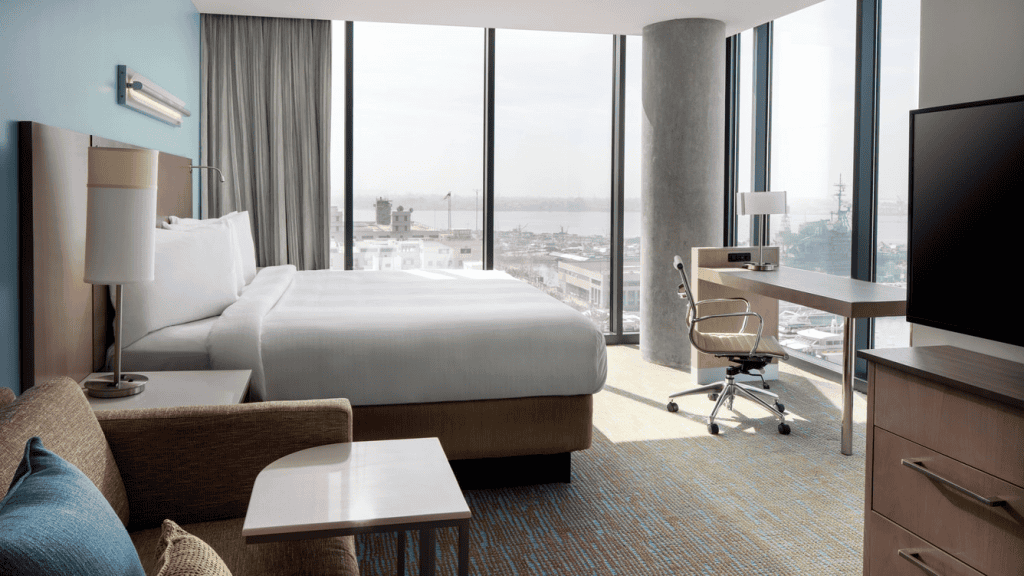 Frequently Asked Questions (FAQs)
Before we finish here are a few more facts to know-
What activities can you enjoy around SpringHill suite Denver downtown?
The SpringHill suite residence in Denver downtown is built in a large area. Apart from the property amenities inside, there are a few more areas to visit. There is a  golf station and biking trails nearby. You can also go kayaking. There's a bicycle rental store nearby too.
What activities can you enjoy around the Residence Inn?
There's a basketball, volleyball, and golf court just near the Residence Inn building. You can also go hiking or biking on the mountain biking trail nearby. There are many bicycle rental stores in the area as well. Kayaking is also a good activity to look forward to.
What are the main features of a queen suite in SpringHill suite?
The queen or double suites are designed for a large group of people. 1 to 6 people can reside in the double room. You'll get dedicated workspaces and separate areas for sleep and relaxation. There's also a mini-fridge and a microwave. The bathrooms give a spa-like luxury vibe.
Conclusion
Now you know the fundamental differences between Residence Inn or SpringHill suites. Hopefully, this piece came to help in making up your mind.
If you have more queries feel free to contact the respective authorities for further information. The front desk is always open for any help you need.
Wishing you good luck on your journey!