While going for a trip on a cruise people get confused about finding the best one for them. It is quite tough to choose the best cruise between Eurodam and Westerdam.
So, which one to choose Eurodam vs Westerdam?
Choosing between Eurodam and Westerdam comes down to personal preferences. The Eurodam is newer, larger, and offers more entertainment and dining options, while the Westerdam has a traditional style. Both ships provide various activities and amenities, so try to consider the ship's class, itinerary, and destination. Ultimately, select the ship that aligns with your preferences for a memorable cruise experience.
There are a lot of aspects to know about the Eurodam and Westerdam cruise. To have a better idea about these two go through the whole article.
Eurodam vs Westerdam: In-Depth Comparison
Given that both Eurodam and Westerdam are esteemed in their own rights, let's consider a concise comparison between the two.
| | | |
| --- | --- | --- |
| Feature | Eurodam | Westerdam |
| Ship Class | Signature Class | Vista Class |
| Dining Options | Tamarind, Silk Den | Pinnacle Grill, Canaletto |
| Activities | BBC Earth Experiences, Digital Workshop, Cooking, Greenhouse Spa, Photography. | America's Test Kitchen, Explorations Central, Digital Workshop |
| Staterooms | Verandah, Oceanview, Interior | Verandah, Oceanview, Interior |
| Cabin Design | Style with bright colors and contemporary furnishings  | Traditional in design with warm, rich colors and classic touches. |
| Entertainment | B.B. King's Blues Club, Tamarind Restaurant, bars and lounges, Disco, Casino | Culinary Arts Center, Lincoln Center Stage, Trivia games. |
Ship Class
The Eurodam and Westerdam belong to Holland America Line's Signature Class & Vista Class ships. While they offer similar features, there are a few distinctions between them. The Signature Class ships and Vista Class ships are almost indistinguishable in terms of passenger amenities.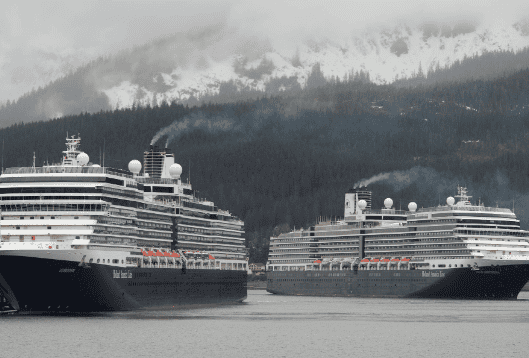 Source: Juneau
The only notable distinction is that the Vista Class ships lack the Tamarind and Nami Sushi dining options available on the Signature Class ships. Additionally, the Vista Class ships do not have New York Pizza, but they do offer pizza alternatives in the Lido area. 
Another noticeable difference is the placement of the retreat cabanas, which are located differently on the two ship classes. Furthermore, the Vista Class ships do not have cabanas in the Lido area.
Pro Tip: Must take clothes according to the occasion, if the Captain's dinner is planned on the cruise ship.
Dining Options at Eurodam vs Westerdam
Both the Eurodam and Westerdam provide a variety of dining options, encompassing main dining rooms, buffet-style restaurants, and specialty establishments. However, there are notable distinctions to consider.
The Eurodam presents a broader selection of specialty dining options, including the Tamarind Restaurant. It serves Asian-inspired cuisine, and Canaletto, which specializes in classic Italian fare. Additionally, guests can enjoy live blues performances at the B.B. King's Blues Club onboard.
In contrast, the Westerdam features the Culinary Arts Center, where guests can partake in cooking classes and attend culinary demonstrations. It also houses the Lincoln Center Stage, offering chamber music performances for guests' enjoyment.
Activities-Eurodam vs Westerdam
The Eurodam and Westerdam provide a wide array of activities for guests to enjoy during their time on board. Both ships offer a diverse range of entertainment options, including live music performances, Broadway-style shows, and comedy acts. 
There are also different Wi-Fi options available for everyone to enjoy. However, make sure to log out of the internet otherwise you will be charged a hefty penny!
Furthermore, guests can engage in various onboard activities, such as cooking classes, wine tastings, and art auctions. Additionally, both ships are equipped with amenities like swimming pools, fitness centers, and spas to ensure a well-rounded and enjoyable experience for passengers.
Staterooms differences of Eurodam vs Westerdam
The Eurodam and Westerdam present a variety of stateroom choices for guests. The Eurodam, being slightly larger, can accommodate up to 188 more passengers compared to the Westerdam.
Both ships offer a diverse selection of stateroom categories, including interior, ocean view, veranda, and suite cabins. The veranda cabins on both ships have a balcony of approximately 54 square feet. It makes them slightly larger than the ocean-view cabins.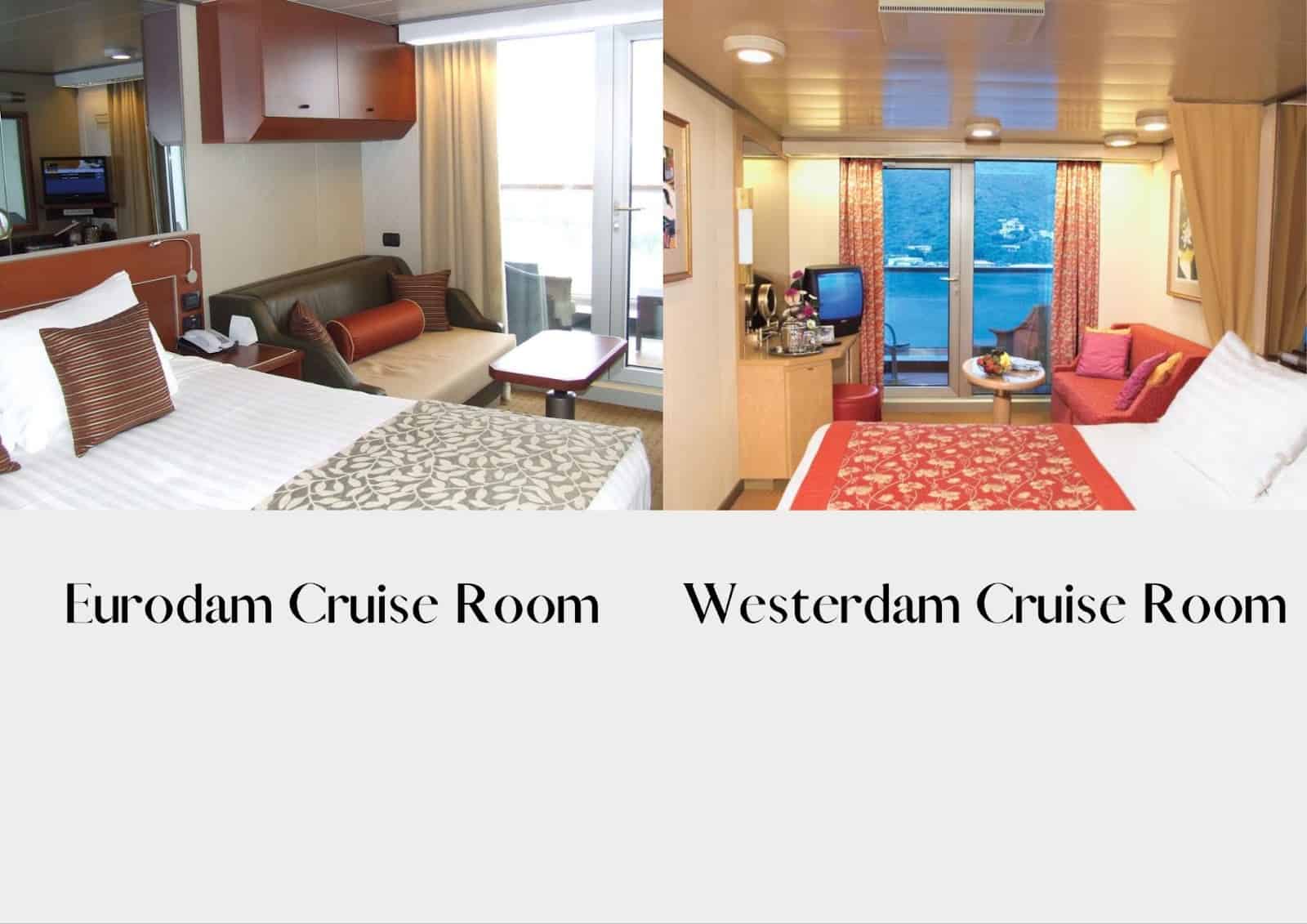 Additionally, the Eurodam features 46 Verandah Spa cabins, which are more spacious than regular veranda cabins and include spa amenities. On the Eurodam, accessible rooms are divided into two categories: Ambulatory Accessible and Fully Accessible. 
When selecting a cruise on the Eurodam, passengers can consider choosing between an AFT cabin with a large balcony or the Observation Deck + Retreat. It is available at the same cost as the AFT cabin. Overall, both the Eurodam and Westerdam offer a range of stateroom options to accommodate various preferences and budgets.
Cabin 
Both the Eurodam and Westerdam are mid-sized cruise ships that provide a diverse range of cabin categories. The Eurodam's cabins are adorned in a modern style, featuring vibrant colors and contemporary furnishings. But the Westerdam's cabins lean towards a more traditional aesthetic. 
With 1052 cabins and 36 cabin categories, the Eurodam, being the newer ship, offers an abundance of entertainment and dining options. On the other hand, the Westerdam boasts 961 staterooms and offers familiar cabin categories like interior, oceanview, and veranda.
Reviews indicate that some individuals prefer the Eurodam for its modern decor and additional amenities, while others favor the Westerdam for its traditional style and smaller size. Ultimately, the decision regarding cabin design between the two ships will hinge on personal preferences and priorities. NCL and Haven Cruise also provide the best cabin facilities.
Entertainment
Both Eurodam and Westerdam strive to provide a range of entertainment facilities to ensure an enjoyable cruise experience. The Eurodam surpasses the Westerdam in terms of entertainment options.
Source: cruiseguru
It provides more than 10 bars and lounges, a disco, a casino, a theater, and a HAL kids center. Furthermore, the Eurodam features a screening room with seats. It is accessible through a captivating entrance on deck 3, conveniently located near the shops. 
In contrast, Westerdam offers a slightly more limited selection of entertainment options. However, it still presents various activities such as cooking demonstrations, trivia games, and live music performances to keep guests engaged. Passengers on the Westerdam can also delight in the ship's theater, which hosts a diverse range of shows and performances. people also like to go snorkeling at coco cay on their vacation.
Eurodam vs Westerdam: Choosing the Ideal Cruise!
Choosing one from Eurodam or Westerdam is quite a difficult one because both are providing excellent services for their passengers. Both the Eurodam and Westerdam are excellent options for a cruise vacation, and the decision between them ultimately boils down to personal preference. 
The Eurodam is a newer and larger ship with a wider array of entertainment and dining options, making it a preferred choice for some individuals. However, Both ships belong to Holland America's Signature and Vista Class vessels. These ships are slightly smaller than the Pinnacle Class ships and offer a more intimate atmosphere.
However, the Eurodam has undergone significant refurbishment, making it an excellent choice for cruising Alaska. Those seeking a sophisticated cruise experience will appreciate the amenities and entertainment options available on the Eurodam.
Ultimately, the decision between the Eurodam and Westerdam will depend on individual preferences and priorities.
We already have a comparison article on Holland America vs Norwegian, in case you want to know more about these cruise companies.
FAQs
What is Holland America's Nicest Ship?
Rotterdam is now Holland America's best ship. It has a passenger capacity of 2,650. The ship measures 99,863 gross tons, placing it alongside its slightly older sister ships. For example, the Nieuw Statendam and Koningsdam were the largest vessels in the Holland America fleet.
Which Ship is Newer Eurodam or Westerdam?
Eurodam is newer than the Westerdam. It also offers more entertainment and dining options, and is somewhat larger. But the itinerary and destination of the Westerdam should also play a significant role in your decision-making process. 
Which Decks are Best on Eurodam?
The best decks on the MS Eurodam are the Verandah (Deck 5), Upper Verandah (Deck 6), and Rotterdam (Deck 7). These decks are surrounded by staterooms both above and below, providing excellent noise insulation and minimizing disruptions. 
Conclusion
Now you know which one will be better for you in between Eurodam vs Westerdam. Both ships offer exceptional cruising experiences for their passengers. Ultimately, the decision between the Eurodam and Westerdam depends on individual preferences, desired amenities, and the specific itinerary offered by each ship.